The best hairdressers in Edinburgh in 2020 – a guide to all the best salons in your local area
If you're looking for hairdressers in Edinburgh, you've come to the right place.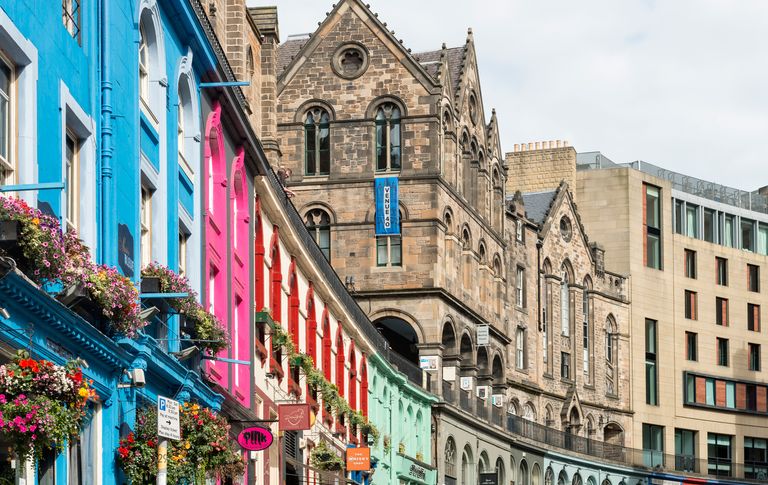 (Image credit: Westend61/GettyImages)
There's no shortage of great hairdressers in Edinburgh – and we've made it our mission to find the best salons near you.
You can add 'have an amazing haircut' to the list of things to do in Edinburgh, because the great news is that when it comes to hairdressers in Edinburgh you have lots of fabulous options across Scotland's handsome and sophisticated capital city. For instance, there are fantastic luxury salons (with luxury prices!) in areas such as New Town, which incidentally is also where you'll find the bustling West End. Or you can head to gentrified Leith (where appointments often come with a glass of welcome fizz), to say nothing of Edinburgh's charming suburbs, such as refined Morningside and boho Bruntsfield. There's also leafy, family-friendly Corstorphine, where salons don't tend to look swish themselves, but you will after a visit. All of these areas have brilliant salons with experienced stylists that you can book directly from your phone.
So browse our list of recommendations and book the one most convenient for you in just a couple of taps. Then get ready to enjoy the experience of having your hair styled by some of the most reputable hairdressers in your area. Whether you fancy a new bob hairstyle or just a trim, with their arsenal of professional tools, from the best hair dryers in the business to the latest innovative hair products on their shelves, home highlight kits and lockdown hair will soon be a thing of your past.
How can I find good hairdressers near me in Edinburgh?
There is a quick way to find good 'hairdressers near me' online. Yes there's google of course, but the woman&home team's top tip? Use Treatwell – where you can book hair and beauty appointments directly online in seconds. They have thousands of salons listed internationally, and 87 (and counting!) in Edinburgh alone.
Which hairdressers in Edinburgh have the best reputation professionally?
There are numerous hairdressers in Edinburgh with a good reputation. But if you want a salon with trophies in a cabinet there are three that we recommend.
Award-winning hairdressers include Jason Hall from Jason Hall Hairdressing, who won Scottish Hairdresser of the Year at HJ's British Hairdressing Awards 2019. An appointment at Jason Hall Hairdressing can be made by phone or email.
Then there is Maya Buchanan atMcGills – who won Best Colourist. An appointment can be made at McGills by phone, email or online.
Finally, there is Colin McAndrew at Medusa – who won Best Male Stylist – at the 2018 Scottish Hair and Beauty Awards. While Medusa also won the Fellowship of British Hairdressing's 2018 Salon Group of the Year too. You can book an appointment at one of Medusa's six salons by phone.
Best hairdressers in Edinburgh 2020
We've often found customer reviews to be more enlightening than professional ones though. Which is where Treatwell comes into its own. Almost every salon listed has been critiqued by paying clientele. We've crunched the numbers around this feedback to decide which hairdresser in Edinburgh have the happiest customers.
At the time of writing, SisCo Hair and Nails in Morningside had garnered 930 reviews. It's a stylish, friendly one-stop shop for hair and beauty known for exceptional blow dries. A "10 out of 10 experience", wrote one reviewer, Daisy.
You can book SisCo Hair and Nails via Treatwell or directly at SisCo.
There are nine other great salons in Edinburgh, too, that – at the time of writing –Treatwell users rated very highly with a combination of the most stars then reviews. Happy hair hunting!
Top 10 hair salons in Edinburgh
5 stars, 930 reviews Sisters Caitlin and Hannah have more than 16 years experience in the industry and work with a small, friendly team known for their desire to please and – esssential for a hair salon – the ability to listen and give the customer what they've asked for. Reviews consistently mention the relaxed, welcoming atmosphere and great service. As well as highlights, SisCo offer balayage, bleaching, tinting, toning and Opalex treatments. It also offers face waxing, eyelash extensions and make-up and is a well-regarded nail salon offering manicures, pedicures and nail art. 💇Haircut and blow dry from £37 💇Highlights and blow dry from £96
Rock n Rose in Meadowbank
5 stars, 430 reviews There are two Rock N Rose hairdressers in Edinburgh, both of which have 5 stars, though Meadowbank has more reviews than its sister salon in the Old Town. A relatively new kid on the block, R N R is known for focusing on your individuality, offering a very current "cool and edgy look" and a down to earth, professional service. Reviewers applaud the "first class" hairdressing and "chilled out" vibe. 💇Haircut and blow dry from £38 💇Highlights and blow dry from £107.50
Fundamental Salon in Leith
5 stars, 315 reviews In keeping with trendy Leith, Fundamental is a "fresh, vibrant take on the traditional salon experience". As well as offering colour and cuts, this "funky, no nonsense" salon offers express waxing, lash and brow tints and – to help you relax – a glass of bubbly on arrival. Every person on the team gets 5 stars on Treatwell and cuts have received accolades such as "brilliantly done", "awesome" and "amazing" while blow dries are "exceptional". Colour fares just as well. 💇Haircut and blow dry from £46 💇Highlights and blow dry from £90
Claire Doig Hairdressing in Roseburn
5 stars, 270 reviews Located on Roseburn Terrace, this small but perfectly formed child-friendly, pet-friendly salon is a cosy space that has been kitted out with antique decor and full length mirrors. Expect a friendly, warm and professional service from Claire, who's garnered hundreds of 5 star reviews for her expertise and approachability. Happy customers repeatedly remark on how "lovely" Claire is and how much she listens to her clients – she has many loyal regulars as a result. 💇Haircut and blow dry from £37 💇Highlights and blow dry from £75
5 stars, 168 reviews Located within the Marriot Hotel on Glasgow Road, not far from Corstorphine, and run by Cheryl, who trained with Charlie Miller and Toni & Guy and has more than 20 years experience, this salon has a fanbase of regular customers who return again and again for Cheryl's expertise and advice. Cheryl specialises in blow drying hair and his happy to share her tips so clients can aim for a salon finish at home, and she's passionate about keeping hair in tiptop condition so avoids heat styling tools in favour of air dryers, which might make it especially appealing to those with curly hair and followers of the curly girl method. Reviewers consistently describe the salon as "excellent", "great" and "enjoyable". 💇Haircut and dry from £30 💇Highlights and dry from £50
Brass Hair in Edinburgh New Town
5 stars, 165 reviews A short walk from Edinburgh Waverley station, this newly refurbished, spacious and inviting salon is an exercise in understated glam, but on the more expensive side of the captial's salons. Providing highlights, full head colour and balayage as well as haircuts, curls and fringe trims, Brass has the added bonus of offering manicures, pedicures, waxing, eyelash and eyebrow tinting, facials and Swedish massage, making it the perfect place for a pampering session. Reviewers frequently call Brass "brilliant", "lovely" and "professional". 💇Haircut and blow dry from £53 💇Highlights and blow dry from £130
Rachael @ Gail Stewart Styling in Barnton
5 stars, 126 reviews Located in north-west Edinburgh, this "friendly, professional and unique" salon offers haircuts and colouring service as well as a dedicated hand-tied weft specialist for extensions. Babylights, Global Colour, and balayage are also on the menu. With her personable manner, Rachael has built up quite a following – at the time of writing all but one reviewer gave her 5 stars (the other one was a 4). "Fantastic", "excellent" and "10/10" were just some of the comments. 💇Haircut and blow dry from £39 💇Highlights and blow dry from £85
Hair by Natalia Orszt in Edinburgh Old Town
5 stars, 100 reviews Working from Loft 28 on Lady Lawson Street, not far from Edinburgh Castle, bilingual stylist Natalia (Orszt speaks English and Polish) specialises in "bespoke colours and precision unisex cutting", offering a "comprehensive colour menu" that includes balayage, ombre, and modern pastel colouring, along with natural looking highlights. Orszt is also a talented stylist, providing haircuts and styles, updos and blow dries. Getting 5 stars across the board (bar one 4 star review), happy customers describe their experience as "amazing", "faultless" and "fantastic as always". 💇Haircut and blow dry from £35 💇Highlights and blow dry from £55
Steven Haggart Hair in Edinburgh New Town
5 stars, 37 reviews Located within Urban Edinburgh, former Toni & Guy senior stylist Steven was a Hair Idols 2011 finalist and has gone on to carve out a name for himself in the Scottish capital as a hairdresser, stylist and colourist (he offers balayage and ombre as well as tints and highlights). Working from Urban Wednesday-Saturday, Steven's known for his friendliness, professionalism and helpful suggestions. Clients have called his services "amazing", of the "highest standard" and "highly recommended", which explains his higher than average prices. 💇Haircut and blow dry from £50 💇Highlights and blow dry from £125
Vanity Atelier in Haymarket
5 stars, 32 reviews This hair and beauty salon in the city centre was set up by director, hairstylist and make-up artist Katarzyna Paluch. A perfectionist at heart (she's made the semi-finals of numerous hair awards), Katarzyna understands how transformative a haircut and style can be. As well as offering colour (including ombre and flamboyage) the salon can provide a professional colour analysis so you choose a colour that's complimentary to your skin tone. 💇Haircut and blow dry from £50 💇Highlights and blow dry from £59
Debra Waters is an experienced online editor and lifestyle writer with a focus on health, wellbeing, beauty, food and parenting. Currently, she writes for the websites and Woman&Home and GoodtoKnow, as well as the Woman, Woman's Own and Woman's Weekly magazines.
Previously, Debra was digital food editor at delicious magazine and MSN. She's written for M&S Food, Great British Chefs, loveFOOD, What to Expect, Everyday Health and Time Out, and has had articles published in The Telegraph and The Big Issue.
When she's not parenting, cooking new dishes or trying (in vain) to make her cats Instagram stars, Debra writes fiction—she won the Bridport Short Story Prize in 2020, which led to an interview on R4's Woman's Hour, and her stories have been long- and short-listed in a number of writing competitions.