Five self tan mistakes we all make, by A-List tanner James Harknett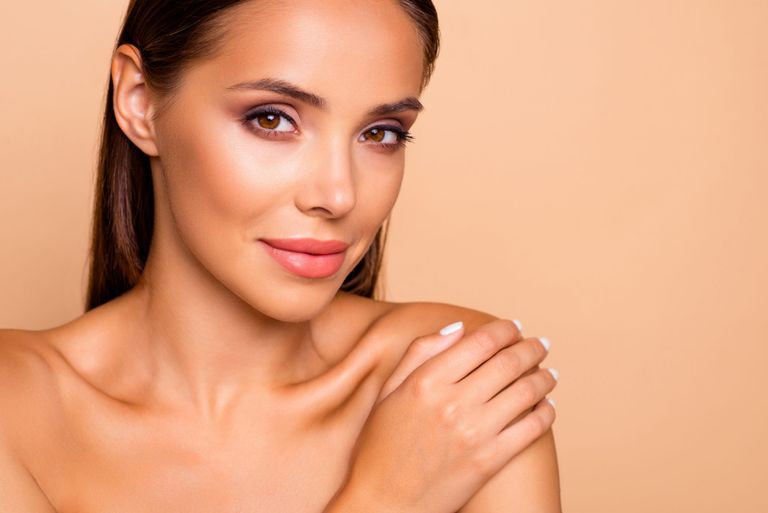 Picture your favourite celebrity. If said A-Lister is known for their gorgeous glowing skin, there's every chance James Harknett is the man behind the tan.
Dubbed 'The Tom Ford of Tanning, James Harknett isn't just the rich and famous's favourite spray tanner, but is beloved by just about every beauty editor, myself included, for his meticulous approach to creating an ultra flattering, layered and entirely personalised bronze, no matter what your natural skintone. Of course, we can't all visit the man himself at the W Hotel Away Spa every week (sadly) so as we dip our toes into legs-out season, who better to ask for advice on the business of self tanning at home.
"Having the opportunity to tan over 250 people a month and being an industry expert for 20 years I get the opportunity to hear every struggle that self tanners have encountered," says James, "You could say that's why they come to me, however, the same prep mistakes keep occurring." Read on to discover James' top five tanning pitfalls, and how to avoid them.
Mistake 1. Waxing then tanning
"The most commonly occurred mistake pre tan is hair removal. Ladies, wax 48 hours before any self tanning, shaving can be 24 hours. The reason being self tan is not make up, a paint or a wash-away dye. It's a naturally derived ingredient from sugar fructose, it gives a golden tan by reacting with the amino acids on the surface of the skin, i.e. dead skin cells. Therefore waxing and shaving sloughs that layer of skin away. The body needs to rejuvenate and then the tan will have skin to cling to."
Mistake 2. Patchy build-up
"Dark hands, brown cuffs and over done feet are always a worry. Just think of the less fleshy and delicate areas of the body, layer some moisture over these parts of the skin and you will find this will thin out the product and leaving a much more natural finish."
Mistake 3. Layering up
"Another no-no is tanning on top of older self tan that's still visible. It's normally around the top of the underarms, neck and inner thighs. Tanning on top can lead to dehydration, darker patches and a flaky uneven wear off. The new Fake Bake Corrector & Eraser, £12.50, can help. With six minutes on the skin the mango scented foam dissolves the older tan away, leaving a clear base for your tan to settle evenly."
Mistake 4. Giveaway creases
"White circles in knees is also a common tanning faux pas. When we sit our knee caps stretch and the skin expands, so if they are tanned it shows white round lines. A simple trick is to lift your leg on the bath edge and gently work the self tanner in the knees. Depending on your strength of tanner it's a good idea to mix the tan with some plain moisturiser."
Mistake 5. Forgetting maintenance
Up keep of a tan is as important as application To keep the colour for a good week avoid baths and keep showers a little cooler. Moisturise twice a day by using an oil free moisturiser. Try the Aveeno moisturiser in a spray can" (Aveeno Daily Moisturising After Shower Mist, £7.49) "It takes the hassle out of being sticky. If you're on holiday avoid chlorine pools, ocean water is much kinder. And one last thing – if you're in a warm climate and worried about perspiration, sprinkle a little medicated talc in the bra or bikini, it works wonders.
As woman&home's Beauty Channel Editor, Fiona Mckim has tried more beauty products than she's had hot dinners and nothing makes her happier than raving about a brilliant find on womanandhome.com or her instagram grid (@fionamckim if you like hair experiments and cute shih-tzus)

Fiona joined woman&home as Assistant Beauty Editor in 2013, working under industry legend Jo GB, who taught her everything she needed to know (clue: learn about ingredients and employ extreme cynicism).
In a previous life, Fiona studied journalism back home in bonnie Scotland and honed her skills as a features writer at publications including Junior and Prima Baby, with a brief and terrifying stint on the showbiz pages of a tabloid newspaper in between. She's a skincare fanatic who can't resist adding an extra step to her routine, adores fragrance, has fun with makeup and never turns down the chance to test a new hair tool. Basically, she loves it all.

When not slathering herself in self tan or peering at a tiny ingredients list on a moisturiser, you'll probably find Fiona enjoying something to do with food - cooking it, eating it, cajoling her friends into trekking across London to try a hyped pop-up in a dirty car park.
Come to think of it, the hot dinners and beauty products are probably about even.