Shopping sustainably as a plus size woman is harder than ever—because of straight size people
An exploration of the issues plus size people face when trying to shop sustainably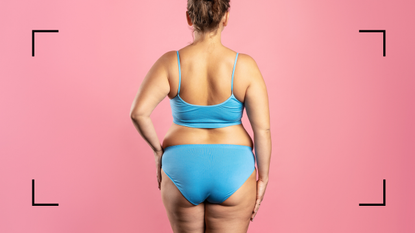 (Image credit: Getty)
Shopping sustainably as a plus size woman isn't easy. Despite sustainable shopping being all the rage these days, when you're plus size, the options are limited. As a UK size 16–18, I'm on the smaller end of the plus size spectrum—but this doesn't make shopping sustainably any easier, so I can't even fathom what it's like for other plus size people.
Since my mid-teens, second-hand clothing has been somewhat an obsession of mine. Buying second-hand is a brilliant way to help the planet, reduce waste and contribute to charity too. From around 16, once the stigma of second-hand shopping had dissipated, scouring charity shops for the most unusual and unique pieces became my shopping default. I would rummage through endless racks of clothes and trawl the best online vintage stores hoping to find a cheap designer piece whilst praying that it would also fit. It was during these shopping sessions I first discovered how difficult it was to shop sustainably as a plus size woman. Although it is possible to find second-hand designer garments, they don't tend to run past a UK size 14, sometimes a UK16 if you're lucky.
I never did find designer pieces that fitted me, and everything that did wasn't what I was looking for—old boxy jackets, sparkly t-shirts or old rain macs. Fast forward to right now and the boxy and baggy retro fashion options of my youth are huge and hotly in demand, with oversized fashion being at the forefront of recent trends.
How straight size people are creating the problem
This new oversized style means that charity shops and second-hand stores have even less plus size clothing on offer, not because plus size people are purchasing it all—but straight size people are instead.
It was around two years ago when I first discovered the secret nook within the realms of the internet that sees straight size people buying the best plus size clothing second-hand from charity shops and boot sales before reselling them on sites like eBay and Depop to turn a profit. Originally I didn't think much of it, but I soon re-evaluated my stance and quickly became annoyed.
When I saw that the online shop in question was buying clothes in XL, 2XL, UK 20 and beyond, I was stunned. Especially when I saw the owner of the shop provide styling tips to her followers and potential customers. She explained that the garments she was promoting (a plus size white shirt being one of them) would be perfect for smaller figures and serve as a great oversized garment. She explained that she was a UK size 8 and the XL shirt she was styling up to sell was a great oversized piece. Sustainable shopping options are already so limited for plus size women, I couldn't believe they were purposefully being limited further.
Kirsty Leanne, a 28-year-old plus size travel writer from Shropshire in the UK, told woman&home that she's noticed that some straight size social media users have been buying clothes intended for plus size people. "I actually saw a TikTok video the other day where someone was sharing that they purchased something from a Big and Tall shop for Men and now that store is actually out of stock for some of their largest sizes as so many people also wanted to go for the oversized look".
Why judgement about fast fashion should stop
With plus size people constantly judged for buying fast fashion, it can be incredibly hard to be sustainable. With fast fashion retailers being some of the most inclusive, how are we supposed to give up clothing that fits us (and is affordable) in order to help the planet?
Kirsty has had lots of negative experiences where people have told her not to shop in certain places. She now has a fear of being judged for what she wears, just in case people call her out for where she shops. Kirsty has even been told that she's "part of the problem" and if she can't find sustainable clothing she should "lose weight" so she can.
Kirsty told us that she thinks fast fashion is the only option for most plus size people, "whether it's the only place that stocks their size, the only place that offers the style they're after or it's the only place within their budget, plus size people should not be criticized for shopping somewhere when there are very few clothing options available to them". She urged that the anger people have towards plus size people wearing fast fashion should be directed at the fast fashion stores themselves.
Plus size women have two choices, both are bad
There are some options for shopping sustainably as a plus size person. There are plenty of stores that custom-make clothing and extend their sizes on a large scale. Shopping destinations like LOUDBODIES or Universal Standard are prime examples of sustainable clothing for plus size people—but the only downfall is the cost of these garments.
"I feel like as a plus size person you have to choose something that's either sustainable and incredibly expensive or something that's affordable but from a fast fashion brand. Don't get me started on styles too, sustainable fashion is often as bad as fast fashion when it comes to hanky hems and disgusting patterns," Kirsty explained.
A brand trying to bridge the gap
There are some brands bridging the gap between high price points and ethical production, though, like sustainable clothing brand Snag, makers of some of the best plus size leggings, being a prime example.
Founder and CEO of Snag, Brie Reed, told woman&home that she is an environmentally conscious individual, who finds buying sustainable clothing challenging. "People who wear a larger dress size are already faced with limited options when it comes to shopping. Therefore, trying to find options that are also sustainable can at times seem like a daunting task, and we tend to stick to what we know which, sadly, tends to be fast fashion retailers".
With this in mind, Brie and Snag are on a simple mission, "to provide individuals of all shapes, sizes, abilities, and genders the chance to find clothes that not only fit perfectly and look amazing but are also sustainably and ethically produced."
After all, sustainability within fashion isn't just about buying second-hand, and although being mindful of greenwashing and adopting slow fashion is undoubtedly one of the best steps we can take in 2021, sustainable fashion begins with the brands themselves.
Brie believes that all brands could do more to be more sustainable, including her own brand, Snag, "it's an area we are always striving to improve on". She thinks that all brands should consider the environment in all stages of production, "from manufacture to distribution and packaging—as there are many ways that clothing is unsustainable".
What plus size women are yearning for
All in all, sustainable fashion for plus size women is sparse to say the least—but affordable and sustainable? Well, that is virtually non-existent. It's amazing to see brands like Snag catering for plus size women when it comes to both sustainability and affordability, but why haven't other brands cottoned on yet and when will they?
The market is huge, there are so many plus size women who want to be sustainable, who are yearning to do their bit for the planet but they just can't. It's all very well having brands do their bit for sustainability, but we also need second-hand options to open up and this starts with straight size people. Plus size people aren't the problem. They are simply existing on a planet that they want to help but cannot.
Mollie Quirk is a freelance journalist and features writer from London, England. With a First-class degree in Journalism and over eight years of online writing experience, Mollie is an expert in her field. At a UK size 16–18, she specialises in writing about plus size fashion and issues surrounding body image – knowing firsthand what it's like to style a fuller figure, Mollie knows what plus size women want and need.