What will Kate Middleton wear to King Charles' coronation? All we know so far
The matter of what we could see Kate Middleton wear to King Charles' coronation has been on our minds and the Princess of Wales dropped a hint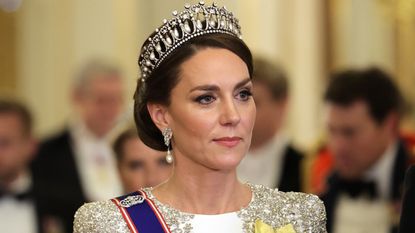 (Image credit: Photo by Chris Jackson/Getty Images)
Fans are intrigued about what they could see Kate Middleton wear to King Charles' coronation on May 6 and the Princess of Wales has given an interesting hint.
---
King Charles' coronation day is drawing ever nearer but whilst there are plenty of details we now know, like how three of Queen Camilla's grandchildren and Prince George will be Pages of Honor, the outfits set to be worn by the royals are still a matter of speculation. For this national occasion it's expected that most of the immediate and extended Royal Family will be there meaning a lot of regal looks to enjoy. This includes the one worn by the Princess of Wales who, as the second highest ranking royal woman, will likely be looking especially magnificent. Many of us might be eager for details on what we could see Kate Middleton wear to King Charles' coronation.
Here we reveal all we know so far about the Princess of Wales' coronation outfit including predictions for fabric color and if it's possible she'll wear a tiara…
What will Kate Middleton wear to King Charles' coronation?
For fashion-loving fans who've found themselves asking the all-important question - "What will Kate Middleton wear to King Charles' coronation?" - the answer is that the final look is currently still a mystery. However, that doesn't mean we don't know anything at all about the future Queen Consort's coronation day outfit. Given it's such a high-profile ceremonial occasion Princess Kate is certainly expected to wear a dress and it could possibly be floor-length.
This is the length we've seen her step out in for other state occasions like the State Banquet for the President of South Africa, Cyril Ramaphosa, at Buckingham Palace last year.
Of course, King Charles could have decided upon a less formal dress code for his coronation to reflect modern times but since it's still a huge state occasion a dress would still be most likely for the Princess. Stylist Miranda Holder has recently expressed her belief to the Express that the Princess of Wales' outfit will be "demure".
"She's going to wear an incredible gown. My money is either a [Jenny] Packham, or a [Alexander] McQueen, as they seem to be the two she tends to turn to for these occasions," Miranda predicted. "She'll definitely have it modified to suit her, that is something they often do, is they'll take a design and then make it even more modest so that Kate fits the bill of our demure future Queen."
Many of Kate Middleton's dresses are by these designers and she wore Jenny Packham to the banquet in 2022. In terms of what color she could choose, for state banquets at Buckingham Palace over the years she's generally worn dresses in red, blue or white - all colors on the British flag. Miranda suggested that she's uncertain over what the Princess of Wales could choose for the coronation because it depends on how much she might want to stand out with bright colors.
She continued, "I'm in two minds because obviously, this is absolutely all about Charles but equally she is the poster girl of the Royal Family, and she has been positioned as the next Queen, so I suspect she will coordinate with Camilla."
"Let's say Camilla is in a bright blue then Kate might be in a slightly darker blue or something like that, blue is always their favorite color," Miranda added.
The Royal Family wears blue often, however it seems like when it comes to what we could see Kate Middleton wear to King Charles' coronation the overall look likely won't be completely blue. This is because of something the Princess of Wales said after she was asked by ITV's This Morning host Alison Hammond about her look for the coronation. During a joint outing to Birmingham with Prince William, Kate met Alison and apparently dropped a hint.
"I said, 'What are you wearing for the coronation?' Because I said to her, 'I'm feeling like you're going to wear blue'," Alison said afterwards, before claiming that the Princess had replied, "There is a hint of blue!"
Given that she supposedly said there's only a "hint" this could mean that Kate's dress is patterned, or that she's set to wear sapphire jewelry - or even that she could wear another accessory in the form of a sash.
At the state banquet and Diplomatic reception last year, the Princess donned a blue sash, which signifies her position as a Dame Grand Cross of the Royal Victorian Order. At state occasions these sashes and ceremonial medals are worn and it's likely that even if the Princess' reported remark didn't refer to this she will end up wearing her sash as part of her outfit.
And if she and Queen Camilla do coordinate in some way then it's also possible they could both wear white as they did for the State Banquet during former US President Donald Trump's visit. White is also the color of the late Queen Elizabeth's coronation dress so it would be a sweet nod to her too.
Will Kate Middleton wear a tiara to King Charles' coronation?
While King Charles' coronation crown and Queen Camilla's coronation crown have both been confirmed, it's not entirely clear whether Kate Middleton will wear a tiara on coronation day. Tiaras were worn by guests at the late Queen's Elizabeth's coronation but this took place 70 years ago and it's already known that King Charles' big day is set to differ from hers and established tradition.
It's previously been reported by People that it's possible Kate may break royal tradition and not wear a tiara as the ceremony is set to be less formal than previous coronations.
Royal jewelry expert Lauren Kiehna claimed, "I'm certainly hoping we'll see coronation tiaras, but it's possible that Charles is following the example of some of his European counterparts, like the King of the Netherlands, and setting a daytime formal dress code for the event."
If this does turn out to be the case then it seems unlikely that a tiara is something we'll see Kate Middleton wear to King Charles' coronation.
"That would mean that we could still see some grand jewels, like necklaces, brooches and earrings but no tiaras," Lauren said. "I'll be sad if that's true but it may just be another part of the 'de-formalizing' of the British royal world that has taken place over the last several decades."
If the Princess of Wales does end up wearing a tiara to His Majesty's coronation, however, stylist Miranda Holder revealed her top prediction of which one it'll be to Express. Out of all of the late Queen Elizabeth's tiaras, she suggested that it's likely Kate would wear the Lover's Knot Tiara. The late Princess Diana was often pictured wearing it and Princess Kate wore it for a Buckingham Palace reception in 2015 as well as several times since.
"My money is probably on the Lover's Knot Tiara, but to be honest I would love to see something a little bit different from her," Miranda declared.
The only other tiaras Kate Middleton has been seen wearing over the years are the Lotus Flower Tiara that the late Princess Margaret loved and the Cartier Halo Tiara that she wore on her wedding day. As a result, it's perhaps most likely that if she does wear a tiara for the coronation it will be one of these three.
Emma is a Senior Lifestyle Writer with six years of experience working in digital publishing. Her specialist areas including literature, the British Royal Family and knowing all there is to know about the latest TV shows on the BBC, ITV, Channel 4 and every streaming service out there. When she's not writing about the next unmissable show to add to your to-watch list or delving into royal protocol, you can find Emma cooking and watching yet more crime dramas.