Princess Margaret's bangs were so ahead of the time - and we're obsessed with the layered look
Princess Margaret was way ahead of beauty trends back in the day...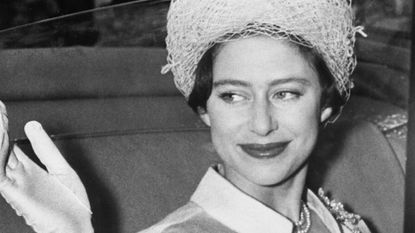 (Image credit: Getty Images)
In the 1960s Princess Margaret had a bangs hairstyle that would now be considered enviable.
Let's face it - all of the royal women have enviable hair. Between Kate Middleton's long, sweeping hair to Princess Diana's iconic bob in the '90s, there have certainly been a handful of stylish Royal hairdos over the last few decades.
One woman, though, whose hair was way ahead of its time was Princess Margaret, who perfectly rocked a bob with bangs hairstyle in the 1960s, and was made out to be something of a fashion icon.
Nowadays, women from all over are flocking to their salons to ask for bob haircuts - and seeing as there are so many nuanced bob styles to choose from, it can be a bit of a tough call about which one suits you best. You could choose the shaggy bob, a trendy and edgy take on the classic 'do, or you could go for a classic French bob, which features bangs with sleek, shiny locks.
Princess Margaret's style sits somewhere in between a few classic bob styles, and we're particularly digging the textured, layered look she had. With some subtle micro-bangs and perfectly styled, face-framing layers, Princess Margaret's bob hairstyle is one worthy of bringing to our salon for inspiration.
Look at any picture of Princess Margaret, though, and you'll find that her hair is always perfectly coiffed. Between more glamorous appearances at opera houses and galas, and more casual, every day appearances, her hair was always styled to perfection.
According to a 1970s article that was recently unearthed from the New York Times, this makes sense, seeing as Princess Margaret apparently lived quite a lavish lifestyle.
"Her style of life bears a striking resemblance to numerous wealthy matrons. She uses a chauffeur driven limousine and often visits the Marks and Spencer store on Oxford Street or Harrods," the New York Times article reads, adding, "She pays in either cash or uses checks from Coutts Banks, which she simply signs 'Margaret'."
The article also revealed which salon she would frequent, giving more insight into how she got her hair so perfect.
"On Fridays, she visits the beauty salon of Rene, a Mayfair hairdresser, and often leaves for the country shortly afterward for the family's cottage in Sussex," the passage reads. Must be nice!
She also talked in the past about how the press always made her out to be more "wicked" and rebellious than her sister Queen Elizabeth.
"When my sister and I were growing up, she was made out to be the goody goody one. That was boring, so the press tried to make out I was wicked as hell," she once told Andrew Duncan.
Madeline Merinuk is woman&home's US lifestyle news writer. She covers celebrity, entertainment, fashion, and beauty news but is also obsessed with internet trends - you can find her reciting trending TikTok sounds out loud at any given time.
After winning multiple student journalism awards for her investigative work, she graduated from Hofstra University in 2021 with a B.A. in Journalism. After graduating, she worked at today.com, the digital site for the Today Show, where she wrote pop culture news and interviewed big-name personalities like Emily Ratajkowski, Haley Lu Richardson, Emma Corrin, and more.
Her personal interests, in no particular order, are: cheese, Joni Mitchell, reading, hot yoga, traveling, having multiple chapsticks in every handbag at all times, and dancing to ABBA songs as if she were in the Mamma Mia movies.