Prince William hints at epic location for the Wales family's next big trip abroad
Prince William hinted that a big trip abroad is on the cards for the Wales family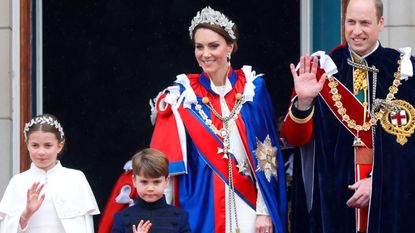 (Image credit: Getty Images)
Prince William has seemingly hinted at the epic location for his next trip abroad with Princess Catherine and the Wales children.
---
Over the coronation weekend, it was the Wales family that captured the attention of heaps of royal fans. What with Princess Catherine and Princess Charlotte's matching tiaras, Prince Louis's adorable moment with his older sister and Prince George's key role as Page of Honor, the family certainly stole the show.
As the celebrations wound down, the Prince and Princess of Wales took five-year-old Prince Louis out for his first official engagement at a Scouts group in Slough, during which his super cute nickname was revealed and Princess Charlotte left fans laughing as she adhered to the 'three second rule'.
And it seems we could be set to see even more special moments from Prince William and his family in an international capacity, as the Prince of Wales has hinted that a trip abroad could happen 'very soon'.
During Prince William and Kate Middleton's official appearance in Soho ahead of coronation weekend, a royal fan from Sydney was lucky enough to be able to chat to the future monarch and ask him about his plans when it comes to upcoming trips to the nation.
Shaking his hand during the Prince and Princess of Wales's walkabout in London, an Aussie fan asked, "Prince William, when are you coming to Australia?"
Responding to her query, William said, "Oh very soon! Where in Australia are you from?"
After hearing she was from Sydney, William continued, "Oh I see, I love Sydney! We've been there a few times. We've had some really good times in Sydney."
"I would love for you to come. Bring the children," the royal supporter added, with Prince William responding, "We'll be back soon."
While it's unknown when the Prince and Princess of Wales are set to make their return Down Under or if Prince George, Princess Charlotte, and Prince Louis would join them, such a trip would mark a very special debut for the youngest of the Wales brood.
While Prince George and Princess Charlotte have made appearances internationally, little Prince Louis is yet to do so.
Prince George marked his first overseas trip to Australia and New Zealand with his parents when he was just 10-months-old.
Princess Charlotte also joined her mom, dad, and big brother George on their royal tour of Canada in 2016, when she was just 16-months-old.
2017 later saw Prince George and Princess Charlotte, then aged three and two, join Kate and William on their tour of Poland and Germany.