Floristry: Best Easter Bouquets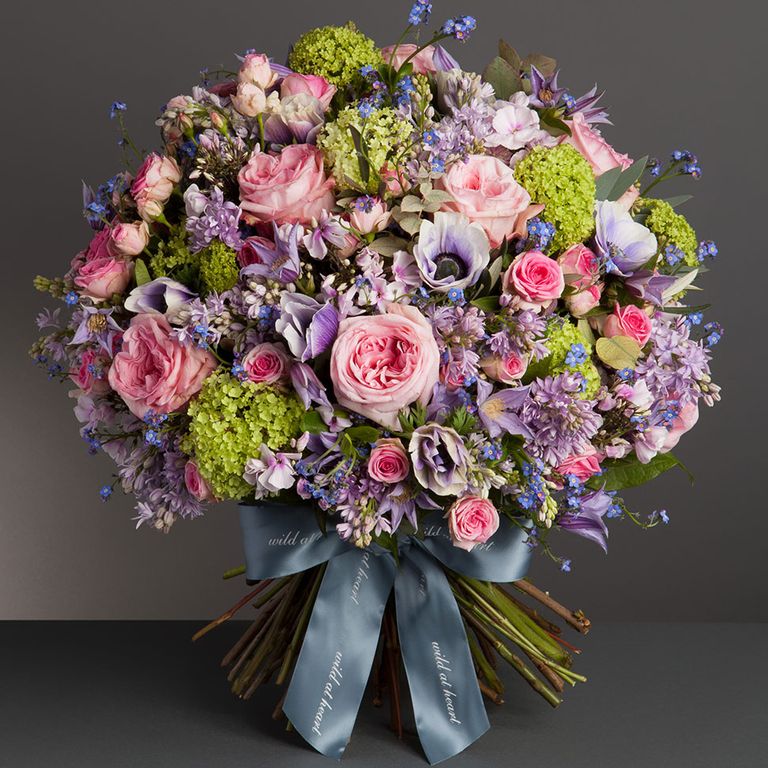 This Easter, share the celebration with family and friends when you send or bring a beautiful Easter bouquet. Not sure what to get?
We've found some of the best spring blooms that are guaranteed to bring the joy of Easter into any home.
A gorgeous mix of O'Hara roses, spray roses, guelder, lilac, clematis and seasonal foilage.
Charming Lilac Bouquet, From £75,Wild At Heart
Famous for its sweet fragrance, the hyacinth makes a beautiful addition to any Easter setting. Keep the stylish trough after your Easter Sunday roast for storage.
Scented Hyacinth Trio Through, £20,Marks and Spencer
This elegant bunch comes with white roses, tancetum daisies, white veronica and delicate lisianthus.
Serenity Bouquet, £39.99, Appleyard London
A beautifully arranged bunch of tulips, bursting with freshness. Grab them in an array of colourful hues.
Vibrant Tulip Bouquet, From £65,Wild At Heart
An Easter flower favourtie, daffodils are sure to brighen any Easter table. We love them in this adorable teacup and saucer.
Daffodil Teacup and Saucer, £24.99, Interflora
Create a harmonious display with a mix of vibrant blue, gold, lime green and white. And for an added treat, you'll discover some delicious chocolate eggs too.
Easter Egg Hand-Tied, £39.99,Interflora
This cheerful bouquet of scented orange lilies, fresh green chrysanthemums, orange germini and long lasting carnations is sure to please!
Citrus Bouquet, £24.99, Debenhams
Filled with delicate peach and pink flowers, this basket is an elegant and stylish sprintime gift. Keep the basket after your event and use it to store other items.
Easter Basket, £30,Flower Card
A simple arrangement makes for a wonderfully expressive gift that they are sure to love.
Large Daffodil Bouquet,McQueens
This bouquet captures the essence of spring with its selection of pretty yellow tulips and blue iris.
Tulip & Blue Iris Bouquet, £29.99,Debenhams
Not sure how to care for your flowers? Whether you're giving or recieveing Kellie Donovan, Asda's official flower designer, who has over 25 years of experience, reveals her top tips for flower care and arranging this year:
1. The perfect bunch: Whoever you're buying for, consider where they usually display flowers and choose flowers that will compliment the colours in the room. Roses, lilies, tulips, orchids and chrysanthemums are popular favourites and come in a variety of colours. For something a little different, consider ranunculus, a member of the buttercup family. 2. Don't sap the fun out of spring: Avoid mixing spring flowers such as daffodils, narcissi and hyacinths with other flowers as they release a sap that other flowers don't always like and can react badly.
3. Not to be sniffed at: Hay fever can be a nightmare for flower fans. If you're buying for someone who suffers from hay fever, avoid anything with quite visible pollen such as lilies, freesia and daffodils and choose carnations or roses instead.
4. Feeding time: Make sure you use the flower food provided, it's carefully crafted to help keep your flowers fresher for longer. However if you've changed the water, a great tip is to use a sterilising tablet - try a quarter tablet to every three pints of water. Sterilising tablets contain a small amount of bleach, which will help keep the water clean and clear without causing damage to your flowers.
5. Flower myths:One of the biggest myths in flower care is that pricking certain wilted flowers like roses or gerberas in their neck with a pin will revive them. All this does is create a wound in the stem, allowing bacteria to enter. 6. A rosy revival:Roses can often be revived if they're wilting by wrapping them up in paper so their heads are level and tightly together and their necks are straight. Next, cut the stems at an angle, under water if possible. This will help to force water up the stems and remove the air lock, which causes them to droop. Leave them in the water wrapped for a few hours or even overnight.
7. Trust the experts: Finally, the biggest mistake people make when arranging flowers is trying too hard. If you've bought a bouquet, the florist has done the hard work arranging them for you so you don't need to worry! If it's 'hand tied' so the stems are spiralled, simply cut the stems and place into your vase without cutting off the string that binds them.