How to apply mascara like a pro
Learn how to apply mascara and improve your glam game in a few quick and easy steps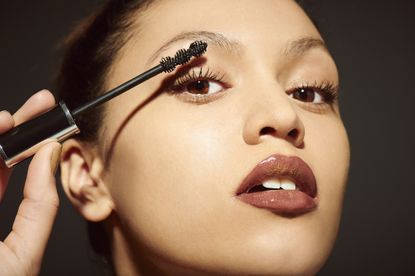 (Image credit: Getty Images)
Do you really, truly know how to apply mascara? We've all been there: We splurge on what we think is the best mascara (opens in new tab) on the market, only to be met with droopy lashes, not enough curl, or the dreaded image of panda eyes when we glimpse ourselves in the mirror at the end of the day (the horror!).
And while most of us will let out a sigh of frustration at yet another waste of money or begrudge another hyped-up product as false advertising, our drab results might actually have nothing to do with the product itself and everything to do with how we apply it.
Little mistakes in how we apply mascara can lead to loss of lift or curl, premature flaking, or excess smudging. That said, just the smallest of changes in your application process can give you the length, curl, volume, definition, and hold you've been missing out on (and yes, get you closer to the results on the box!).
How to apply mascara in 7 easy steps
1. Wipe away skincare.
While the best eye creams (opens in new tab) on the scene do wonders for our bags and crow's feet (opens in new tab), their oily and emollient formulations can react badly with the mascara we apply to our lashes, causing it to smudge or flake off.
To up the staying power of your mascara, take a tissue or small, dry cloth and softly pat away any excess skincare products that could be sitting on your lashes. Be sure not to tug harshly at your lashes or catch the skin around your eyes, otherwise you'll have to take out the eye cream again!
2. Use an eyelash curler.
We love starting off with a quick clamp of an eyelash curler before applying any mascara: It lifts, curls, and lengthens lashes to help you get more impact out of your mascara, leaving you with a salon-worthy, lifted look even before you've applied your first layer of product.
Ed's tip: We'd suggest heating it slightly with one of our best hair dryers (opens in new tab) for a few seconds to really hold your curl in place. Just be sure to touch it and check the heat first, giving it a few seconds to cool slightly if it's too hot, otherwise you'll be sporting burn marks on your eyelids.
3. Loosen up your mascara formula.
Tap your tube on your palm a few times to get the formula moving and then remove the wand from the tube in one movement. Make sure to remove any excess product or clumps by gently scraping the tip of the wand on the inside rim.
Avoid pumping the wand as this can push air in, which not only dries out the formula quicker but could also direct bacteria inside the tube.
4. Separate lower lashes.
Sweep a light layer on to your lower lashes. This will set them in place, getting them out of the way of the upper lashes to avoid any accidental tangles and to help avoid them catching onto your upper lash line.
5. Coat the topside of upper lashes.
It might sound controversial, but we'd start on your upper lashes with a quick swipe of product above the lashes.
This not only gives a doubly impactful look, but it evens the weight distribution of the product, preventing lashes from succumbing to gravity and drooping down.
6. Wiggle and repeat coats.
Without adding any more product on to the brush, wiggle the wand side to side underneath your top lashes, so that the brush catches them nicely in its bristles. Slowly swipe from root to tip.
Repeat with further coats of product if desired (we usually like around 2 to 3 coats of mascara for daily wear), but make sure to do this before the product dries up too much, otherwise you'll be left with clumps or, worse, the dreaded spider legs.
7. Fan lashes outwards. Done!
For a fluttery, feathered look, use the tip of the brush to flick outer lashes outwards. It can even help to hold the brush vertically when doing this.
Finish off the look with another wiggle on to the roots, and then drag outwards to hold the feathery flutter into place. Et voilà!
Note: We'd also advise never to use an eyelash curler straight after applying mascara, as not only will you get a sticky, unhygienic build-up of product caught in it, but if the mascara isn't dry enough, you could also risk ripping out your lashes.
However, if you find that lashes start to droop after a few hours, you could always give them a little lift with a clean, dry eyelash curler—just make sure you wipe off any extra product before use.
And last but not the least, make sure your mascara isn't expired! A brand new tube typically lasts for around 3 months of constant use, so check the product label to see that you're well within safe usage.
Have fun with your awesome new lash look!
Aleesha is a digital shopping writer at woman&home—so whether you're looking for beauty, fashion, health or home buys, she knows what the best buys are at any moment. She earned an MA in Magazine Journalism from City, University of London in 2017 and has since worked with a number of brands including Women's Health, Stylist and Goodto. A year on the w&h news team gained her invaluable insight into where to get the best lifestyle releases first—as well as an AOP awards nomination.