Spherical ice moulds are the kitchen gadget you never knew you needed – here's why you should invest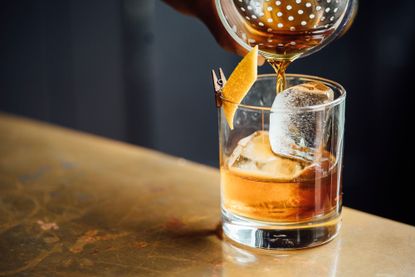 Welcome to woman&home's online shopping guides, where we reveal where to buy the most popular and top-rated products. This piece is about the gadget you need to up your cocktail game, but you may also be interested in our edits of flower delivery services (opens in new tab), online grocery deliveries (opens in new tab) and luxury garden furniture (opens in new tab).
Giant, spherical ice moulds help you to create large balls of ice for your cocktail, water jug, coffee or home made ice-lollies. They look stylish and won't melt as quickly!
While many of us have suddenly became professional bartenders overnight during lockdowns, we have just the gadget to up your drinks game.
Spherical ice moulds give your drinks a sophisticated finish that crushed or regular ice moulded cubes can't compare.
The spherical ice moulds are particularly well suited to spirits that are sipped straight such as whisky, or Sipsmith's latest Sipping Series Chilli and Lime gin. (opens in new tab)
How do you use sphere ice molds?
It's best to choose a silicone ice mould as it is much easier to get the ice cubes out of the tray. We trialled the ProCook Ice Mould (opens in new tab), which, at the time of writing, costs £6 for two.
The ProCook moulds make two 6cm diameter ice globes. While they are not the biggest on the market they, still achieve a very desirable and sophisticated finish.
SHOP NOW: ProCook Giant Ice Ball Mould, £6, Amazon (opens in new tab)
To fill the mould, it's best to use a jug and pour until it spills out a little. Luckily the design of the mould captures this excess water so there is no mess.
Alternatively, we found this set by FYLINA has the highest rating on Amazon. It costs £15.99 (discounted from £16.99) for three ball moulds and a large square ice cube tray.
SHOP NOW: Ice Cube Tray FYLINA 3 Packs, £15.99, Amazon (opens in new tab)
Why are ice balls better than cubes?
As the spheres are covered, they are more hygienic than other ice cube trays where the top layer is exposed in the freezer.
A lot of people worry about diluting their drink if they put too much ice in but ice balls will actually make your drink melt slower. This is because a sphere exposes less surface area than a cube of ice, which means a smaller surface area being exposed to the warm liquid - which wil make it melt slower.
What else can you use the spherical ice moulds for?
You can use the moulds to make your own ice-lollies. Simply fill up as normal and insert a wooden stick for a delicious, homemade treat.
The ice is also perfect if you like a chilled coffee in warmer months. As with cocktails, using the large balls will prevent it from melting as quickly.
People have also used them as a chocolate mould, which is a brilliant idea if you're looking to make a thoughtful edible gift.
How to improve your homemade cocktails
Making quality cocktails that look as impressive as they taste is easier than you think. To achieve a hotel bar chic from the comfort of your own living room, you need a little preparation and patience but then you're ready to sip away!
Stock up on essentials
Start by checking your drinks cabinet and ensure you're stocked up on some good quality spirits and mixers.
Take advantage of the fact you are not paying bar prices and enjoy a beverage which is probably higher quality than you'd want to splash out on while out for drinks with friends or family.
Some cocktails can cost over £15, which is the same price as a full bottle of gin, vodka and rum – especially if you buy the bottles on promotion.
Purchase some basic cocktail making tools such as a jigger to measure the ingredients and of course, a shaker.
Glass check
It's worth looking at your glassware too. Consider getting some new glasses that work as everyday tumblers but are also good for cocktails.
You want some variety to match the different styles of cocktails but at a minimum it's worth having some tall, highball, style glasses and some shorter tumblers, which are designed for sipping drinks.
Remember you can also use wine glasses for some cocktails.
Don't skip the garnish
For the finishing touch never skip on the garnish, whether it's a slice of fruit, sprig of herbs or a cocktail cherry or two – it will help make the drink feel extra special.
You can experiment with the ice cubes to match your tipple and garnish too. Consider putting slices of fruit, cucumber or herbs in the ice to infuse with your cocktail.
For example if you're making a mojito you might like a selection of mint and lime.
It makes your water more interesting and is a fantastic refreshing option for the warmer months!
Our top picks to up your cocktail game
Slingsby Spirit of Harrogate Rhubarb Gin
£40, John Lewis
Edinburgh Gin Rhubarb & Ginger Gin
£28, John Lewis
Sipsmith Distillery Gin 3x5cl Gift Set
£17.99, Very.co.uk
OXO Steel Double Jigger Inoxidable
£19.38, Amazon
John Lewis & Partners Waterwave Gin Glass, 700ml, Pink
£10, John Lewis
John Lewis & Partners Gin Glass Tumblers, Set of 4
£15, John Lewis
KitchenCraft BarCraft Six-Piece Gin Cocktail Set
£35, Very.co.uk
Dartington Crystal Glitz Gin and Tonic Copa Glass, 610ml, Set of 2
£45, John Lewis
Croft Collection Cocktail Shaker
£25, John Lewis