Retro drinks ideas from the '70s and '80s: The vintage drinks that deserve a comeback
Whether you're planning a throwback party or just reminiscing, these retro drinks ideas will take you back to a simpler time...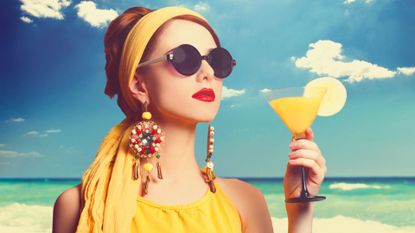 (Image credit: Getty)
If you're on the hunt for retro drinks ideas from the 1970s and 1980s, Cherry B's, sweet Mateus wine and garishly colorful cocktails might spring to mind. But, this era also saw the birth of some iconic drinks, many of which are still served to this day.
Just like the most iconic retro foods of each era, some of these should remain firmly in the past but others deserve a worthy place at the table at any garden parties you're throwing this summer (or beyond).
With consultation from mixologists and wine and spirits experts, we break down the most iconic drinks of the 70s and 80s.
1970s spirits
It's not an era many bartenders remember with fondness, but many of the spirits we enjoy today rose to popularity in the 1970s. "Lots of the products we still enjoy today were going strong during this period – but often in different style serves. Some will hopefully come back into fashion – vermouth on ice, scotch, and soda – but hopefully the misogyny that usually accompanied these adverts stay in the past," explains world-renowned bartender and bar owner, Ryan Chetiyawardana (aka Mr Lyan),
"Some of the products that have lost some footing include Dubonnet (the Queen's favorite tipple), Sack (a medium dry Sherry) and Drambuie."
Advocaat
Everyone seemed to have a bottle of this rich, creamy Dutch drink at home that would get dusted off during the festive period. Mix with lemonade to make a Snowball and transport yourself to Christmas in the '70s.
Advocaat can perhaps domestic goddess Nigella Lawson for their sweet egg liqueur making a comeback. After Nigella praised this retro tipple back in 2007, sales of the bright yellow bottle have increased year on year.
World-renowned bartender and bar owner, Ryan Chetiyawardana (aka Mr Lyan), sings the praises of the niche liquor but suggests mixing up the serve in 2022.
Birch Snowball Recipe
Ingredients
25ml Advocaat
15ml homemade lime cordial (or failing that, 1 tablespoon fresh lime juice mixed with 2 teaspoons of sugar)
25ml Fierfield Birch Whiskey
100ml Fever Tree Lemonade
Method:
Mix the Advocaat, cordial and Fierfield in a highball glass and stir well, then add lots of ice, and top with the chilled lemonade. Garnish with an orange slice and a cherry. While Ryan's recipe calls on Fierfield (a botanical irish whiskey) you can try to substitute it with a comparable blend
Vodka
One of the lowest calorie alcohols, vodka became hugely popular in the 1970s and was used as the base of many popular 70's cocktails, like. Steve The Barman, bartender for 25+ years and host of the Drinkstuff's YouTube channel recommends mixing a Harvey Wallbanger. "This fun cocktail, made with vodka, Galliano, and orange juice, was popular in the 1970s and is making a comeback today," he says. For something more contemporary try our Pomegranate Vodka Recipe.
1970s wines
Wine-drinking habits changed in the 1970s as wines from the continent became more accessible but the wines that were considered the height of sophistication in 1970 aren't necessarily the ones that spring to mind today.
Sarah Knowles MW, one of the expert buyers for The Wine Society explains that from the 70s, "Wine at home for the British middle classes was becoming more popular since the UK licensing laws changed in the late 60's to allow supermarkets to stock and sell wine ranges. Brands such as Mateus Rosé, Black Tower and Harveys Bristol Cream led the way in appealing to a new, female-led, market sector successfully seeing wine sales in the UK grow at a great rate.
"With Britain joining the EEC in 1973 and an increase in European summer holidays for the middle class, the 70's really allowed the consumer to get to grips with popular European styles of wine."
Some of the brands of the time "have been victims of their own success," admits Sarah, but others have stood the test of time. Here are the top brands of the time, as well as the ones worth serving in 2022.
Mateus Rosé
This iconic Portuguese wine was more famous for its unique flask-shaped bottle than the contents. But it really made an impact and will forever be epitomised in Elton John's 1973 song Social Disease. Elton sings "I get juiced on Mateus and just hang loose."
For a classier update in 2022, Sarah recommends a different Portuguese rose. "Portugal are still a leader in rosé production, although the Quinta do Portugal Rose (Douro, 2021) is a little drier and lighter in colour than the much loved oval shaped 70's equivalent."
Lambrusco
Lambrusco is a frizzante (lightly sparkling) red wine from the Emilia-Romagna region of Northern Italy. This was the bottle one would take to a dinner party if you didn't know the hosts well, or if you were on a tight budget. Lambrusco has undergone a renaissance and is definitely the comeback queen of sparkling red wines. Serve chilled while snacking on some delicious italian dishes.
Babycham
Coined "The happiest drink in the world", this light sparkling perry gained popularity in the '70s - perhaps because it was the first ever alcoholic beverage to be advertised on British commercial television. Seen as the original party drink, you couldn't go to a soiree without seeing a bottle (or four…) floating around.
There isn't really a 'classy' alternative to this sparkling perry but it's a must if you're throwing a kitsch throwback party. Otherwise, stock up on the best champagne and prosecco deals and source some of the original deer-emblazoned Babycham glasses to serve them in.
1970s cocktails
"Cocktail culture back in the 1970's and 80's lent itself extremely well to the emerging trends in music with the new wave of funk and soul from the 60's that transitioned into disco," explains Tessa Hughes, heads of Global Customer Experience at NIO Cocktails.
"Cocktails being consumed during these formative years were designed to be enjoyed on, or next to the dance floor. The most popular recipes of that time tended to be slightly sweeter or creamier, mixing a wide range of juices with soda, and served as long drinks. Presumably, serving drinks in this way helped to reduce the amount of time one needed to spend queuing at the bar, giving disco dwellers more time to absorb moments with friends on the dancefloor."
Here are some of the best.
White Russian
This rich, creamy drink made with vodka, coffee liqueur, and cream is served over ice in an old fashioned tumbler. It was all the rage in the 70s. Palates have slightly changed since then, and we now tend to opt for lighter cocktails, but you can still find it on many drinks menus - often served with a half serving of milk and cream. As coffee-infused alcohol tops the list of coffee trends for 2022, this classic shows no signs of going anywhere.
Harvey Wallbanger
Sometimes simple is best, and what's more simple than a Harvey Wallbanger cocktail? Add vodka to orange juice and top with a floating layer of Galliano vanilla liqueur (created by stirring the drink and delicately pouring the Galliano over the back of a spoon).
Aperol Spritz
You may think that the Aperol Spritz is a recent creation, but Aperol came over from Italy in the '70s, and with it, the Aperol Spritz. A 3-2-1 mix of Prosecco, Aperol and soda water was the drink to accompany the new Italian dishes that were gaining popularity in the UK and US.
Now the drink is more popular than ever - the giant balloon glasses filled with effervescing bright orange liquid has become synonymous with al fresco drinking on a hot summer's day. Wrap a bottle of Aperol, soda and quality prosecco for a thoughtful prosecco gift.
1980s spirits
Cocktails were bright, sweet and in your face in the 1980s - in part thanks to the explosion of spirit mega brands at the time, meaning there were more options available.
"The 1980's saw the birth of the modern spirit mega-brands with the rise of Baileys (created in 1974) and spirits giant Diageo acquiring and relaunching traditional brands like Smirnoff to a new market," explains Sarah. "Absolut vodka was in ascendancy and brands like Malibu and Archers gaining traction. Cocktails were sweet, sometimes frozen, preferably layered and often blue! A Woo Woo the height of sophistication, Bucks Fizz a go-to and Sex on the Beach much more than a suggestion..."
Vermouth
Italian vermouths were one of the nation's favorite tipples and in the 1980s, two brands monopolized the market: Cinzano and Martini.
"Fashion always plays a big role in what we drink in bars. As we all know, fashion will come and go and usually makes a reappearance every so often. Pop culture helped to promote the idea that Vermouth was a 'cool' and 'elegant' product to have in your drinks cabinet. From advertisements on billboards, art-deco posters to movies and many more marketing aspects," explains Murray Anderson, brand ambassador at CUCIELO .
Vermouth hasn't fallen out of fashion, in fact, far from it. More premium vermouth brands have made their way behind the bar and are still staples in many cocktails. Vermouth can be served with soda water or lemonade as a refreshing spritzer, shaken or stirred with gin in a Dry Martini, or mixed with gin and Campari for a classic negroni; a cocktail that has seen a huge resurgence in recent years.
"There's a drink renaissance going on. Italian aperitivo has arrived for a new generation, bringing sunset sipping mainstream. Vermouth is back in vogue and it's fast becoming 2022's most sophisticated serve. And we don't just mean as a cocktail supporting act (although of course, it does taste fabulous in Negronis, Manhattans and Martinis). Vermouth is now becoming the star, served in a spritz or neat, over ice, with a slice of citrus," adds Murray.
Campari
This alcoholic liqueur has stood the test of time and is still widely available and enjoyed today. It was a hugely popular apéritif in the '70s and '80s, served over ice. It has a distinct taste of herbs and fruit and can also be served with soda water or citrus juice, as well as a number of cocktails we still enjoy today. Campari can also be used in place of Aperol when making an Aperol Spritz to create a more bitter-tasting drink.
Blue Curaçao
Whether or not this blue, sickly elixir can strictly be called a spirit is up for debate. But it was ubiquitous in the 1980s and seemingly added to every clear spirit-based cocktail. The bright blue spirit takes its name from the Dutch island of Curaçao, where its base ingredient - the bitter orange laraha - is grown. For any avoidance of doubt, though, its distinctive blue color is purely synthetic.
If you're throwing a kitsch party, ordering in a bottle of this is a must, even if just for aesthetic purposes. This is also a handy ingredient to have in your arsenal when you're creating the best Halloween cocktails.
1980s wines
"The 80's saw a shift as the 'new world' got in on the action, and as women overtook men as the dominant buyer of wine by volume in the UK, which is still the case to this day," explains Sarah. Brands like Sutter Home White Zinfandel, Montana Marlborough Sauvignon Blanc and Jacobs Creek Shiraz Cabernet were popular and offered great value with expressive fruit profiles and plenty of oak or sugar. However, European wines also continued to do well."
"The popularisation and democratization of wine drinking across the UK was reflected in grape varieties rather than regions becoming more visible and wine drinking becoming much more common in popular TV shows from Coronation Street's Deirdre Barlow's glass of red to Jilly Goolden arriving on our screens in BBC's Food and Drink in 1982 demystifying wine regularly to a viewing audience of 8 million."
Blue Nun
You can't think of a dinner party in the '80s without conjuring up images of Blue Nun on the table. It was the height of sophistication – or so we thought - and all down to some clever marketing. Blue Nun was advertised as a wine that could be enjoyed throughout the entire meal, therefore taking the pressure off of thinking about wine pairings. This extremely sweet German wine, however, fell out of favor as time went passed and palates become more refined. It became the butt of the joke and was regularly mocked for very the reason it was once so popular. If you don't relish the thought of serving this up at your next dinner party, instead Sarah recommends The Society's Saar Riseling 2019 - an off-dry and lower alcohol German Riesling.

Bulls Blood (Bikavér)
This Hungarian 'bottom shelf' red wine is another that didn't have the best reputation in the end, and Hungarian wine makers are working hard to change this. Bikavér (from bika meaning bull and vér meaning blood), similarly to Lambrusco was lambasted for low quality, mass-produced exports making their way into the UK. High-quality producers in Hungary are creating some fantastic wines, but some are still hesitant to advertise their blends as Bikavér, as is still has a negative connotation.
1980s cocktails
Cocktails from the 80s sometimes get a bad rep, owing to our penchant for strong colors and stiff measures at the time - but a lot of the cocktails created around that time still exist to this day.
"Through the 1980s, the creams and liqueurs of the 70s saw some decline in popularity, with base spirits such as vodka starting to see more popularity instead. Theatre was a large part of trendy cocktails at the time, through a combination of colors, layering of colors, or 'pour the bar in' style strong drinks," explains Sonia Elia, Brand Ambassador and Mixologist at Franklin & Sons.
Negroni
Most brightly colored cocktails from this era came from artificial colors and saccharin syrups like grenadine or blue curaçao. The Negroni however was one that gained its vivid color from the alcohol alone. Gin, Campari and Vermouth Rosso all stirred together and served on the rocks.
It was some time before this bitter cocktail was embraced, as sweeter cocktails were favored back then. Now considered a classic and more popular than ever before - you'll be hard pressed to find a decent cocktail menu without one.
Amaretto Sour
Amaretto, a sweet almond liqueur was the perfect liqueur for the Italians to export. Sweet enough to be palatable by people who don't like bitter favorites, Amaretto ticked all of the boxes. Shake two measures with with one measure of lemon juice and sugar syrup together with 1 tbsp egg white for the perfect silky finish. Garnsh with a maraschino cherry.
Piña colada
"Rum-based cocktails, such as the summer classic, Pina Colada also entered cocktail culture during the '70s and '80s, and it certainly makes sense when taking the disco era into consideration. Rum has a true party soul and a strong character- when you think of the spirit you're immediately transported to sunny beaches, parties, and tiki music," says Tessa.
While the 70s were all about creamy cocktails, they evolved to include more of a kick in the 80s. Enter, the Pina Colada. Unlike some of these popular cocktails at the time, the Pina Colada has endured and is a staple holiday cocktail. If you're hosting an 80s party, serving them is a must, but for a sophisticated update on the party classic, try Franklin & Sons' Sparkling Colada Recipe recipe which brings together the iconic pineapple and coconut flavors in a lighter serve.
Ingredients
40ml Koko Kanu
10ml Lime Juice
100ml Franklin & Sons Pineapple & Almond Soda (or an alternative pineapple soda)
Method:
Pour all the ingredients into a highball glass (excluding the soda). Add ice to the glass, then Pineapple & Almond Soda, and gently stir to mix and garnish with a slice of pineapple.
Margarita
The more sophisticated cousin of the tequila sunrise that was big in the 70s (tequila, orange juice, and triple sec), the Margarita is a classic cocktail that was still going strong in the 80s.
It's made of tequila, orange liqueur, and lime juice. For an authentic effect, the rim of the glass should be dipped in salt. Head to our easy Margarita recipe for instructions.
Sign up to our free daily email for the latest royal and entertainment news, interesting opinion, expert advice on styling and beauty trends, and no-nonsense guides to the health and wellness questions you want answered.
Food Writer at Future plc
Keiron George develops recipes and styles dishes for a number of publications, as well as reviewing products, writing food features and How To's for Goodto and woman&home.
Keiron's love of food happened quite by accident. As an arts graduate, he was looking for new outlets to channel his creativity when he stumbled upon the world of cake decoration. He set up his own wedding cake business in 2015. In 2016 Keiron was awarded the Julia Child Scholarship at world-renowned culinary institute - Le Cordon Bleu, London, where he studied the art of French Pâtisserie.