Best vegan Easter eggs 2021: The woman&home taste test
These delicious vegan Easter eggs mean no one has to miss out!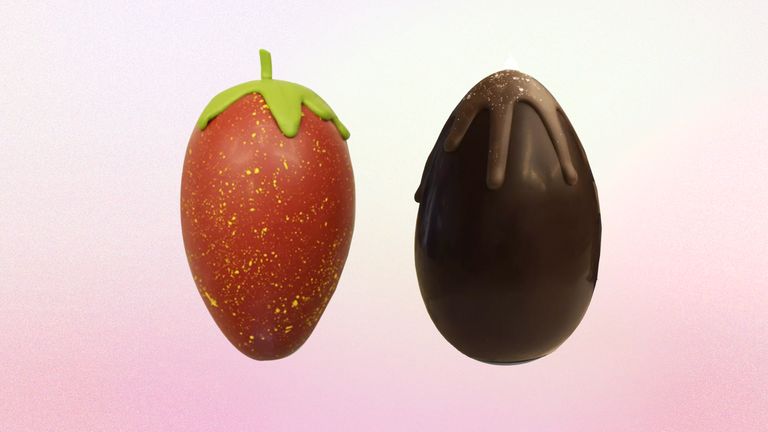 (Image credit: Melt)
The Test Kitchen team have picked their top vegan Easter eggs on sale this year and we're certain even those who don't follow a vegan, dairy or gluten-free lifestyle will be tempted to buy. 
We tested plenty of products in our hunt for the best Easter eggs 2021 and the free-from options really stood out. From fruity infusions to indulgent truffles, there are increasingly diverse options available for those with dietary requirements. 
The best vegan Easter eggs 2021
Strawberry Easter Egg
Our overall winner
Specifications
Stockist: Melt Chocolates
Weight: 350g
Price: £29.99
Phenomenal! This was one of the most exciting and delicious eggs we tasted across all categories. It's thick, luxurious and really delivers punchy flavours. The centre is rich dark chocolate which is topped with a layer of chocolate that tastes like strawberry. 
Divine's Deliciously Dark & Smooth Hazelnut Egg
Amazing value
Specifications
Stockist: Tesco, Ocado, Waitrose, Divine Online
Weight: 90g
Price: £5
New for 2021, this seriously smooth hazelnut chocolate is so delicious we're certain even non-vegans will adore it. It's amazing value, Fairtrade and comes in plastic-free packaging. The chocolate contains 100 per cent pure cocoa butter and no artificial colours, palm oil or soya. 
Dark Sea Salt Egg
Extra thick
Specifications
Stockist: Melt Chocolates
Weight: 350g
Price: £24.99
Mega thick and intense, this dark chocolate egg will not disappoint. The chocolate tastes high quality and has that drying effect in your mouth after eating which keeps you wanting more! Attractive design with clear layers. Very well crafted. 
Divine's Smooth Dark with Raspberries Egg
Fairtrade
Specifications
Stockist: Tesco, Ocado, Waitrose, Divine Online
Weight: 90g
Price: £5
The rich, smooth dark chocolate has delicious flecks of real raspberries sprinkled throughout. This brings a fruity punch on the palate and an enjoyable change in texture too. 
Mummy Meagz Vegan Orange Choccie Easter Egg with Choccie Orange Bar
Fun flavour
Specifications
Stockist: Holland&Barrett
Weight: 165g
Price: £6.99
This fruity vegan egg doesn't feel like a compromise on flavour or fun. The packaging is bright and fully recyclable making it a good gifting option, especially for children. The smooth plant-based chocolate egg has a subtle orange flavour and comes with a delicious bar too.
BOOJA BOOJA hazelnut crunch chocolate truffles Easter egg
Something different
Specifications
Stockist: Whole Foods Market
Weight: 138g
Price: £24.99
While this is not a traditional Easter egg, some might prefer the combination of decadent truffles and a gorgeous, reusable egg-shaped box which is hand-painted and made in Kashmir. The hazelnut crunch truffles are simply divine. We really enjoyed the contrasting textures of rich, smooth chocolate and crunchy hazelnuts. The truffles are also organic. 
Doisy & Dam Vegan Dark Chocolate Good Eggs
Best miniature eggs
Specifications
Stocklist: Holland & Barrett
Weight: 75g
Price: £1.99
Suitable for: Vegans
Made from a lovely 70% Colombian chocolate giving them a rich cocoa flavour. But with a very satisfying crunch. The classy option for the mini egg lover. Great for decorating cakes and bakes or for a chocolaty treat. We love 'em.
Noteworthy free-from Easter eggs
Salted Caramel & Honeycomb Egg with Salted Caramel Truffles
Specifications
Stockist: Morrisons
Weight: 200g
Price: £5
This egg had a lovely flavour and we really enjoyed the pieces of Anglesey salt which are mixed throughout. The egg comes with a selection of truffles which is a nice extra and the box was attractive.
Cocoa Libre Dairy Free Easter Orange Rice Milk and Dark Rabbit Slabs
Specifications
Stockist: Amazon
Weight: 180g (2-pack 90g each)
Price: £8.45
Those who love THAT chocolate-shaped orange at Christmas will love this slab. It has a delicious, vibrant orange flavour and a smooth creamy texture. We like the bunny design too and the slab feels more substantial than some eggs.
Egg Plant Kitchen
Fun design
Specifications
Stockist: M&S
Weight: 140g
Price : £6
A fun design which is sure to get a smile from your emoji-loving friends and family. The chocolate is smooth, rich and not too sweet.
Asda Free From Dark Chocolate Egg with Vanilla Truffles
Specifications
Stockist: Asda
Weight: 200g
Price: £5.50
We really enjoyed the truffles in this set and it makes it feel special if you were gifting. The chocolate egg is quite plain but had a nice dark flavour and a smooth texture.