10 of the best vegan Easter eggs 2022
From rich and dark through to white and creamy - these are the best vegan Easter eggs in the shops this year.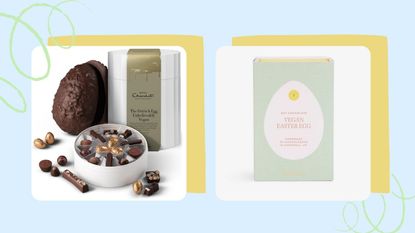 (Image credit: Future)
Whether you're following a plant-based diet or have dairy intolerances, the best vegan Easter eggs - we think - are those that give the exact same cocoa-rich hit as their mainstream counterparts. No cutting corners here, thank you very much.
Having said that, it's fair to say that free-from chocolate has come on leaps and bounds in the past few years with so many people now following a vegan (or flexetarian!) diet. In fact, veganism is becoming so much a part of mainstream mealtimes that to keep up with the changing ways of the world many of the top chocolatiers as well as all the major supermarkets have had to adapt and develop their regular range to include dairy-free choices for vegans.
At Woman&Home we take chocolate very seriously. It's one of life's great indulgences, so Easter is a particularly important time in the year. We've looked at a whole swathe of the best Easter eggs for 2022 available in the shops to come up with the our pick of the top vegan Easter eggs worth your time and money this year. From gorgeous, luxurious statement designs through to affordable supermarket specials, we really do think there's something for everyone here.
How did we test the best vegan Easter eggs?
If you're familiar with our recipes on Woman&Home you'll know that we have a talented in-house team of experts on hand to take care of all our foodie FAQs. Happily these FAQs include finding the very best Easter eggs in the shops this year. With years of experience under their belts, our Deputy Food Editor Rose Fooks (opens in new tab) and our Senior Food Writer Jessica Ransom (opens in new tab) put their heads together to come up with a tried and tested shortlist of standout treats.
Each of our vegan eggs were blind taste tested against other similar eggs to ensure they stood up to Rose and Jess' high standard. Tasting each egg on a blind basis also means removing any brand bias ensuring that there's an even footing, whatever the price point. Things the duo looked for were elements like how pleasantly the chocolate melted, how it snapped, if it was well-tempered, how rich it was and if it had any unique flavour characteristics that made it stand out against the competition.
Once each egg was assessed on its taste it was then graded on presentation and packaging to ensure it had something a bit out of the ordinary about it. This is important given that Easter eggs are so often given as Easter gifts for adults and children alike. We wanted to guarantee we were recommending eggs that look as good as they taste, and vice versa.
Selfridges Selection Vegan oat milk chocolate easter egg
Best overall vegan Easter egg
Specifications
Weight: 215g
Stockist: Selfridges
Price: £22.99
Price per hundred grams: £10.69/100g
What's included?: One vegan Easter egg
Reasons to buy
+
Great texture
+
Light 'milk' chocolate style
+
Luxurious wrapping
+
High quality cocoa
Reasons to avoid
-
Expensive
-
No added extras
While we know everyone tells you it's what's on the inside that counts, the gorgeous pastel packaging from Selfridges makes this feel like an extra special treat. Cornwall based bean-to-bar chocolatiers Chocolarder are responsible for the contents, which is a rich 'milk' chocolate egg lightened with oats rather than dairy.
We found the unrefined sugar gave the chocolate a deep honey flavour while the whole thing tasted sweeter in the mouth before reaching a deep crescendo that was full-bodied and wonderfully rich with cocoa. This, undeniably, was one of the best vegan Easter eggs we tried this year without any strange ingredients.
The inside shell is perfectly smooth and classic in shape with an even thickness across the entire egg. Happily, the oats used in this are gluten-free and there are no nut products used either, making it not only suitable for vegans but coeliac and nut allergy sufferers too. No plastic in the packaging gained this Easter egg further brownie points from us.
Hotel Chocolat Unbelievably Vegan* Ostrich Easter Egg
Best large vegan Easter egg
Specifications
Weight: 2.4kg
Stockist: Hotel Chocolat
Price: £85
Price per hundred grams: £3.48/100g
What's included?: One vegan Easter egg and one box of vegan truffles too
Reasons to buy
+
Perfect for sharing
+
Added extras included
+
Top quality vegan chocolate
Reasons to avoid
-
Steep price point
-
Not good for allergy sufferers due to nutmilk being used
Nutmilk replaces the need for dairy in this impressive Easter offering from Hotel Chocolat, home to the best eggs and Easter hamper ideas year in, year out. This is the first time the brand's iconic 'Ostrich' egg design has been made without milk, making it suitable for vegans. The results are exceptionally good - a lightly creamy milk style chocolate that has layers of depth to its flavour profile.
Things start sweet and vanilla-rich before mellowing to aromatic cocoa and there is a nice crunch from nut and cereal clusters throughout. It's sort of like the ultimate upgrade on the cornflake cakes of your childhood. It's a delicious Easter egg whether you're vegan or not and the size of it makes it an ideal sharing egg for the whole family (ideal if you're a group of mixed diets). There's only one slight problem with the size of this one, it might make it extremely difficult for the Easter bunny to hide. The additional two-tiered box of chocolates go some way to soothing the sting of the £85 price point. One if you're looking for Easter basket ideas for adults, rather than kids, perhaps.
Waitrose No.1 Dark Chocolate with Dark Chocolate Truffles Easter Egg
Best luxury vegan Easter egg
Specifications
Weight: 215g
Stockist: Waitrose
Price: £10
Price per hundred grams: £4.66/100g
What's included? : One vegan Easter egg and four dark chocolate truffles
Reasons to buy
+
Single origin chocolate
+
Luxurious texture
+
Burnt sugar notes
This vegan treat by Waitrose has a white chocolate Easter egg counterpart of a similar design, and we struggled with the same thing for both: The overt use of branding. Looks aside and we were pleasantly surprised by the quality of the chocolate here for a supermarket find. Yes, at £10 it's not cheap but the quality stood up against some much pricier options.
Sculpted out of 65% single origin chocolate from the Dominican Republic, this design had a rich and luxurious mouth feel that melted slowly for the ultimate indulgence. There's a slight bitterness that's lifted by caramel and burnt sugar undertones here, so it's not too potently biting for those who prefer their dark chocolate Easter eggs with a degree of relief to it. The shell is well tempered with a shiny, smooth exterior and it had a nice snap to it when it was broken into for testing. The four additional truffles hidden under the egg are a nice surprise and make it feel a little bit more special when compared to other similar offerings.
ASDA Free From Marble Choc Easter Egg
Best milk chocolate vegan Easter egg
Specifications
Weight : 160g
Stockist: ASDA
Price: £3.75
Price per hundred grams: £2.34/100g
What's included?: One vegan Easter egg and four dark chocolate truffles
Reasons to buy
+
Smooth and creamy chocolate
+
Contemporary twist on vegan chocolate
Reasons to avoid
-
Could be a little too sweet for some tastes
Vegan Society approved, this pretty marbled offering from ASDA presented a real point of difference during our testing and comes with aforementioned credentials. Not only was it good to look at, it also tasted great. Veering away from the obvious choice of using dark chocolate, this contemporary take on a plant-based treat felt a lot lighter than others we'd tried and would be perfect for children or those who prefer something a touch sweeter than dark chocolate.
The use of coconut oil used throughout the vegan recipe makes this melt really swiftly in your mouth leaving a pleasant, creamy aftertaste. There was also no undertones of unidentifiable flavours which we found to be the case in some vegan chocolate alternatives, so all in all we were impressed by the level of detail that had gone into this to get it just right. A ridged exterior was a nice touch too, acting as a pleasant additional initial texture. Sometimes plant-based alternatives can be pricey, so we were pleased that this came in well under a fiver.
M&S Single Origin Chocolate Egg with Truffles
Best vegan Easter egg for adults
Specifications
Weight: 300g
Stockist : Ocado
Price : £15
Price per hundred grams: £5/100g
What's included?: One 85% dark chocolate Easter egg plus a box of truffles
Reasons to buy
+
Single origin chocolate
+
85% dark chocolate
+
Classy packaging
Reasons to avoid
-
Might not be suitable for children due to the bitterness in the chocolate
Simplicity itself, the pared back and sleek design of this M&S egg lets the chocolate do the talking. There are no frills or no fancy decoration, just a solo shiny chocolate egg that's made from single origin 85% dark Tumaco cocoa beans (single origin is particularly important when trying to source Fair Trade, slave-free chocolate as there's full traceability). This region of Columbia is well-known for producing some of the best chocolate in the world and the proof is in the eating.
Despite having that intense, rich bitterness that you'd expect from an 85% egg, there's also a bright acidity left on the palate as it melts which mellows into floral notes just as is promised. The classy packaging reflects what's inside, and there is a handful of cocoa-dusted truffles in the bottom that add an element of surprise. All in all we thought this was a great all-rounder - if you'll pardon the pun - for any dark chocolate lover.
Wicked Kitchen Benny The Bunny
Best vegan Easter egg for kids
Specifications
Weight: 120g
Stockist: Tesco
Price: £5
Price per hundred grams: £4.17/100g
What's included?: One vegan chocolate Easter bunny
Reasons to buy
+
Fun design
+
Smooth 'milk' chocolate
+
Great for kids
Reasons to avoid
-
Expensive when compared to quality of some others on our list
It's well known by now that Tesco's Wicked Kitchen range is the go-to for fun, convenient vegan food that's packed with flavour. This Easter the development team have also come up with a range of seasonal treats to compliment their offering. One of our favourites is Benny The Bunny. This classic but cute design sees a rabbit in a bow tie crafted out of chocolate, and just because it's a novelty shape doesn't mean that the chocolate isn't taken seriously.
Here, rice powder is used to lighten an otherwise dark chocolate to great effect. While this might not win any big awards for bean-to-bar style chocolate, it does what it sets out to do and that's appealing to the masses. It's sweet and creamy and has a lovely variation in thickness throughout the design. We think this one would be particularly good for kids, popped in a personalized Easter basket, given its combination of lighter chocolate and novelty design. Our only slight niggle would be that the price point is steep when compared to more premium products on a per gram basis.
Sainsbury's Deliciously Free From Chocolate Egg
Best vegan supermarket Easter egg
Specifications
Weight: 100g
Stockist: Sainsbury's
Price: £3.50
Price per hundred grams: £3.50/100g
What's included?: One vegan chocolate Easter egg
Reasons to buy
+
Light vanilla-rich chocolate
+
Good value
+
Gluten free
This sweet treat from Sainsbury's proved so popular last year that it's back for another round in 2022. The undulating ridged pattern on the exterior actually adds to the enjoyment in this egg, providing a nice texture as you eat it. The promise of smooth milk chocolate is also met with a sweet and creamy shell that has burnt sugar notes and a hint of vanilla somewhere in the background.
For those of us who like to enjoy a piece of chocolate for a while, you might be pleased to know that this has a very satisfying melting quality thanks to the high cocoa butter content. For a supermarket vegan Easter egg under a fiver we thought this more than pulled its weight. The packaging is slightly twee but the pastel colours might appeal more to little ones if you're gifting to children.
Cocoa Libre Dairy Free Easter Orange Rice Milk and Dark Rabbit Slabs
Best cheap vegan Easter egg
Specifications
Weight: 90g
Stockist: Cocoa Libre
Price: £3.99
Price per hundred grams: £4.43/100g
What's included?: One milk and dark chocolate slab
Reasons to buy
+
Fun novelty shape
+
Ideal for kids
+
Nice mix of dark and milk chocolate
Those who love that chocolate-shaped orange at Christmas will love this slab. It has a delicious, vibrant orange flavour and a smooth creamy texture. We like the bunny design too and the thick slab feels more substantial than some eggs. The slab-shape it also ideal for sending in the post and is less likely to break in transit compared to an egg.
Booja Booja Hazelnut Crunch Truffles in Hand Painted Easter Egg
Best vegan Easter egg for gifting
Specifications
Weight: 34g
Stockist: Ocado
Price: £9.99
Price per hundred grams: £29.30/100g
What's included?: Dark chocolate hazelnut truffles
Reasons to buy
+
Delicious velvety truffles
+
Reusable egg container
+
Silky smooth chocolate
While this is not a traditional Easter egg, some might prefer the combination of decadent truffles and a gorgeous, reusable egg-shaped box that is hand-painted and made in Kashmir. The hazelnut crunch organic truffles are simply divine.
We really enjoyed the contrasting textures of rich, smooth chocolate and crunchy hazelnuts. Use the box to gift some homemade truffles or add it to your Easter table decor as a luxurious Easter decoration idea.
H!P Salted Caramel Oat M!lk Chocolate Easter Egg
The best flavoured vegan Easter egg
Specifications
Weight: 150g
Stockist: Ocado and Whole Foods
Price: £7.95
Price per hundred grams: £5.30/100g
What's included?: One salted caramel vegan Easter egg
Reasons to buy
+
Great salted caramel flavour
+
Delicious, smooth chocolate
+
Fun packaging
Another oat milk vegan recipe, we loved his contemporary design by H1P. Whether you're plant-based or not, this is delicious, thick chocolate that has a good bite to it and a lovely creamy flavour. In fact, we'd find it hard to differentiate this from a milk chocolate made with dairy – it really is stand-out.
This was well-balanced with a good hit of salt carefully counteracting the sweetness of the chocolate. The caramel notes add deep butterscotch tones and we loved that this didn't feel like a 'free from' range where sometimes things can feel like they're missing a certain something. The premium cardboard packaging makes this ideal for gifting and with its bright, playful illustrations this would make the perfect treat for the kids (big or little) in your life.
Rosie Conroy is a food and drinks journalist with over a decade of experience working for big-name titles in both print and online. Formerly the Digital Food Editor of woman&home, Rosie went on to head up the team at SquareMeal, reviewing the best London restaurants and hunting out emerging culinary trends. With previous experience in food styling and recipe development, Rosie knows what to look for in a good piece of kitchenware and has extensive experience testing consumer goods—from kitchen electricalz and cooking accouterments through to new foodie treats.
With contributions from