Sunglasses Chains: You're about to see this chic (and practical) accessory everywhere this summer
Yes glasses chains have made a stylish come back. Never loose your specs again with these stylish cords from just £1.50!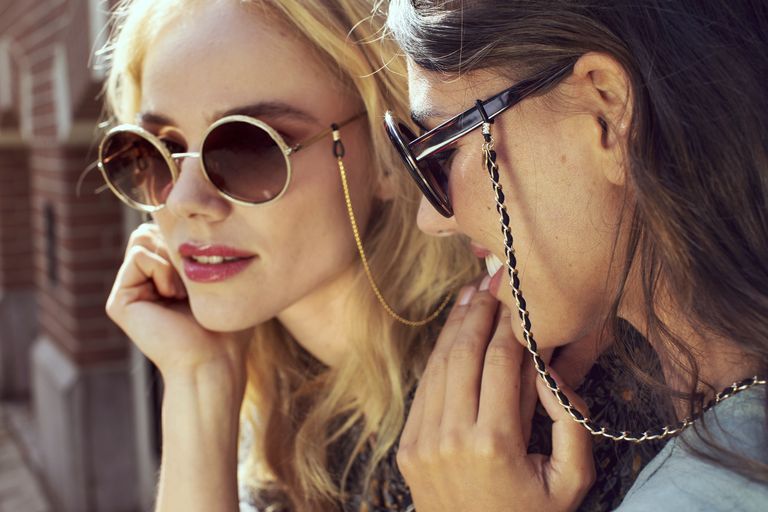 Welcome to woman&home's online shopping where we reveal where to buy the most popular and top-rated products. This guide is about stylish glasses chains, but you may also be interested in our edits of summer tops with sleeves, where to buy face masks, andM&S's anti chaffing shorts.
Who knew it? Glasses chains are back at the forefront of style, taking inspiration from Victorian socialites, librarians and even 90's street wear there's a new breed of modern glasses cord on the market.
Colourful semi precious stones, baroque pearls, tortoiseshell, and delicate 18ct gold plated charms… there are endless options available, and the best part (aside from not losing your precious specs or sunnies) is that many of them are designed to also wear as a striking piece of jewellery.
The story of the glasses chain
The origin of this handy accessory dates back to the Victorian lorgnette. Originating as a pair of spectacles mounted on a handle, these later moved onto a chain. It was the Victorian must-have accessory of the 19th century lady about town. Chains were often ornate and seen more as a statement of wealth.
Over the decades these handy cords have resurfaced time and time again and we know why. Because anything practical eventually does the loop to becoming fashionable again - just look at the huge come back of comfy flat shoes such as trainers and Birkenstocks.
Dedicated chain brands such as Frame chain, Sunny cords and Orris London have all popped up in recent years specialising in beautifully chains designed to enhance your glasses. The high street and jewellery brands have also followed suit with everyone from Accessorize to Missoma producing their own stylish versions.
Frame Chain founders Ann-Margret Kearney and Vanessa Harrington decided to bring back the practical glasses chain in contemporary form in 2014, after misplacing three pairs of designer glasses in one week!
"Just like for their jewellery, consumers are willing to experiment more when it comes to adorning their glasses, and our chains are like jewellery pieces within themselves," says Vanessa Harrington, co-founder of London-based unisex label Frame Chain.
So if your favourite pair of black sunglasses are feeling a bit boring, or you're constantly misplacing your specs then now's the time to shop one of these handy chains.
Sunglasses strap, £1.50, Accessorize
VIEW NOW: Sunglasses strap, £1.50, Accessorize
18ct gold plated sunglasses chain, £125, Missoma
VIEW NOW: 18ct gold plated sunglasses chain, £125, Missoma
Coco grey sunglass cord, £29, Sunny Cords
VIEW NOW: Coco grey sunglass cord, £29, Sunny Cords
100% natural and biodegradable bio acetate chain, £85, orris.co.uk
VIEW NOW: 100% natural and biodegradable bio acetate chain, £85, orris.co.uk
Double beaded glasses chain, £150, Its a wrap at Liberty
VIEW NOW: Double beaded glasses chain, £150, Its a wrap at Liberty
Rose gold chain £29, Thomas Sabo
VIEW NOW: Rose gold chain £29, Thomas Sabo
Gobstopper 18k yellow gold chain, £120, framechain.co.uk
VIEW NOW: Gobstopper 18k yellow gold chain, £120, framechain.co.uk
Pearl sunglass cord, £29, Sunny Cords
VIEW NOW: Pearl sunglass cord, £29, Sunny Cords
Twisted sunglasses chain, £5, Accessorize
VIEW NOW: Twisted sunglasses chain, £5, Accessorize
Acetate lightweight mini chain, £55, orris.co.uk