Queen Letizia's lilac pantsuit is the epitome of quiet luxury for summer
Queen Letizia's lilac pantsuit is truly what dreams are made of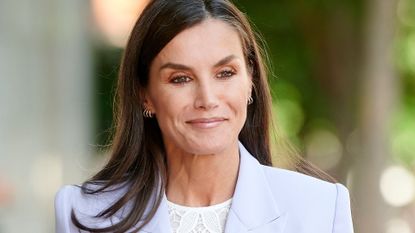 (Image credit: Getty Images)
Queen Letizia recently stepped out in a lilac pantsuit - an outfit that will continue to inspire us all summer long.
Shopping for occasionwear in the summer can be a challenge - the goal is to find an outfit that's cute, but will simultaneously keep you cool in the hot summer months. Oh, not to mention that it's crucial to find something that fits that criteria AND is a summery color on top of all of the other factors that are worth considering, like "does this dress have a built-in bra?".
Luckily, though, Queen Letizia of Spain is constantly serving up chic and 'quiet-luxury' looks in Spain's hot climate, she's constantly a source of inspiration for us - and her most recent look is certainly no exception.
Menswear has been a huge sartorial trend in the last few years, with blazers, trousers, pantsuits, and even shortsuits reigning supreme as hot items to buy for your capsule wardrobe. Queen Letizia took this advice in stride and sported a super timeless yet fun pantsuit while attending the "Mental Health In Spain Forum: 40 Years For Mental Health, For Rights, For You" event in Madrid.
This isn't the first time she's sported this undeniably chic pantsuit, though - she first wore it back in 2021 while attending 'World Cancer Research Day' at the Asociación Española Contra el Cáncer, also in Spain. AKA, the suit is recycled - proving that you can, indeed, outfit repeat and still look fashion-forward and fresh.
The Queen's pantsuit is from a Spanish fashion brand called Bleis Madrid, and costs about $650 - which, obviously, is quite a pretty penny. But, don't worry - we've found similar (and less expensive) styles that can help you achieve your goals of looking like the fab royal.
---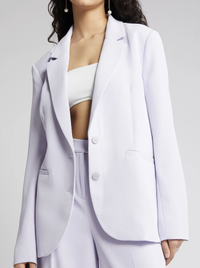 Oversize Curve Hem Blazer by Open Edit, $79 (£63) | Nordstrom
Made with a seasonless fabric blend, it adds a lavish softness to this structured blazer - perfect for any occasion, and the perfect finish to any outfit.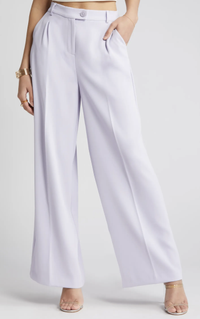 Wide Leg Work Pants by open Edit, $69 (£55) | Nordstrom
Work it in these perfectly polished pants that have a flattering, yet flowy silhouette and comfortable fabric for any occasion.
To style the outfit, Letizia paired the suit with a pair of chic, white heels, which had a slim buckle in the back. For accessories, she kept it very minimal, with small silver hoop earrings and virtually no other jewelry besides her rings - the suit, after all, speaks for itself.
The Queen's style is always reflecting a perfectly balanced combination of elegance and ease, making all of her looks, from her floral midi dress to her lime green Victoria Beckham dress, unequivocally inspirational.
Madeline Merinuk is woman&home's US lifestyle news writer. She covers celebrity, entertainment, fashion, and beauty news but is also obsessed with internet trends - you can find her reciting trending TikTok sounds out loud at any given time.
After winning multiple student journalism awards for her investigative work, she graduated from Hofstra University in 2021 with a B.A. in Journalism. After graduating, she worked at today.com, the digital site for the Today Show, where she wrote pop culture news and interviewed big-name personalities like Emily Ratajkowski, Haley Lu Richardson, Emma Corrin, and more.
Her personal interests, in no particular order, are: cheese, Joni Mitchell, reading, hot yoga, traveling, having multiple chapsticks in every handbag at all times, and dancing to ABBA songs as if she were in the Mamma Mia movies.