Guests at the Coronation exuded 'Stealth Wealth' - find out how to inject their quiet luxury look into occasionwear this season
Win at occasionwear this season with Stealth Wealth fashion tips straight from the Coronation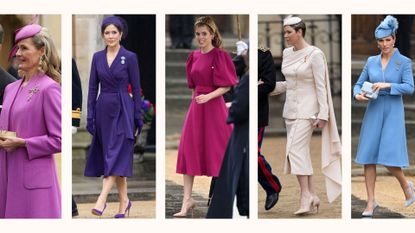 (Image credit: Getty Images)
If you're looking for occasionwear inspiration, the Coronation was the event to influence wedding wardrobes this season. From the Royal family to their very special guests, there were plenty of major fashion moments to take note of. Focusing on 'Quiet Luxury', as befitting for the occasion, guests looked expensive, without appearing flash and it's this Stealth Wealth aesthetic that can ensure you win in the style stakes this summer.
When it comes to what to wear to a wedding, in order to be the best-dressed guest, the Royal family and Coronation attendees offered the perfect example of how to look expensive, without appearing OTT. Channeling what has been coined 'Stealth Wealth', many guests at the event expertly navigated the tricky dress code, appearing in their Saturday best, without looking 'try hard'. While of course several of the looks came from British designer brands, there are certainly some styling takeaways that you can use to create your own version of quiet luxury, without breaking the bank.
Categorized by elegance and subtly, despite injecting ensembles with bright color and trend-worthy details, the Royal family and many guests at the Coronation stood out for the execution of Quiet Luxury. From intricate but appropriate headwear to expensive fabrications, unlike a traditional red carpet, looks weren't heavily accessorized, and while the outfits worn to the Coronation were undoubtedly expensive, you can look just as regal without breaking the bank.
Quiet Luxury Occasionwear Outfit Ideas, Inspired by Coronation Guests
1. Block color
Nailing 'what color suits me' is key to getting your Stealth Wealth occasionwear outfit right. While neutral colors are traditionally central to exuding Quiet Luxury, when it comes to occasionwear, such as the best wedding guest dresses, an injection of color reflects the joy of the day, and Coronation guests took this message to heart, with an array of colorful looks. But there were no color clashes here, with one hue being chosen as the mainstay for the whole ensemble, matching accessories kept the look monochromatic. Not only did these statement one-colored outfits look effortlessly put together, but by largely avoiding print, outfits were timeless too, as prints can quickly date.
Fashion editor's tip: While color is encouraged, stay away from anything too of the moment. In the summer pastel-inspired hues will always be popular, but following anything too heavily invested in this season's fashion color trends might not have the longevity you want.
RRP: $450 / £279 | In a summer-ready yellow, this A-line dress will highlight a waist for an hourglass silhouette. The cute bow detail at the neckline will easily lean into the romantic-feel of a big day.
Vince Camuto Yellow Heels
RRP: $99 / £59.64 | Keep it tonal with pastel yellow heels. With a steadying ankle strap, this sandal style is ideal for warmer months, although the slim heel makes this more suitable for indoor terrain.
2. It's all in the Details
Simplicity is certainly key to showcasing quiet luxury when it comes to occasionwear and because of this, it's all about those subtle details. From beautiful buttons to elegant pleat detailing and pretty puffed sleeves, showcasing craftsmanship is a speedy way of ensuring your outfits look expensive. But this doesn't mean items have to be overly fussy. A sleek shoulder detail, a well-considered seam, or a waist-highlighting belt exudes the aesthetic perfectly.
Fashion editor's tip: This look does not have to cost a fortune and you can easily up the ante with items already in your spring capsule wardrobe. Try swapping out the buttons on your best blazer for something bolder, brighter, or with a vintage feel to personalize your look and create a more expensive-looking item.
3. Considered headwear
In need of some help with how to wear a hat? There are no hard and fast rules in terms of size, but as with above, keeping your look to one block color will immediately make outfits look and feel more expensive. For the King's Coronation, many guests opted for smaller hats, or half-covering styles again leaning into the lower-key, a subtle elegance of the trend.
Fashion editor's tip: Swap classic fascinators and feathery designs for more streamlined silhouettes and hats, or wider-based headpieces. Keep your headwear matching your outfit for a figure-lengthening look.
RRP: $630 / £299 | In a quietly luxurious pastel pink, this dress and jacket combo feels incredibly regal, and the fully pearl-embellished collar delivers the extra element of drama that occasionwear outfits often demand.
RRP: $420 / £199 | If you're shorter in the body, or looking to highlight your waist, a well-tailored cropped jacket offers a naturally way of defining your middle. The longer sleeve offers extra arm coverage too.
Jennifer Behr Pink Hairband
RRP: $198 / £233 | Swap big hats for easy to wear headbands this summer. A wider headband, with embellishment or fabric detailing offers the same up-styled feel without the hat hair at the end of the day.
4. High quality fabrications
Beautiful, luxurious fabric is always noticeable, even in a photograph as it will fall just so and be a perfect match to the cut of the outfit. Ensure seams are straight and sitting correctly and that the weight of the garment seems well matched to the cut. This means that any tiers, puff sleeves or fuller skirts will fall with purpose and drape beautifully.
Fashion editor's tip: Opt for the best you can afford. You don't have to buy silks and tulles and there are excellent synthetic fabrics on the market, but do consider how an item sits and its construction if you want to nail Stealth Wealth occasionwear.
5. Classic cuts
There is no need to reinvent the wheel and when it comes to the best dresses for occasionwear, sometimes opting for the classics is best. From simple shift dresses, with coordinating dress coats, to fit and flare silhouettes that create an hourglass silhouette, avoiding too much fuss and frou-frou will nail the quiet luxury element of your outfit.
Fashion editor's tip: The best midi dresses are often the perfect piece to select for event dressing. Stick to the shapes that you know suit you best, in a block color and appropriate fabric to pull together all the lessons for the Coronation to maximize your quiet luxury look.
Lalage Beaumont Dress Coat
Lalage Beaumont Brocade Dress
RRP: $1,200 / £899 | A universally flattering silhouette, this simple shift dress in a delicate blue-grey silk brocade is a subtle way of exuding Stealth Wealth. The shorter sleeve is ideal if you want a smart outfit with added coverage and we love the waist belt too.
Rivkie is a fashion editor, writer and stylist with over fifteen years' experience in the industry. Having studied design and pattern cutting at the London College of Fashion, Rivkie fell in love with styling and journalism, covering fashion weeks in London, Paris and New York.
Specialising in plus size fashion, Rivkie has long championed that style is for everyBODY and has been a regular talking head on a host of radio stations and television shows, pushing for greater representation for plus size women and fashion throughout her career.