Jennifer Lopez stuns in a skin-tight maxi skirt and matching bra top and we're obsessed!
JLo always stuns with her looks - but this new one takes the cake!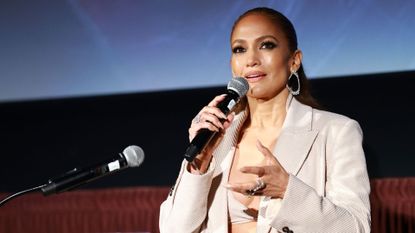 (Image credit: Getty Images)
Jennifer Lopez recently stepped out in a stunning, matching three-piece set, complete with a maxi skirt, oversized blazer, and an ab-bearing bra top.
Attending The Mother Premiere Event at Westwood Village in LA, our fave couple Ben Affleck and Jennifer Lopez showed up in style. Jen's ivory ensemble perfectly complemented her hair and complexion, with the sheen of the fabric contributing to her already evident glow.
This look of JLo's, who also just wore Ralph Lauren at the Met Gala, was styled by Mariel Haenn and Rob Zangardi, and we have to say, we're obsessed with the on-trend look, we're especially loving her funky hoop earrings and stylish bracelet from Fernando Jorge too!
After seeing these pictures, we can't help but wonder what JLo's fitness routine is as she just looks so damn healthy, but then we also remembered that Ben Affleck recently told Drew Barrymore about her 'diet secrets', and they apparently consist of JLo eating anything she wants.
Apparently though, of all the people that JLo hires to help her get ready for the red carpet, Ben is ultimately the one giving her advice on what to wear.
"I'm like, 'Do you like this one or this one?' And he's like, 'I like that,' or 'Oh! That's so much better on you than the other one.' Sometimes it's not what I think, too, which is funny," she told Kelly Ripa in an interview. "He'll joke with me sometimes, though, and he'll say things like, 'Where's the rest of the shirt?' or things like that."
---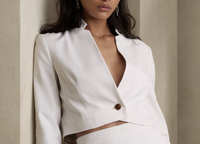 CROPPED SUIT BLAZER in Transition Cream, $78 (£62) | Banana Republic
This cropped blazer is perfect paired with a matching skirt or even with shorts for a cool, summer dinner look.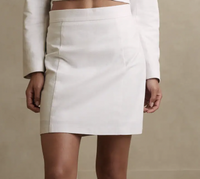 PENCIL MINI SKIRT in Transition Cream, $45 (£36) | Banana Republic
This summer skirt is great for a business meeting, or a fancy dinners with friends or family. Dress it up with heels or dress it down with a t-shirt and your fave sneakers.
For the event, JLo also sported a minimalist yet stunning manicure by her trusted nail artist, Tom Bachik, who is the genius behind the lip gloss manicure, as well as the enviable and trendy vanilla chrome mani.
Madeline Merinuk is woman&home's US lifestyle news writer. She covers celebrity, entertainment, fashion, and beauty news but is also obsessed with internet trends - you can find her reciting trending TikTok sounds out loud at any given time.
After winning multiple student journalism awards for her investigative work, she graduated from Hofstra University in 2021 with a B.A. in Journalism. After graduating, she worked at today.com, the digital site for the Today Show, where she wrote pop culture news and interviewed big-name personalities like Emily Ratajkowski, Haley Lu Richardson, Emma Corrin, and more.
Her personal interests, in no particular order, are: cheese, Joni Mitchell, reading, hot yoga, traveling, having multiple chapsticks in every handbag at all times, and dancing to ABBA songs as if she were in the Mamma Mia movies.