Ben Affleck reveals JLo's diet secrets - and it's not what we expected
The star revealed some insider info about JLo's dieting habits...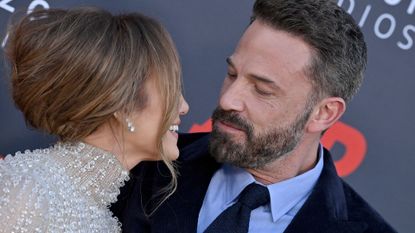 (Image credit: Getty Images)
Ben Affleck just revealed some of JLo's diet secrets, and they shocked even us.
With warmer weather upon us, people are looking for ways to get fit and feel their best and JLo is one of those women that we're constantly looking to for fitness and health inspiration - but even she doesn't follow strict diet regimens. In fact, in a recent interview on the Drew Barrymore show, her husband Ben Affleck revealed some of Jennifer's favorite things to eat and we're on board with the delicious treats!
"Let me say something that's going to upset you," he told Drew on the show after she asked if they have a "cheat drawer" in their home for unhealthy snacks. "Jennifer eats whatever she wants."
Drew then makes a hilarious, disappointed facial reaction to this - which is pretty much the same face we made upon hearing the surprising news.
"Pizza, cookies, ice cream, whatever she wants," Ben continues.
This leaves Drew confused. "Is it the working out?" she asks, referring to JLo's undeniably toned body.
"There's no taking away the work ethic," Ben says. "The discipline is real. But also the superhuman thing is real. She's the most gorgeous woman in the world. She looks spectacular."
This might be a change of heart for Jennifer, though, seeing as she's shared some of her diets in the past - and pizza and cookies didn't make the cut.
In 2013, she revealed her sugar- and salt-free diet, saying she likes to avoid alcohol, cigarettes, and even caffeine to help her achieve her look. Three years later, her trainer, Tracy Anderson, who has since become incredibly popular said she had JLo "eating very clean" with nutrient-rich foods and plenty of protein.
Then in 2019, Jennifer completed what was a pretty controversial 10-day no-sugar and no-carbohydrates challenge with her ex, Alex Rodriguez.
So, regardless of JLo's eating habits now, she certainly has not always been a "eat whatever you want" kind of woman.
Clearly, though, her fitness also plays a huge role - it's no secret that JLo's exercise routines are intense. Ben joked, though, that he works out too, but doesn't quite look like his wife. "She works out. I mean, I work out, too. But I don't magically appear to be 20 years old," he said to Drew.
Madeline Merinuk is woman&home's US lifestyle news writer. She covers celebrity, entertainment, fashion, and beauty news but is also obsessed with internet trends - you can find her reciting trending TikTok sounds out loud at any given time.
After winning multiple student journalism awards for her investigative work, she graduated from Hofstra University in 2021 with a B.A. in Journalism. After graduating, she worked at today.com, the digital site for the Today Show, where she wrote pop culture news and interviewed big-name personalities like Emily Ratajkowski, Haley Lu Richardson, Emma Corrin, and more.
Her personal interests, in no particular order, are: cheese, Joni Mitchell, reading, hot yoga, traveling, having multiple chapsticks in every handbag at all times, and dancing to ABBA songs as if she were in the Mamma Mia movies.