Jennifer Lopez reveals she wasn't sure about this one part of her 2023 Met Gala look on the night
Although she showed up looking fabulous (as usual), there was one aspect of her 2023 Met Gala outfit that Jennifer Lopez wasn't sure about...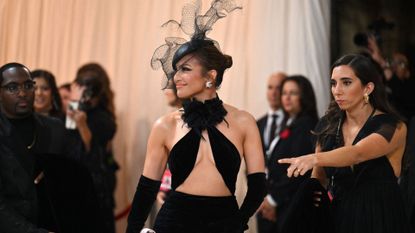 (Image credit: Getty Images)
Jennifer Lopez arrived at the 2023 Met Gala looking as mesmerizing as ever, but the superstar revealed on the night that there was one element of her outfit she wasn't sure about - even as she was walking the red carpet.
The 2023 Met Gala theme was 'Karl Lagerfeld: A Line of Beauty' and all of the best dressed stars at the Met tonight interpreted the theme in a way that was fun yet chic, glamorous and stylish.
Jennifer Lopez was no exception to this, turning up to the iconic fashion event in an elegant and sexy Ralph Lauren look for Monday night's red carpet.
The outfit was handmade for the singer by Ralph Lauren - a great friend of Karl Lagerfeld's, according to the New York Times. Ralph Lauren is also a very special and significant designer for Jennifer too, as the brand created three wedding dresses for J.Lo for her wedding to Ben Affleck last year and the star also wore custom Ralph Lauren to the Met Gala in 2021.
J.Lo's custom Met Gala look for 2023 featured a light pink, silk skirt and a daring velvet halter neck that showed off the star's figure. The gown also had a floral collar and J.Lo accessorised with matching silk gloves and a pair of platform black heels by Piferi.
To complete the look Jennifer wore a black fascinator hat that added a touch of drama to her otherwise ultra elegant and equally sexy outfit. However it was this fascinator that Jennifer wasn't sure about, revealing to Vogue correspondent La La Anthony that even as she walked the red carpet she was unsure about the crowning detail of her outfit.
"I wasn't sure about the hat" Jennifer confessed on camera, but after seeing herself in the monitor added, "but now I'm feeling it." Despite warming to the fascinator after climbing the Met Gala steps in her full ensemble, the star also revealed that she planned to take the hat off once inside, confessing to La La that she was probably "going to take it off for the dinner."
In her interview with La La on the red carpet Jenifer also explained that she had met Karl Lagerfeld during his lifetime and felt very excited about the opportunity to honor him on Monday night at the 2023 Met Gala.
"It's an honor to be here to celebrate Karl tonight," Jennifer told Vogue on the red carpet after walking up the Met steps solo, as it doesn't appear her beau Ben Affleck was in attendance at the glitzy fashion event this year.
Madeline Merinuk is woman&home's US lifestyle news writer. She covers celebrity, entertainment, fashion, and beauty news but is also obsessed with internet trends - you can find her reciting trending TikTok sounds out loud at any given time.
After winning multiple student journalism awards for her investigative work, she graduated from Hofstra University in 2021 with a B.A. in Journalism. After graduating, she worked at today.com, the digital site for the Today Show, where she wrote pop culture news and interviewed big-name personalities like Emily Ratajkowski, Haley Lu Richardson, Emma Corrin, and more.
Her personal interests, in no particular order, are: cheese, Joni Mitchell, reading, hot yoga, traveling, having multiple chapsticks in every handbag at all times, and dancing to ABBA songs as if she were in the Mamma Mia movies.