Dannii Minogue: 'Shopping was a depressing experience for me'
The Australian Pop icon, TV star, and fashion designer talks EXCLUSIVELY about fashion dilemmas as she launches her new petite fashion and jewellery range with digital retailer QVC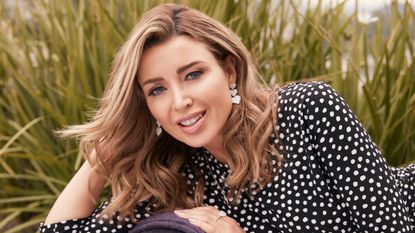 (Image credit: QVC )
Dannii Minogue has confessed that when she was growing up, shopping used to make her feel 'depressed'. The mum-of-one to son Ethan, 10, is set to turn 50 later this year and she's just launched a bespoke petite fashion and jewellery collection, with digital retailer QVC.
Dannii joins the likes of Loose Women host Ruth Langsford, who also has a successful QVC clothing range. But it's her own experience with being unable to find the right fit clothing throughout her life, being just 5ft 2ins tall, that made her want to make things easier for women but also ensure her collection could be worn and enjoyed by all - with the entire range available in petite and regular lengths, in sizes 6-22 or XS-3XL.
The collection was supposed to launch last year at the time of Dannii's birthday and had to be pushed back, following the world health pandemic. But she has juggled homeschooling while working out a marketing plan to finally bring the collection to life. And while Dannii, admitted that throughout the Coronavirus pandemic, "Shopping has been a therapy for me," adding, "Just being able to delve into a world of different fashion brands, going to people's Instagrams and seeing them getting dressed up and modelling their clothes makes me feel like I can do that too."
She tells us why she hasn't always felt as confident...
More from woman&home:
Q: What are your favourite pieces from the collection?
I always rate a collection from the denim - the jeans never lie. If that piece fits really well I'm more interested to delve into that brand and explore. As a petite, it's been a challenge my whole life to get those things that fit properly. Most people think if they're too long in the leg, you can just hem it. You can but the rise where the crutch is and where the knees fall - everything is just not in the right spot so it doesn't feel good and it doesn't look amazing.
So for me it's making sure that's right and adding in all the fun stuff to a collection like a graphic tee - one of mine has got big lips on it and inside the mouth, it's got Love and Kisses, which is my first song, and just a bit of being playful and lighthearted.
I know I'm going to be holding on to that piece forever and ever no matter what happens in the other collections because my first song managed to give me an amazing life travelling around the world and then putting that same energy into this collection. Hopefully, it will be a long journey.
What was your style like growing up?
As a kid, I was given hand-me-down clothes, and mum and my grandma would sew stuff so that's where I learned the basics of patterns. I'd always see one out on the table and I'd ask if I could get involved. Sewing machines aren't my favourite thing in the world - re-threading them just gives me anxiety but it was no problem for my grandma because she's Welsh, she had six kids and had no choice but to make clothes. She made it fun and look so easy.
My brain was always on the designs from not being able to buy petite patterns. I would ask her how we could try to alter things to make it work. But at the time I didn't realise what petite was, I was just like 'That's not going to fit me because nothing fits me.'
It wasn't until my early 20s that I realised I was petite and it was a word and what it meant - you're 5ft 3 and under regardless of your dress size or 160cms and under and that means there's always critical measurements like from the base of your neck to your stomach that is shorter. We would pin all the pieces together and try to make them fit.
I used to think there was something really wrong with me. My friends could just go shopping and buy something and everything they see in their size would fit and look great, whereas nothing I could see would fit. It would be £50 on alterations and would take another week. So shopping was a depressing experience. My girlfriends would ask, 'Do you want to go shopping? and I'd say, 'No, I'll meet you for lunch instead.'
I remember when plus sizes came in and I'd go I'm not the regular size, I'm not the plus-size and the kid's mannequins don't make me want to go shopping in the kid's section so you get depressed because I don't see myself there. Each brand might do one thing in petite, so I'd have to look through a whole department store to find 10 things that might fit me or they don't have my size. It's how it affects your confidence which has always been a big thing for me.
My dream with QVC is to have a place where if you're petite you don't have to feel like there's nothing there for you. People don't know they're petite. I bump into people all over the place and they say, 'I've seen your petite brand, it looks great on you but I couldn't wear it'. But petite doesn't mean a size six, it's your height. The definition in a dictionary means "small things" but we're thinking size but it means height when it's in the fashion industry.
You have an older sister Kylie - was she always stealing your clothes?
We did share and steal clothes from each other. I was always jealous of the fact she was great with vintage shopping and she loved 'op-shops' in Australia. She would find something and tweak it to make it fit her, either run it in or have it altered so she had an eye for that but was never wanting to go down that road of having a fashion label. The last performance I saw of her with her Infinite Disco show she had the amazing gold jumpsuit. I was watching it with friends in Australia and I thought it looked so cool and disco and I asked her afterwards and she said she found it (in an op-shop).
What's your most treasured fashion item from your past?
I have the leather jacket that I wore in the 90s Love and Kisses video. It's John Richmond and it's got all tattoos down the sleeves and I remember seeing that look on the first album I bought and I brought it back to Australia and ended up wearing it in the first video clip. I was going through archive stuff the other day and I found it. And as much as I also love my glamorous gowns from the X factor, that little jacket means so much to me.
It was bought from a store called Patricia Field which I used to have to walk past to get to a recording studio and there were drag queens in there and I loved the music and energy. Nobody knew back then that Patricia Field would turn into the stylist that she is on Sex and the City and all these other shows. That at the time - it was my first big purchase.
How do you feel about ageing? - You're turning 50 this year...
Everything down in this middle section changes - it changed dramatically after having a baby. There's a lot changing again in that 45-50 age. I just want to work against gravity and lift it.
My New Year resolution was to do more exercise because it got me through a lot of lockdown and feeling good and you do see results. Especially seeing my sister Kylie go through all the hard work she put into beating cancer, the lucky ones are the ones that get old. I don't think 'Oh god I'm 50', I think, 'I'm 50 I've got my health, I'm working, I love what I do and I've got a 10-year-old, this is awesome and that the lucky ones get to age.
What advice would you give your younger self?
Wear cropped tops as much as you want to because at some stage your stomach is not going to look like a washboard. I look back at pictures and go, I thought my stomach was always going to be like that, I really did. Not cocky, but you don't know what is down the road and I'd have worn cropped tops a lot more had I known.
Do you feel more pressure on your appearance because you're in the public eye?
You're wanting to produce a product that looks really great so you learn a lot about lighting and how to get the best out of what you have. As far as feeling the pressure I think everybody, whether they're taking selfies or are on Zoom, everybody is up there on screen now so I don't feel more pressure.
I have been upset in the past over the years if I see magazines get a really unflattering picture of someone and go 'Eurgh look at her cellulite or her wobbly bum,' I don't think we should be treating each other like that, it should be a celebration - we're all different. If you haven't got cellulite it just hasn't kicked in yet.
I love the fact that with Covid everybody is a little bit more whatever goes. I've done Zooms with girlfriends and we'll have a wine and I rock up with a towel around my head, just got out of the shower, haven't done my hair, no makeup but I did make a cocktail!
How do you block out negative comments?
It's hard not to focus on the one comment and focus on the other stuff but there's a saying that I remind myself of. Someone can say a nasty comment to you, they may call you four eyes or you're fat. Just because somebody says something doesn't mean it's true and you just have to keep saying that in your mind. You're dumb or you're stupid, say 'Am I though?' just stop yourself and say it really slowly and repeat it, just because someone says that doesn't mean it's true.
Tell us about your plans for 2021...
I want to have the time to focus on the launch and have family time and be really aware of the work-life balance. I do want to celebrate my birthday. So for my 50th, I want to do different things but there's not going to be one big party because that just scares me.
Weirdly I was thinking there are some places in Australia I'd like to see and now I'm not travelling to and from London as much that will happen. Out borders are open shut, so it's easier to travel around so I'm hoping to see some places here I've never seen. Doing something crazy different than in your normal world.
No more homeschooling, I am not a teacher, please no more of that. I do want to get back to London. I don't know what travel is going to be allowed this year, coming back to London would be good.
Dannii Minogue Petites and Dannii Minogue for Diamonique available exclusively at digital retailer QVC (opens in new tab) now. Prices from to £20-£85.
Selina is a Senior Entertainment Writer with more than 15 years of experience in newspapers and magazines. She has covered all things Entertainment for GoodtoKnow, Woman&Home and My Imperfect Life. Before joining Future Publishing, Selina graduated from the University of Sheffield in 2006 with a degree in Journalism. She is fully NCTJ and NCE qualified and has 100wpm shorthand.