Designing for the Oscars: What it's like to create a red carpet dress and how it happens
"Powered by Red Bull and determination, I knew failure wasn't an option" - we spoke to fashion designer Renee Cafaro about what really goes on behind the scenes at the Oscars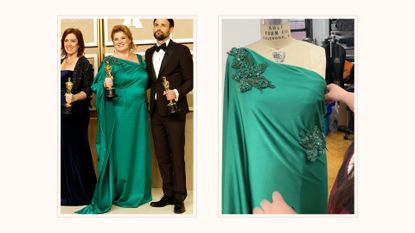 (Image credit: Getty Images)
woman&home newsletter
Sign up to our free daily email for the latest royal and entertainment news, interesting opinion, expert advice on styling and beauty trends, and no-nonsense guides to the health and wellness questions you want answered.
Thank you for signing up to . You will receive a verification email shortly.
There was a problem. Please refresh the page and try again.
Ever wondered what goes into making red-carpet-worthy dresses for the Oscars? Well, you've come to the right place, as we have the insider scoop.
One of the most competitive style nights of the year, when it comes to the best Oscars dresses, we're looking for gowns that truly dazzle on the red carpet. A moment for fashion designers to show their style prowess, the Oscars best dressed list is not easy to get on to and as the finale to the season, attendees really do save their best looks for last.
Designing her first ever Oscars red-carpet dress, for BAFTA award-winning and now Oscar-winning producer Melanie Miller, Renee Cafaro (opens in new tab) launched her Atelier & ready-to-wear label, RCA Public Label (opens in new tab) in the midst of the pandemic. Founded on quality, fit and fair wages, as well as filling the void for plus size women who felt left behind by the luxury fashion industry, Renee, fresh from showing her latest collection in Paris shares the process of designing for the Oscars red carpet and a little bit about her label.
What it's like to create a red carpet-ready Oscars dress for the first time
After a call from fashion stylist Kat Eves (opens in new tab), requesting a dress for her Oscar-nominated client, Renee realized she had the opportunity of a lifetime on her hands.
"9-year-old me is crying in disbelief that I am even designing, no less coming off of Paris Fashion Week and the Oscars," Renee explains. "It's truly what dreams are made of, but I've been so focused on getting work done that I'm not sure it's truly sunk in yet."
With limited time available, Renee knew she had to act fast. With her first show at Paris Fashion Week imminent, as you can imagine, Renee's New York City office was buzzing with fabrics, patterns and outfits getting made up for her showcase, but an Oscars red carpet opportunity is one that every designer knows not to turn down.
"Time was tight," recalls Renee. "So I knew we had to move quickly and essentially agree on the designs, take measurements and get cracking on the new patterns asap."
Due to timing, the outfit would need to be ready before Renee left for Europe but luckily as someone well-versed in occasionwear dressing, Renee already had some strong ideas up her sleeve.
"Movement and balanced glamour" were Renee's first thoughts when it comes to a winning red carpet look. "When I think Oscars, I want to channel my strong silver screen icons like Katherine Hepburn and Lauren Bacall. Lots of Hollywood regency glam, draped silks and well-chosen statement embellishments to ensure the dress shines".
How it happened...
It's easy to forget the hours of work that goes into that singular red carpet moment, although it is one that Renee is now both acutely aware of and a dab hand at. With production and pattern cutting that happens in New York, Renee adapted her schedule to make Melanie's Oscar dress happen.
First up is the design stage, but of course, time was of the essence.
"It's not ideal to create a bespoke look without being able to have multiple fittings", Renee tells us. "But with the help of smart design choices, dress forms, and fit models, I've made it work a few times for busy clients living in London or LA."
So while this might phase many, Renee took this part of the process in her stride.
"I was able to get some cues from her stylist, and drafted up some rough sketches the night before Melanie was due in my office in New York City's garment district".
Having to get creative, Renee drew on her own personal experience of occasionwear and the styles that she believed would make the gown feel special, a key element in any custom piece.
"I draped emerald green silk and crystal embellishments on the dress form as I felt that would speak to the client's desires best, but due to the short timeframe, I also presented some gowns I had in the showroom. Although ultimately we all decided that the Oscars called for a one-of-a-kind grand entrance."
Meaning that a fully bespoke design was the order of the day.
Pre-empting the process, Renee's draped design on the mannequin was an almost instantaneous hit.
"Mel fell in love with my first green gown creation," Renee tells us excitedly. "And after a few minutes of getting to know her as a person we were able to collaborate on a second outfit - a velvet power suit - for another event during the weekend."
Getting to know bespoke clients is a huge part of the process for Renee and meeting someone who shares her passion for detail just added to the inspiration for the look.
"Once she told me that she loves vintage glamour and antique pieces, I showed her my estate sale collection of brass and gemstone buckles and we quickly chose fabrics and decided to forego traditional buttons for the buckle clasp since she found one she loved so much."
And then it was all about getting to work. From the initial call to shipping the dress, Renee had to make it happen super fast, as this was all done alongside finishing her latest collection and packing for Paris.
"I never imagined I'd be working on my first Paris show and an Oscars red carpet dress simultaneously, but it never even crossed my mind that we wouldn't get this done. Powered by Red Bull and determination, I knew failure wasn't an option. My whole team were super dedicated to making the magic happen both for Melanie and for the Paris show. People say fashion is glamorous, and sure it has its moments, but there is a lot of hard work people never get to see." Renee tells me determinedly.
About Renee Cafaro and what's new for RCA Public Label at the Atelier
Starting her fashion career later in life, Renee swapped a successful political career to follow her passion for fashion, undertaking styling, writing and editing jobs within the industry, but it wasn't until the pandemic hit and the 'pause' button actioned that she finally jumped head first into starting her label - her true calling.
Frustrated by the lack of luxury fashion options for women size 1X and above, there was never any doubt that Renee's label had to put this marginalized fashion group at the forefront of her design process, and the painstaking hours of developing designs that actively embrace curves have paid off.
"I've been working very hard and blessed with some incredible opportunities in the last year, but I think that's actually more of a bellwether on the industry than anything. Curvy women are seeking more unique, luxury pieces and the options are still pretty limited, especially if you want to shop for ethical brands, like Kat does. So I think I'm getting noticed as a brand trying to fill that void too."
In a unique position within the fashion industry, Renee starts from a place of 'extended' sizes and is aiming to take all of her favorite fashion inspirations and channel them into the pieces she always felt were missing from her closet.
"I have a very eclectic style but one constant in all my designs is glitz. Extremely high-quality embellishments and fabrics are very rare to find in plus size so I make that a priority in my couture designs I draw inspiration from classic movies and architecture. What I really love however, is working with an individual and getting a sense of what their dream design would be, and then letting my imagination run wild trying to create something that is inspired by their interests and character."
Renee and getting dressed up are clearly intertwined, her ready-to-wear pieces take that aesthetic and put it into practical plus-size style solutions too. From her patented dress with a built-in bra to her moto jacket that features butterfly lock epaulets that will hold your handbag in place, and has a longer zip - if you wear the best bras for large busts, you'll understand why. Renee is here to create a fashion revolution for plus sizes and she has no plans on doing so quietly.
"Next up will be my coastal chic ready-to-wear collection for spring/summer which will be available for pre-order from RCA Public Label (opens in new tab) in April. In September I am looking forward to showing during both New York Fashion Week and London Fashion Week 2023. I'm also actively pursuing more red carpet clients, and delving into my first collection of bridal - catering for every fashion whim. But if I could wish for anything this year it would be to create a stage outfit for Lizzo. Time to manifest that."
Rivkie is a fashion editor, writer and stylist with over fifteen years' experience in the industry. Having studied design and pattern cutting at the London College of Fashion, Rivkie fell in love with styling and journalism, covering fashion weeks in London, Paris and New York.
Specialising in plus size fashion, Rivkie has long championed that style is for everyBODY and has been a regular talking head on a host of radio stations and television shows, pushing for greater representation for plus size women and fashion throughout her career.