13 best workout leggings—sweat-wicking styles that won't become see-through
We put workout leggings through their paces to make sure they go the distance—whether you're a runner, a gym bunny or a yogi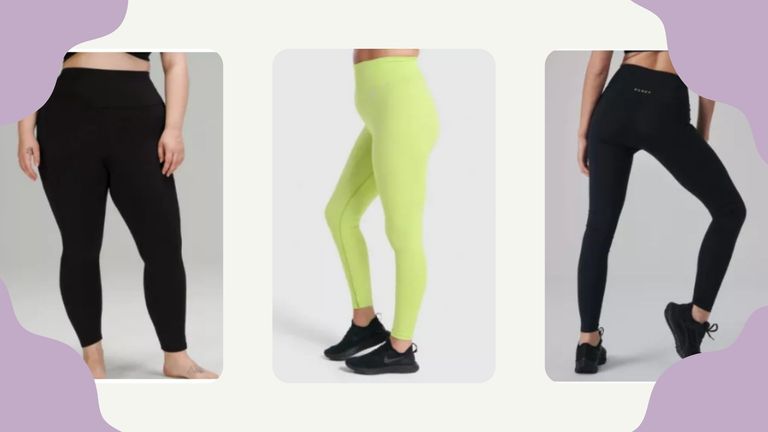 (Image credit: Future)
Despite the range of options out there, a good pair of workout leggings can be hard to find. If you're in the gym you'll need squat-proof, sweat-proof leggings that can stand up to a whole range of movement. Out for a run or walk and you'll need something a bit different.
The best leggings for exercise are the ones that enhance your performance instead of holding you back—whatever you're doing. That means that they won't niggle or chafe, are made of sweat-wicking fabric that won't become damp and heavy by the end of your warm-up, and a firm fit that won't budge even on your longest run.
We tested these workout leggings for running, yoga, strength training and a particularly sweaty HITT session at 36°C, to see which rose to the challenge and which fell flat at the first hurdle. Expect to see big names like Nike and Sweaty Betty, alongside newcomers to the market like AYBL. From the best high-waisted leggings to leggings with pockets, we can guarantee that our picks meet the mark when it comes to performance and will certainly work as hard as you do.
Best workout leggings to shop now
(opens in new tab)
Best workout leggings for everyone
Specifications
RRP: $100 / £80
Sizes: XXS-XXL
Material: 62% polyamide, 38% elastane
Machine washable: Yes
Reasons to buy
+
Flattering high waist
+
Inclusive size range
+
Full and 7/8 leg lengths
Reasons to avoid
-
High-end price tag
-
Sell out quickly
Scoring an average of 4.6 stars over more than 2,000 online reviews, Sweaty Betty's Power Leggings tick all the boxes. We came for the vibrant range of colours, patterns, and prints, but in the end, it was the lightweight yet completely squat-proof fabric that won us over.
We tested these leggings on a 5k and 10k jog, an hour-long yoga session and an intensive gym class and found that Sweaty Betty's Power Leggings have certainly got us covered. It's rare to find leggings that can cover all the bases but our tester found that the high-waisted fit was ideal for running, allowing for a fast sprint without the worry about them slipping. While the light material was perfect for a yoga session, we also put Sweaty Betty's '90% squat proof' promise to the test and can confirm these leggings passed with flying colours.
Crafted from a lightweight yet super stretchy elastane blend, we found the fabric is also sweat-wicking, pulling moisture away from the body to keep us cool and comfortable.
See our full Sweaty Betty Power Leggings review
2. Balance V2 Seamless Leggings
Best workout leggings that won't fall down
Specifications
RRP: $43 / £32
Sizes: XS to XL
Material: 92% Nylon, 8% Elastane
Machine washable: Yes
Reasons to buy
+
Ultra high-waisted to prevent slipping
+
XS to XL size availability
+
Range of colours
+
Darker colours don't show sweat
Reasons to avoid
-
Thick material may be warm in the hotter months
There's a good reason why newcomer brand AYBL's Balance leggings sell out so fast. Our tester found them to be perfectly squat proof with the thick material offering support all the way through the movement as well as making sure that you're totally covered in your workout. They wick-away sweat like a breeze despite this, so you'll never feel like you're peeling them off at the end of your workout.
The ultra high-waist on these Balance leggings make them a sure winner for any runners out there. As our tester discovered, over longer distances (five and 10km) they stay up without an issue, leaving you free to run as you like without having to worry about your leggings slipping down and becoming uncomfortable.
Also, they come in a whole variety of colours—we went for the speckle black—from bright red to jet black so whatever mood you're in, there will be a colour to suit you.
(opens in new tab)
3. Perff Studio Intuition Leggings
Best premium workout leggings
Specifications
RRP: $90 / £80
Sizes: XS-XL
Material: 65% recycled polyamide, 35% elastane
Machine washable: Yes
Reasons to buy
+
Simple design
+
Made from recycled fabric
+
Available in four colors
The beauty of the Perff Studio Intuition Leggings is in their sleek, fuss-free design. The high waist and shaping seams sculpt a smoother silhouette before you've even stepped inside the gym, so VPL will never be a concern—unlike some other gym leggings we found.
While the detailing might be minimal on these leggings, we found them to be far from basic. Made from 65% recycled polyamide, they're the perfect choice for anyone looking to make more eco-friendly fashion choices. If that wasn't enough, they're moisture-wicking, fast-drying, and despite multiple washes, they didn't bobble or pill.
These leggings stood up to the HIIT and yoga sessions the best but the high waist didn't move through a rigorous 5k run, so you can enjoy your workout safe in the knowledge these leggings won't escape you.
(opens in new tab)
4. TALA Zinnia Leggings
Best eco-friendly workout leggings
Specifications
RRP: $57 / £42
Sizes: XS-XL
Material: 92% upcycled polyamide, 8% elastane
Machine washable: Yes
Reasons to buy
+
Eco-friendly credentials
+
Nine fun colors to choose from
+
Regular, tall and 7/8 leg lengths
Reasons to avoid
-
Sell out quickly
-
Need to be washed separately
We were initially taken aback by the teeny-tiny size of these leggings, but they've actually got plenty of stretch and offered a firm compression once we wiggled our way into them. Ideal for workouts on chillier days, like the semi-baltic Sunday morning we tested them on, as the fabric is a little thicker than your average pair. They're easily some of the warmest leggings we've tried.
While they stood up to the test with our running, yoga and HIIT workouts without difficulty, they weren't a cut above the rest. It's where the fabric comes from that's the real draw with TALA's leggings. TALA currently makes their leggings from 92% upcycled materials and they're aiming to eventually achieve 100%. By reusing fabrics as opposed to starting from scratch, each pair of leggings helps to save an eye-watering 40 litres of water and 2kg of CO2 emissions.
(opens in new tab)
5. GapFit Rise Wrap-Front Full Length Leggings
Best high-street workout leggings
Specifications
RRP : $85 / £62.95
Sizes: XS-XL
Material: 74% Polyester, 26% Elastane
Machine washable: Yes
Reasons to buy
+
Flattering wrap front design with wide waistband
+
Gap runs regular discounts online
+
Stylish design
Reasons to avoid
-
Come up a little large
-
Hard to find a good fit if you have a small waist and large thighs
The GapFit range is brimming with sports-ready buys. These are our top pick of all of their leggings and are made from a four-way stretch fabric designed to move with you and not restrict your movement.
Available in an array of different colors, the wrap front design is flattering and supportive and the thick waistband smooths the stomach and waist area. Our tester put these to the test in an intense HIIT session, complete with plenty of squats and lunges, and passed them with flying colors—even when wearing legging-unfriendly seamed black briefs.
The big plus of them is that they're made of breathable, lightweight fabric and they're sweat-wicking. Our tester found they kept the drips at bay during an intense workout without an issue.
(opens in new tab)
6. Adidas Alphaskin Heat.RDY 7/8 Leggings
Best workout leggings for keeping you cool
Specifications
RRP: $85 / £62.97
Sizes: 2XS-XL
Material: 71% nylon, 29% elastane
Machine washable: Yes
Reasons to buy
+
Keeps your legs cool and comfortable
+
Sweat patches fade fast
Reasons to avoid
-
Limited shade range
-
Compression fit makes for slightly visible VPL
What Adidas doesn't know about activewear isn't worth knowing, so it's no surprise these leggings are packed with tech-driven features. First up, the compression fit. We found that these not only offered full security during the yoga but during the run, our tester found that it really felt muscles were being supported through every movement.
Secondly, the HEAT.RDY technology works as hard as you do to keep your body cool and dry during your workout. A claim our tester backs, following a sweaty gym class. Perforated dots along the backs of thighs work hand-in-hand with mesh paneling down the sides to let cool air in and warm air out. The moisture-wicking fabric is a big plus, too, helping to avoid sweat patches.
(opens in new tab)
7. Proskins SLIM High Waisted Compression Leggings
Best workout leggings for comfort
Specifications
RRP: $65.62 / £49.95
Sizes: US:0-20 / UK: 4-24
Material: 82% nylon, 18% elastane Lycra
Machine washable: Yes
Reasons to buy
+
Stretch fabric for full flexibility
+
Inclusive sizing
+
Six luxurious colors to pick from
Reasons to avoid
-
Long leg length not suitable for petites
-
Sell out quickly
Soft with just the right amount of compression, these are the leggings to pick up if you want to put them on and forget you're wearing them. The reason why? These Proskins leggins are made from 'patented micro-encapsulated yarn', supposedly packed full of active skincare ingredients.
While the combination of workout leggings and skincare may not be an immediate connection, the point of this is to transfer skin-loving goodies from the fabric to your skin after your wear them. The result? Our tester didn't notice long-term changes but they found that, overnight, their legs felt noticeably smoother and softer without using any additional products.
And it's impressive line-up. There's retinol to kick-start collagen production, vitamin E to nourish, aloe vera to calm, ceramides to soothe, and even circulation-boosting caffeine. Follow the washing instructions carefully, and these ingredients will stay in the fabric for up to 100 washes.
The skincare additions are certainly a bonus but when it came to working out in these leggings, our tester found the compression was most helpful during the yoga sessions. They were slightly less effective than other pairs at staying up when it came to running more than a couple of kms.
See our full Proskins SLIM High Waisted Compression Leggings review
(opens in new tab)
8. Gymshark Vital Seamless 2.0 Leggings
Best workout leggings to avoid chafing
Specifications
RRP: $54 / £40
Sizes: XS-XXL
Material: 93% Nylon 7% Elastane
Machine washable: Not specified by brand
Reasons to buy
+
Range of colors
+
Seam-free for comfort
+
Supportive ribbed waistband
As far as the best workout leggings go, Gymshark's Vital Seamless 2.0 leggings are pretty purse-friendly. Coming in just above ABYL's price at $54 / £40, they're slightly more money but worth it in our opinion.
Our tester found their biggest draw to be the fact that these leggings are super light, making them perfect for the HIIT class. They wick away sweat like a dream and even the heaviest workout couldn't bring out sweat stains on the fabric. These leggings are also completely seam-free, meaning there's no digging or chafing. This made them suitable for longer, floor-based classes like pilates and yoga, as well as comfortable enough for all-day wear.
The bright colors are instantly uplifting and these leggings are available in six different colorways—there's one for everyday of your workout week (because everyone deserves a day off).
(opens in new tab)
9. Nike Dri-FIT One Women's Mid-Rise Leggings
Best workout leggings for weight training
Specifications
RRP: $55 / £37.95
Size: XS-XL
Material: 78–79% polyester, 21–22% elastane
Machine washable: Yes
Reasons to buy
+
Affordable
+
Suitable for a range of sports
These leggings are thick enough to feel supportive and certainly great for avoiding a squat-based wardrobe malfunction as our tester found they were supportive throughout an hour-long gym workout. They're soft and wick sweat away from the body with ease, meaning we could slip from the gym to yoga without having to worry about showering between sessions.
The main difference between these and the AYBL leggings though is that although they're a slightly higher quality of material, they do roll down on the waist. So if you're looking for a similar style that will also hold up on a run, opt for an alternative.
A worthwhile investment, trust us when we say that Nike leggings stand the test of time. Our Deputy Fashion Editor has also unashamedly been wearing the same pair for the past 8 years and waxes lyrical about how well they keep their shape wash after wash.
(opens in new tab)
10. Sweaty Betty Zero Gravity High-Waisted 7/8 Running Leggings
Best workout leggings for running
Specifications
RRP: $128 / £95
Sizes: XXS-XXL
Material: 50% polyamide, 41% elastane
Machine washable: Yes
Reasons to buy
+
Supportive
+
Compression fit
+
Available in full length and 7/8
The Zero-Gravity Leggings might be the jewel in Sweaty Betty's crown: the fabric is thinner than other styles in the range, with less stretch, and a firmer fit—which our tester found made them perfect for running. There's no movement by the end of mile one, and you feel both 'held in' and fully supported, especially around the stomach and thighs.
The Zero Gravity leggings more than deliver on practicality, with a nice deep side pocket roomy enough to slot your phone in and an adjustable waistband for a spot-on fit. The cool leopard print version is first on our hit-list this year.
(opens in new tab)
11. Lululemon Align High-Rise 25" Pockets
Best workout leggings for yoga
Specifications
RRP: $132 / £98
Sizes: US: 0-26 / UK: 4-24
Material: 81% Nylon, 19% Lycra® elastane
Machine washable: Yes
Reasons to buy
+
Soft fabric
+
Wash well
+
Inclusive sizing
Whether you're an experienced yogi or are just getting to grips with sun salutations in yoga for beginners, you'll know that the best workout leggings for yoga put comfort first. Lululemon knows that too, which is why these leggings are made from the softest fabric we've ever had our hands on. Our tester found that they washed well, with no bobbling, and retained their shape. For lightweight leggings, they're impressively opaque, and we found that even seamed knickers went undetected beneath them. The option to choose a cropped length is handy for some, without any time-consuming rolling or costly alterations.
If Lululemon leggings are a bit out of your price range, keep an eye on their "We Made Too Much (opens in new tab)" section. Here they sell excess stock at seriously discounted prices, giving you the chance to bag a bargain.
12. Love Leggings Focus Mulberry Plum 7/8 Sports Leggings
Best leggings for different sizes
Specifications
RRP: $43 / £32
Sizes: US: 2-24 / UK: 6-28
Material: 80% nylon and 20% Elastane
Machine washable: Cool wash
Reasons to buy
+
Regular, tall and petite lengths
+
Inclusive size range
+
V-shaped high waistband for support
The best workout leggings are the ones that feel as good as they look. Love Leggings offers a great range for all purposes from warming-up to working out to lounging post-workout. If you're looking to do the latter then the Focus style is the one to try in our tester's opinion.
With an inclusive size range and leg lengths in regular, petite and tall, these are one of the best do-it-all leggings we've seen that'll suit all shapes, sizes and workout needs. The V-shaped high waistband offers good support while also being soft, sweat-wicking. These also have a hidden pocket in the waistband, ideal for storing your keys and other small essentials.
13. Pour Moi Energy Printed Mesh Panel Legging
Best fun yet functional leggings
Specifications
RRP: $46 / £34
Sizes: US: 4-14 / UK: 8-18
Material: 78% Polyester 22% Elastane. Mesh: 92% Polyester 8% Elastane
Machine washable: Site doesn't say
Reasons to buy
+
Fun, printed and fashionable designs
+
Perfect for running, spin, HIIT and more
+
Mesh pocket on the side for phone
Pour Moi isn't just a destination for the best bras, nightwear and swimwear, it's also a go-to destination for sportswear. Their matchy-matchy sets (with leggings and sports bras) are some of the best if you love a splash of print or color. The energy leggings are ideal for any exercise, our tester found, from running and HIIT to spinning. And with a cleverly concealed pocket in the mesh leg panels, you can keep your phone close enough to mix up your playlist.
The high waisted fit is also super flattering, and the sweat-wicking fabric kept our tester cool during the most high impact sessions.
How to choose the best workout leggings
Whatever you're up to, the key components of the best workout leggings remain the same:
Fit—your leggings should fit firmly—not so tight that they'd restrict your movement, but snug enough that they're not going to inch down as you drop into a squat. Remember, no matter the quality, the elastic of your leggings will start to give over time, so the closer they fit, to begin with, the longer they'll last.
Fabric—to stay cool when working out, it's worth investing in a pair of leggings made from moisture-wicking fabric. They work by drawing sweat away from your skin, so you're not weighed down by soggy kit. Look out for mesh panels, too, to help your skin to breathe on clammy days. Arguably, one of the most important criteria for a pair of workout leggings is an opaque fabric that won't suddenly become see-through as soon as you bend. Frustratingly, most styles will pass the test in a dark changing room, so it's worth trying on at home in strong lighting to double-check.
Design—check your workout leggings to ensure they have a gusset (an extra piece of fabric spanning the crotch area). Lots of 'standard' leggings don't have this, but a gusset will help to prevent them riding up. Flat seams across the inside of your leggings will help to minimise chafing—but that doesn't give you a free pass to skip the Vaseline for long runs. If you hate the bulk of a bag when you run, try leggings with pockets. Zip-closures will keep your essentials safe, while larger pockets make space for even the biggest phones.
Compression—noticed the term 'compression' cropping up when browsing for the best workout leggings? This refers to an extra-tight fit and aims to supercharge your performance by supporting your muscles. It'll increase blood flow to your legs, too, for speedier recovery time with fewer post-gym aches and pains.
A digital health journalist with over five years experience writing and editing for UK publications, Grace has covered the world of health and wellbeing extensively for Cosmopolitan, The i Paper and more.
She started her career writing about the complexities of sex and relationships, before combining personal hobbies with professional and writing about fitness. Everything from the best protein powder to sleep technology, the latest health trend to nutrition essentials, Grace has a huge spectrum of interests in the wellness sphere. Having reported on the coronavirus pandemic since the very first swab, she now also counts public health among them.