The Best Pjs And Loungewear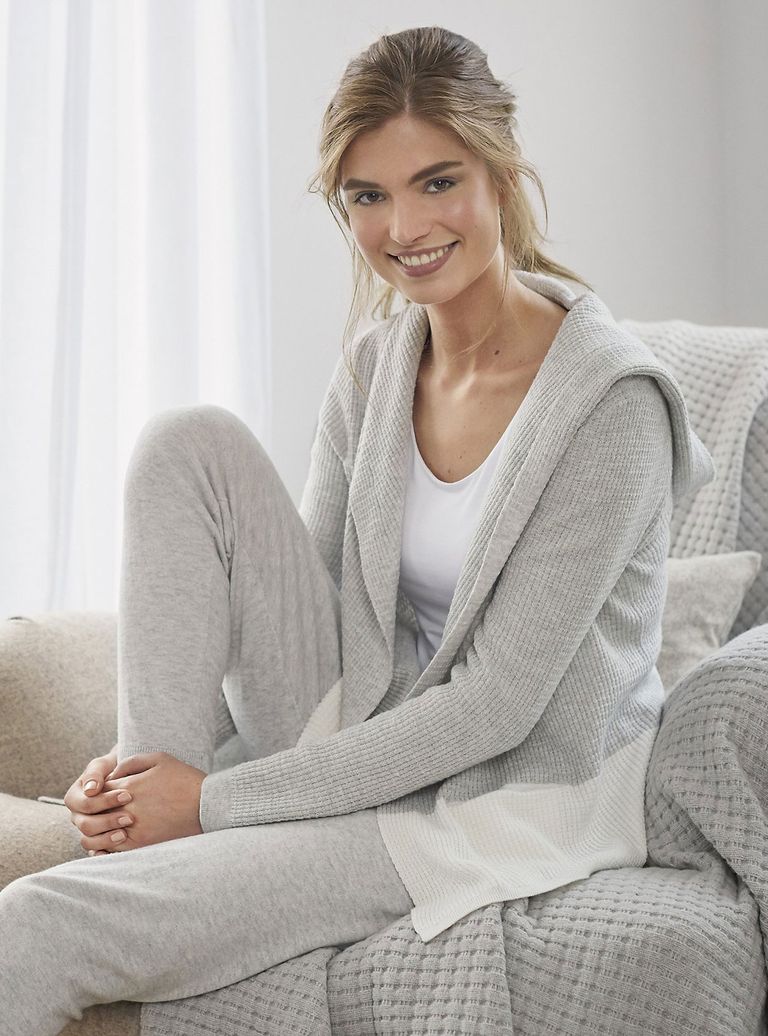 What winter was made for: who cares if it's freezing outside if you can slip into a pair of PJs and snuggle in with a boxset? Christmas parties aside, staying in is most definitely the new going out - and the high street has upped the fashion cred on its loungewear to match our demand.
The minimal Scandi trend is definitely a huge influence here: your new, rather less risqué shades of grey, plus softest pinks and white, naturally, a touch of texture here maybe. What works for everyone: easy shapes, draping, relaxed fit... less is most definitely more. Like to feel a little more glam? No worries - there are some fabulously relaxed satins with or without over-sized but simple floral prints, that look and feel utterly sexy but without any fussy structure, so super easy to wear.
Feel inspired to chill with our edit of the buys you'll love to lounge in.
They do it so well - it's the White Company go-to styling; cardigan, £85, and joggers, £69
Lounge Jumpsuit, Calvin Klein. Buy now for £75 on Net-a-porter.
Not tried a jumpsuit yet? Give it a go with this easy-wear slimming number that would work for a yoga class too.
Loungewear set, Hush, Buy now for £157 on hush.com
Pink and grey makes a beautiful combination - pop on some sparkly sneakers and this set will take you shopping!
Pyjamas set, Hobbs, Buy now for £149 on Hobbs.co.uk
Want to go a bit more glam? If you've got the fashion confidence you could add some heels and go from sofa to party with this silky pyjama set from Hobbs.
Sweater, oasis, Buy now for £36 onOasis.com
Soft jogger, Oasis, Buy now for £28 onOasis.com
Oasis has recently launched their first loungewear collection. We love these cute and unbelievably soft ribbon-tie joggers and, well, the slogan sweater says it all!
Cashmere hoodie, Chinti and Parker Buy now for £395 on Net-a-porter.com
Cashmere Jogger, Chinti and Parker Buy now for £375 on Net-a-porter.com
Completely over indulge in this cashmere Chinti and Parker set: is a pure investment piece for anyone wants to take loungewear style up a notch.
Satin Pyjamas, Next, Buy now for £40 on Next.co.uk
There's something deliciously retro about these piped satin PJs...loving those pompom ballet slippers too!
Swing Tunic, Boden, Buy now for £59.50 on Boden.co.uk
This navy tunic is the perfect daytime meets loungewear dress. The gold polka dots give it that slight festive vibe.
Luxury poncho, Cocoa cashmere, Buy now for £279 on Cocoacashmere.com
This cosy cashmere poncho is pure luxury and the perfect layering pieces; that pink will give you a lift any time!
Luxe Lounge Pants, Winser London, Buy now for £125 on Winserlondon.com
These lounge pants from Winser have a stylish edge that makes them fabulous for travel if you've a winter break coming up!
Samantha Rnic is a fashion stylist and writer from Colchester. She has worked for titles such as Grazia, The Sun and Look magazine. She is currently studio bookings manager at Matches Fashion.