The best matching Christmas jumpers for all the family to enjoy
Get all the family involved in the festive fun with these matching Christmas jumpers everyone will love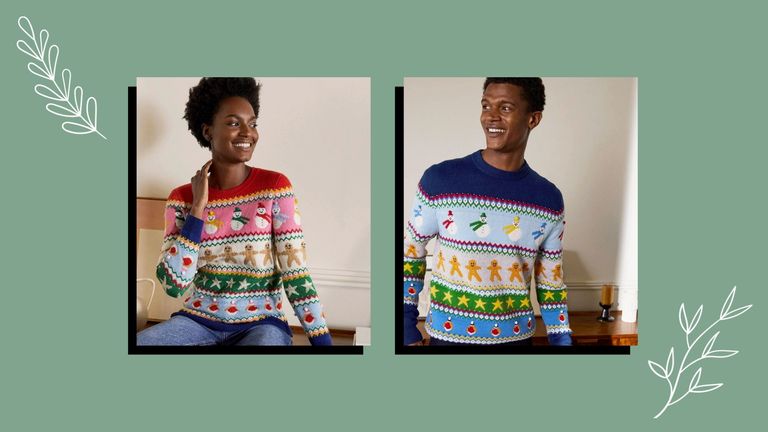 (Image credit: Future/Boden)
Matching Christmas jumpers for the whole family are sure to bring a bit of festive cheer to any gathering, and not to mention provide a perfect photo op for the holiday season.
Whether you love the typical tacky knitwear with reindeers and penguins, or you're looking for an alternative with a more subtle nod to the season, we've got all the best matching Christmas jumper styles for you.
The best Christmas jumpers come with a personal touch, so we've also found matching family Christmas jumpers you can customise! If that doesn't make you want to take a Christmas selfie for the photo album, we don't know what will.
Simply don your jumpers along with some matching Christmas pyjamas and you'll be truly set for the big day.
Best matching Christmas jumpers to shop now
1. Next Grey Sequin Matching Family Jumper
Specifications
RRP: From £20/$32
Womens Sizes: XS-XXL
Kids Sizes: 3-16yrs
Material: 62% Acrylic, 28% Nylon, 8% Wool, 2% Elastane
Care: Machine Wash
It wouldn't be Christmas without some sequins, and these cute knits from Next have just the right amount of sparkle to get us in the mood. Featuring two adorable reindeers, the women's design comes in a soft grey hue whilst the kid's comes in a baby pink color for a cool contrast. The frilly detailing around the neckline and on the cuffs take it up a stylish notch. Perfect for you and your mini me.
---
2. Precious Little Plum Daddy, Mummy and Little Pud Family Christmas Jumpers
Specifications
RRP: $107.75/£76
Adult Sizes: S-2XL
Baby Sizes: 0-18months
Kids Sizes: 3-14yrs
Material: 80% Cotton, 20% Polyester
Care: Machine Wash
Solve the dilemma of what to wear on Christmas Day by getting the whole family kitted out in these fun pudding sweaters. The set consists of a Daddy Pud, Mummy Pud and a Little Pud, all in a traditional red coloured jumper and a sweet pudding design. The quality is top notch too, with each sweater featuring a soft brushed fleece lining making them delightfully cozy and soft. Not a scratchy knit in sight! Now the hard bit is just persuading everyone in the family to wear them...
---
3. Boden Fair Isle Jumper
Specifications
RRP: From $60/£37
Womens Sizes: 6-22
Kids Sizes: 2-14yrs
Dog Sizes: S-L
Adults Material: 45% polyamide 35% wool 15% cotton 5% elastane
Kids Material: 45% polyamide 30% cotton 25% wool
Dog Material: 100% acrylic
Care: Machine Wash
We all know our furry friends are part of the family too so get them involved in the action with a fairisle knit that matches yours. All three designs - one for women, kids and then the Christmas jumpers for dogs - feature a colorful traditional fairisle print you can wear throughout the winter months, not just for Christmas. The women's knit has a relaxed fit, knitted from a wool blend, with a touch of alpaca for a soft and toasty finish. Wear them with your best winter boots on your dog walks and be the envy of all your neighbors.
---
4. Sparks and Daughters Family Christmas Jumpers
Specifications
RRP: From $51.14/ £36
Adults Sizes: XS-XXL
Kids Sizes: Newborn-10 yrs
Material: Cotton Blend
Care: Machine Wash
Another cute collection for the whole family, this polar bear Christmas jumper set can be personalised for an extra unique touch (and a great gift idea too!) The matching Christmas jumpers are available in two wearable colors - grey and navy - with an adorable polar bear design across the front. They are fleece lined too so are guaranteed to keep you warm if we're lucky enough to get a snowy Christmas.
---
5. Solesmith Personalised I Still Believe in Santa Jumper
Specifications
RRP: From $44/£32
Adults Sizes: S-XXL
Kids Sizes: 3-13yrs
Material: Cotton and Polyester
Care: Machine Wash
Bring the Miracle on 34th Street straight to your home with these charming I Still Believe sweaters. Printed with a stunning illustration of Father Christmas embarking on his night of deliveries, the sweaters can be personalized with your name to ensure everyone knows you still believe in the magic of Christmas. The jumper has a relaxed fit and is brushed lined for added coziness. Great Christmas gifts for kids if you're looking for ideas for their Christmas Eve boxes.
---
6. Boden Christmas Crew Neck Snowman Fairisle
Specifications
RRP: From $68/£40
Adults Sizes: XS-XXL
Kids Sizes: 2-14yrs
Mens Material: 39% Cotton, 36% Wool, 25% Polyamide
Womens Material: 45% Polyamide, 34% Wool, 15% Cotton, 4% Alpaca, 1% Polyester, 1% Metallised Fibre
Kids Material: 45% polyamide 30% cotton 25% wool
Care: Machine Wash
Boden has pulled another stylish festive number out of the bag with these cute crewneck knits. The Fair Isle pattern is packed full of color and features snowmen, gingerbread men and robins. The men's design is made from a soft lambswool blend and the matching kid's jumper is crafted from a merino wool blend. The women's has a wool-blend with a touch of alpaca and comes in a bright pink shade. A cute Christmas gift for husbands and their little doppelganger.
---
7. Wild Flower Moon Company Christmas Matching Sweaters
Specifications
RRP: From $21.57/£19.13
Adults Sizes: S-XXL
Kids Sizes : 2-7yrs
Baby Sizes: Newborn-12 months
Material: Cotton and Polyester
Care: Machine Wash
We get that not everyone wants to embrace novelty knits, so for something a little more minimalist this festive season, these stylish sweaters tick all the boxes. The grey jumpers feature a 'fa la la' design across the front which you can get in an array of different colors to suit your style, although we're big fans of the holiday red and green. This subtler style will work all through the holiday season, so rock them on Thanksgiving too.
---
8. Personalised Family Christmas Jumper
Specifications
RRP: From $34.08/£23.99
Adults Sizes : XS-5XL
Kids Sizes: 1-13yrs
Baby Sizes: 6-12 months
Material: Cotton
Care: Machine Wash
If a Christmas photoshoot is on the cards this year and his and hers Christmas pyjamas are already hung up in your closet, then these personalized family sweaters will be the perfect finishing touch. You family name is custom printed on the front and you can snap them up in four colors - red, green, navy and black. Crafted from a cotton blend, they are soft and breathable. With thousands of top reviews from happy customers rating their quality, you'll be bringing these out every year.