40 best swimsuits 2023: Flattering swimwear for all body shapes
Investing in the best swimsuits will help boost your confidence this summer. Here are our favourite picks.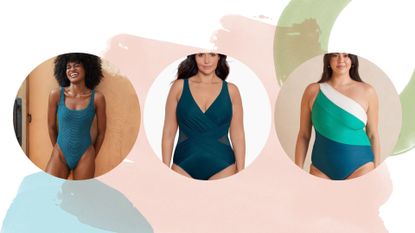 (Image credit: Aerie/Miraclesuit/Summersalt)
With summer very much here, it's time to get your best swimsuits out and catch some rays. Whether you're lounging poolside, hitting the beach, or simply relaxing in your garden, knowing you're wearing the best swimsuit for your body type will boost your confidence immeasurably.
The first swimsuit outing of the season can be nerve-wracking, but if you're looking for a sure-fire way to feel your best, then investing in well-fitting swimwear is a great start. Ideally, you want something that's as supportive and functional as shapewear but with a little more fashionability. Not such a tall order when it comes to this season's biggest swimwear trends for 2023 which include high legs, asymmetric necklines and high-shine metallics.
Sizing is extremely important to consider, as bathing suits will expand in the water, so if you're going to swim, rather than just soak up some rays, you want to opt for a style that's properly fitted, or with extra secure fastenings to stop any wardrobe malfunctions. However, fitted doesn't mean tight, and there shouldn't be any niggling straps or pinching underwires. Comfort is key to swimsuit confidence.
Best swimsuits for each body type: Our fashion expert-approved guide
Here are the very best swimsuits for each body type. To avoid making shopping for swimwear a stressful experience, we recommend you set aside an evening to go on a swimwear cyber search. Trying swimwear on in the comfort of your own home tends to make for a more pleasant experience than the harsh glare of changing room lighting.
Best swimsuits for: plus size
The best plus size swimwear is thankfully much easier to find than it was a decade ago, with plenty of on-trend options available. Cut and fabric are really important, as you will want something that feels secure. Not all plus-size women have larger busts, but if you do, look for the best swimsuits with built-in bust support.
Miraclesuit Plus Size Crossover One Piece Swimsuit
Best plus size swimsuit
Specifications
RRP: £220 / $184
Sizes: UK: 20-26 / US: 16-24
If your best shapewear and best swimwear fused together, Miraclesuit is one of the best plus-size swimwear labels. The brand focuses on supporting your figure through technical fabric, cut and built-in support details to ensure a sculpting yet comfortable fit that you'll be happy to wear all day. This particular swimsuit is a real classic, with a plunging v-neckline, modest coverage bottoms and a scoop back that's perfect for tanning. What we love the most though is the cross-over detailing at the middle and sheer panels at the side, which give it a more fashion-forward edge, whilst still being one of the best tummy control swimsuits. It's also available in black and navy, but this deep blue shade is our favourite.
Best of the rest…
Artesands Linear Perspective Monet One-Piece
RRP: £133 / $159.95 | Green is having a real moment, and this one-piece is the perfect way to try the trend. Colour aside, this suit is brimming with adjustable features, like convertible straps which can be worn straight or crossed, and removable soft cups.
Becca ETC Plus Size Color Code Double Strap One Piece Swimsuit
RRP: £124 / $158 | If you can't go bold at the beach, then when can you? This fuschia swimsuit is the definition of dopamine dressing and is guaranteed to put a smile on your face and a spring in your step. It's available in sizes 0X through to 3X.
Good American Always Fits One-Piece Swimsuit
RRP: £90 / $89 | Good American is inclusive when it comes to swimwear sizing, and this particular suit is available in an XXS/XS through to 4XL/5XL. What's even more impressive is the super stretchy fabric, which adapts to your shape if you drop or gain a size.
Best swimsuits for: pear body type
Pear-shaped bodies carry most of their weight on the bottom half. To balance out your hips, opt for a swimsuit with extra detailing on the top half. Learning how to wear ruffles, particularly at the shoulders, will widen your top half to help balance out a curvy bottom. Block-coloured bottoms and printed tops will again help to create a more balanced silhouette and create a narrower waistline.
Tommy Bahama Colorblock Scoop Back One-Piece Swimsuit
Best swimsuit for pear body types
Specifications
RRP: £137 / $165
Sizes: UK: 8-18 / US: 4-16
This swimsuit flatters in all the right places, making it perfect for pear shapes. The dark navy bottom creates the illusion of high-waisted swimwear briefs and creates a cool contrast with the lighter blue and white top half. The draped fabric and tie waist adds extra elegance to the look, drawing attention to your middle in the process. If that wasn't enough, the fabric provides UPF 50+ sun protection, for extra peace of mind when you're sunbathing. A must when deciding what to pack for a beach vacation, it's ready and waiting to be teamed with your best beach bag. The only downside is that it does need to be hand washed, so keep that in mind if you're averse to anything other than popping it in the machine.
Best of the rest…
Miraclesuit Plumeria Charmer One-Piece Swimsuit
RRP: £161 / $196 | At first glance, this looks more like one of the best tankinis than a one-piece, with a printed overlay to the front, but it's got all ease of an all-in-one. Miraclesuit swimwear does come up snug, so if you prefer a roomier fit, we recommend you size up.
Bleau By Rod Beattie The Heat is On Cap Sleeve One-Piece
RRP: £100 / $119 | The cap sleeves give this swimsuit a point of difference, and make the plunging neckline more of a focal point. One of the best swimsuits this season, the tropical print is so colourful enough that it will go with a kaftan in any shade.
La Blanca Painted Off The Shoulder One-Piece Swimsuit
RRP: £114 / $135 | The flouncy ruffle top on this swimsuit will draw attention to your top half and create the illusion of a fuller bust. We're big fans of the lace-up back detailing, which not only feels a bit cheeky but also allows you to adjust the fit.
Best swimsuits for: strawberry body type
Strawberry body types are broader on the top, with narrow hips and slender legs. To balance your silhouette, opt for plunging necklines, as they draw the eye downwards, creating a longer and leaner body shape. High-cut swimsuits meanwhile help to show off pins but are also a speedy way to lengthen legs as it reveals a larger proportion of thigh, giving the appearance of a longer silhouette.
Hunza G Nancy Swim
Best swimsuit for strawberry body types
Specifications
RRP: £155 / $210
Sizes: One size
In our opinion, it's worth investing in 'Quiet Luxury' swimsuits as these are the designs and fabrics that are going to stand the test of time. Hunza G swimwear doesn't come cheap, but will really earn its keep in your summer capsule wardrobe wearable summer after summer. Crinkle swimwear is continuing to be one of the biggest swimwear trends, and Hunza G is the OG. All of its swimwear is available in just one size, as its high-tech fabric adjusts seamlessly to UK sizes 6 through to 16, which is equivalent to US sizes 2 to 12. This means that one swimsuit can see you through weight fluctuations. The asymmetric design will lengthen your silhouette, drawing eyes up and above your shoulder, elongating your upper half.
Best of the rest…
RRP: £24.99 / $24.99 | The plunging neckline and high-cut legs give this swimsuit a distinctly '80s feel. The tie at the bust is adjustable, so you can decide how much cleavage you want to go for. The pretty daisy print gives it a burst of summer freshness.
Mango Tropical Print Swimsuit
RRP: £49.99 / $79.99 | Mango is one of our go-to brands for the best cheap swimsuits that look far fancier than their high-street price tags. If you're nervous about a fully plunging neckline, the ring detail in the middle makes this one feel a little more covered.
Becca Color Code High Leg One-Piece Swimsuit
RRP: £108 / $128 | Not ready to fully commit to a high leg? The laser-cut ladders on the side of this sleek one-piece are a good starting point. Putting the focus on design details, it's fully lined for extra support and has the option to wear the back tied or loose.
Best swimsuits for: athletic body type
Athletic or rectangle body types are categorised by their straight-up-and-down frame. Suited to almost any type of swimwear, if you're looking to add curves to your frame, then ruching, ruffles, bold prints and cut-out details help to give the illusion of a fuller figure.
Johanna Ortiz Wind Weaver Ruffle Detail One-Piece Swimsuit
Best swimsuit for athletic body types
Specifications
RRP: £349 / $450
Sizes: XS-XL
An athletic figure can benefit from statement ruffles and this design from Johanna Ortiz has ruffles aplenty. The lively print is typical of the Colombian designer, and mostly concentrated on the base of the suit, allowing the statement shoulder and adjustable belt to have their moment in the sun too. As the base colour of the suit is cream, you'll need to be a little careful with the sunscreen you choose to avoid distorting the shade with a tell-tale yellow tinge. On the flip side, this choice of colour will really accentuate and show off your holiday glow.
Best of the rest…
Frankies Bikinis Fawn Shine Ruffle One Piece Swimsuit
RRP: £200 / $185 | One of the best swimwear brands around, Frankies Bikinis is our first port of call when we're looking for something that no one else will be wearing poolside. The delicate ruffles, ultra-low back, and paisley print make this suit a staple.
Boden Skinny Strap Stripe Swimsuit
RRP: £75 / $115 | Boden swimwear just keeps getting better and better, and this striped suit is the perfect example. We love the nod to nautical just as much as we love the narrow straps and V-shaped low back. Choose from emerald or blue stripes.
Best Swimsuit for: hourglass body type
Hourglass body shapes tend to have a small waist and well-balanced bust, shoulders and hips. To that end, when looking for the best bathing suits for an hourglass, it's all about opting for designs that highlight your curves. Wrap shapes, belts and cut-out details at the midriff all help to highlight your silhouette.
Solid & Striped The Spencer
Best swimsuit for hourglass body types
Specifications
RRP: £230 / $218
Sizes: XS-XL
In our opinion, no other swimwear label does prints quite like Solid & Striped. If you want a design that's going to get you noticed on the beach rather than leaving you blending into the background, then this is the swimsuit for you. You might think that busy patterns can distort your frame, and aren't the best way to define your middle, but Solid & Striped have got round this by adding a narrow, detachable belt to The Spencer, to bring attention back to the waist. The bustier-style cups are great for boosting your bust, while the narrow straps mean minimal tan lines. If prints really aren't your thing, it's available in yellow and white too.
Best of the rest…
Away That Day Lake Como One Piece
RRP: £169 / $221 | Wear this swimsuit with the belt to nip in your waist, or remove it and wear it with your best jeans as a bodysuit to max out your cost-per-wear. As long as you rinse after wearing, the fabric retains its shape and shade brilliantly.
Coco Reef Women's Contours Belted High-Neck One-Piece Swimsuit
RRP: £111 / $142 | The delicate draping, teamed with the toga-inspired neckline and wrap-around belted waist gives this swimsuit a Grecian feel. The dusty coral shade will look gorgeous with a tan, team with some sandals and sunshine.
Vince Camuto Women's Printed Belted Bandeau One-Piece Swimsuit
RRP: £108 / $138 | We love a swimsuit with options, and this can either be worn as a bandeau, or with the addition of narrow halterneck straps. The D-ring belt adds subtle definition to your middle without breaking up the tropical print.
Best swimsuit for: apple body type
If you usually shop for the most stylish dresses to hide a tummy, then it's likely you're an apple body shape, carrying most of your weight around your middle. If you're after the best swimsuits to skim and sculpt your midriff, then you'll benefit from the increasing number of tummy-control swimsuits available on the market, that work in a similar way to shapewear. Ruched detailing across the midriff also helps to subtly disguise a midriff if that's the part you're most conscious of.
H&M Shaping Swimsuit
Best swimsuit for apple body type
Specifications
RRP: £29.99 / $39.99
Sizes: XS-XL
If you're looking for a swimsuit that won't break the bank, this one from H&M is a real beauty. Obviously what you first notice is the high-shine khaki fabric with a hint of shimmer, which makes it feel really premium. It's fully lined too, which not only means it offers a higher level of shaping and support but also means you won't have to worry about the fabric becoming sheer when you're in and out of the water. The halterneck shape is really flattering, and there's the option to wear with or without the removable cups depending on your preferred look and fit. The back is medium coverage, while the fabric on the stomach is ruched for a comfortable finish. Overall, it's a real winner.
Best of the rest…
Calvin Klein Pleated One-Piece Swimsuit
RRP: £52 / $79.98 | This is exactly the kind of chic, simple silhouette you'd expect from Calvin Klein. The pleated front makes it comfortable to wear and ensures it won't cling to your tum. One of the best smoothing swimsuits we've seen.
La Blanca Women's Floral Rhythm One-Piece Swimsuit
RRP: £94 / $120 | If you wouldn't normally consider yourself a print person, then now's the time to step outside your comfort zone. We love the full-bloom florals, ruched panelling to the stomach and narrow spaghetti straps.
Sea Level Checkmate Cross Front Multifit One-Piece Swimsuit
RRP: £114 / $134.95 | One of the best Australian swimwear brands, Sea Level are also a sustainable swimwear brand, with all designs made from regenerated nylon that would otherwise have ended up in landfill. This gingham number is our top pick from the brand for 2023.
Best swimsuits for: bigger busts
When it comes to swimsuits for large busts, support is everything. For a spot-on fit, choose swimwear that's available in bra, not dress sizing, as this automatically suggests that the cut has taken bust size and support level into the design. Not all bathing suits are supportive enough for bigger busts, so to stay comfortable, try one with wired cups. They'll provide plenty of lift and create a flattering shape too.
Bravissimo Koh Samui One Piece Swimsuit
Best swimsuit for big busts
Specifications
RRP: £75 / $150
Sizes: 30DD-40K
If you've been blessed with a bigger bust, you'll know that Bravissimo is the number one destination for well-fitting, supportive swimwear that doesn't compromise on design. Its Koh Samui swimsuit is new for this season, and, as is typical for Bravissimo, is available in bra sizing from a 30DD to a 40K, so a spot-on fit is guaranteed. It has balconette cups with hidden, non-niggling wires and a gathered, adjustable neckline which can be tied as tightly or as loosely as you like. The paisley print is a real winner, managing to feel classic and fashion-forward all at once. For us, it has age-wide appeal, as one of the best swimsuits for women over 50, as well as younger women.
Best of the rest…
Bravissimo Amalfi One Piece Swimsuit
RRP: £60 / $120 | Thanks to non-padded cups and a plunge design, this swimsuit both supports and lifts your bust without boosting it too much. The fit is super secure too, so you can enjoy your holiday without any worries of a wardrobe malfunction.
Triumph x Wildehouse swimsuit
RRP: £85| Triumph are the brand behind some of the best bras and most comfortable bras on the market at the moment, and their swimwear also delivers when it comes to comfort and support too. We love this swimsuit from Triumph's collaboration with Wildehouse because it's not only supportive both in and out of the water, but it's stylish and looks good on too, thanks to wired detailing on the bust.
Anne Cole Women's Twist Front Shirred One Piece Swimsuit
RRP: £85 / $108 | Worried that strapless swimwear and big boobs don't mix? This one-piece will convince you otherwise. The little details make all the difference, with sewn-in moulded cups and built-in boning for shape and support. We love the waist defining ruching too.
Best for: smaller busts
Even the best bathing suits can have a frustrating habit of flattening your bust, making an already small chest look even smaller. Boost yours with swimwear with padded inserts, a low scoop neckline or additional detailing at the top such as oversized ruffles, which will add fullness and curves in an instant.
& Other Stories Ruffled V-Neck Swimsuit
Best swimsuit for small busts
Specifications
RRP: £65 / $99
Sizes: UK: 6-18 / US: 0-12
We've long been fans of & Other Stories main line, but have been guilty of overlooking its swimwear offering in previous seasons. But, no more. This swimsuit has clearly been made for smaller busts, with a plunging low neckline. It doesn't have any padding, which may put some people off, so just keep that in mind if that's a potential deal-breaker for you. The adorable strawberries and flowers print evokes the feeling of a sun-drenched summer spent in the countryside and is made even cuter with the addition of delicate ruffles on the shoulders. The back is low, and the front is fully lined.
Best of the rest…
Becca Fine Line One-Piece Swimsuit
RRP: £116 / $138 | We love an unexpected colour combination, and brown and pink are the perfect pairing for this plunging suit. The cut-outs between and below the bust will give smaller boobs a boost, and we love the almost '50s aesthetic for a vintage swimsuit feel.
Zara Strapless Ruffled Swimsuit
RRP: £32.99 / $47.90 | A swimsuit that's sure to get you noticed, we can't get enough of the dramatic, oversized ruffles from Spanish clothing brand Zara. Wear it with shorts or trousers, rather than a traditional beach cover-up to let them take centre stage.
GALAMAAR Chemice One Piece
RRP: £262 / $276 | This swimsuit has taken its inspiration from vintage lingerie, resulting in a classic cut and romantic, bust enhancing ruching across the bust. The acid green shade, however, brings it right back to 2023, tapping into this season's fashion colour trends.
Best swimsuits for: taller frames
If you're tall, you may find that bathing suits can be uncomfortable to wear, as not every style is a suitable swimsuit for a long torso. In that instance, you may want to opt for a two-piece instead. If you want to stick to a swimsuit, then checking out specific tall ranges should help to negate the issue. Be bold and play around with different styles.
J Crew Long-Torso Ruched Bandeau One-Piece Swimsuit
Best tall swimsuit
Specifications
RRP: £132 / $128
Sizes: UK: 4-18 / US: 0-14
We applaud J.Crew for having a section dedicated packed with some of the best swimsuits for long torsos, meaning you can say goodbye to any awkward tugging and adjusting as this should offer tall shoppers a great fit. This bandeau one-piece is a popular choice for a reason, especially as it ensures you won't be left with any frustrating tan-lined on your shoulders. If modesty is a priority for you, you'll be pleased to know that it has a full coverage bottom and high back. There's ruching to the stomach too, for a flattering finish, as well as the option to add or remove padded cups and straps. At the time of writing, it's available in one print and six on-trend shades, so you're sure to find a colourway that suits you.
Best of the rest…
J Crew Long-Torso Ruched One-Shoulder One-Piece Swimsuit
RRP: £132 / $138 | Our obsession with asymmetric necklines is showing no signs of slowing, and the trend feels timeless when combined with classic white and navy stripes. Team with your best tan sandals and a white linen shirt to take you from the beach to the bar.
Summersalt The Long Torso Sidestroke
RRP: £105 / $95 | Summersalt has got tall frames covered, adding an extra inch and a half of fabric to all of their long torso swimsuits. We love the colour-block design of this stylish one-piece, that also hugs and sculpts thanks to the brand's chic fabric.
Best for: petites
Much like those with taller frames, shopping for swimwear can be frustrating if you're close to 5", as swimsuits can end up with too much fabric, making your bathing suit bag. If this sounds like your issue, then try shopping in dedicated petite ranges. Vertical stripes, high-cut legs and deep necklines will all serve to make your figure look longer. You can also check out our guide on the best petite dresses to complete your look.
Faithful The Brand Marae One Piece Bora-Bora Print
Best petite swimsuit
Specifications
RRP: £136 / $179
Sizes: XS-XXL
The adjustable ties on this swimsuit from Faithful The Brand make it a great choice for petites, as you can essentially tailor the fit to suit your frame. Plus, as it's already ruched in the middle, any excess fabric looks like a deliberate design detail rather than an ill-fitting swimsuit. The legs are cut nice and high too, which is another plus when you're under 5". The fabric is regenerated nylon, making it a sustainable choice, while the bold, vintage-inspired squiggly green and white print is sure to invite compliments. Every piece is hand-dyed and hand-painted in Bali, so you know you're getting a truly unique and special item, which more than justifies the price tag.
Best of the rest…
Aerie Lurex Crinkle Babewatch One Piece Swimsuit
RRP: £40 / $54.95 | Crinkle fabric is great if you're petite, as it compacts to hug and hone your frame. The low scoop back balances out the higher neck on this chic blue swimsuit.
Madewell x OOKIOH Costa One-Piece Swimsuit
RRP: £119 / $125 | It may be one of the oldest styling tricks in the book, but it's still a goodie - vertical stripes will make your frame appear longer. This fashion-forward design is part of a limited edition collection.
---
How to choose the right swimsuit for your body type
Every body is different, and although we tend to categorise body types into shapes and fruits such as apple, pear, and hourglass, these shorthands are not the only way to find out which bathing suit style will suit you. The three key questions to ask yourself before investing are:
Does the swimsuit fit and do you feel comfortable and secure in it?
Does the swimsuit accentuate the features you love?
Does the swimsuit detract from the areas you're not so keen on?
In other words, if you particularly love your legs, or want to highlight them, then your best swimsuit will feature a slightly higher cut at the thigh, as this exposes more of that area, instantly making legs look endless.
Want to show off arms or collarbones? Then draw attention to your top half with details such as colour, pattern, or ruffles.
You might have previously shied away from prints and patterns, but a well-placed block colour or design panel can be a clever styling tool when looking for the most flattering swimsuit. Use darker colours to distract from areas you don't want to highlight while using brighter hues to attract attention to the parts you want to show off. For example: if you want to balance out wider hips, opt for a bathing suit with a darker bottom and lighter or brighter top half. To give the illusion of an hourglass silhouette, opt for centrally block-coloured swimsuits, with darker side panels, this creates a central column of colour, drawing the eye in, narrowing a waistline.
If you have a big bust, always look for brands that offer different cup sizes (rather than dress sizes). If you're unsure of what size you need, learning how to measure bra size will help. Just bear in mind that just as weight fluctuates, bra sizing can change depending on where you are in your cycle, so your bathing suit may feel smaller or bigger at different times of the month.
---
What is the best swimsuit to hide a tummy?
To start with, the best swimsuits are worn with confidence and regardless of body shape you have a beach-ready and deserving body. If however, you're not feeling as confident as you would like and want some extra support, we get it and there are plenty of gorgeous swimsuits to support and sculpt your midriff, with many one-pieces and high waisted swimsuits crafted with built-in control and shaping technology. They work by using double-layered fabric to hold and hone your shape, creating a smoother silhouette. Expect the fit to be firmer than your average swimsuit but not as restrictive as shapewear.
The design of your bathing suit has a big part to play too, so look for the following features:
Clever paneling and prints: they create a contouring effect, giving the illusion of a narrower waistline.
Ruching: it can work wonders, ensuring the fabric always looks draped, smoothing over bits your conscious of.
Tankinis: If you're distinctly different sizes on the top and bottom half, then a tankini could be a good alternative to an all-in-one. Those with blouson or empire-line style tops will skim over your middle instead of clinging to it.
---
What colour of swimsuit is most slimming?
We've said it before, and we'll say it again: fashion should be fun. And for that reason, colour shouldn't come into the equation when shopping for bathing suits for body types. Let yourself be drawn to shades, patterns, and prints that you love, instead of being led by what you think will make your shape look a certain way. You'll look and feel better in a colour that brings you joy.
Many believe that black gives the appearance of a slimmer silhouette, by making shadows less visible, but it can be a colour that drains your complexion, especially when worn close to the face. If you're still keen on the idea of a darker colour, navy is more forgiving, while a print will feel more summery.
If you want to know what colours suit you, think about the pieces of clothing you normally receive the most compliments when wearing. It might be green that brings out your eyes, blue that contrasts beautifully with your hair, or hot pink that pops against your skin tone.
Focusing on what you need to improve about your body before you allow yourself to feel confident is a losing game. Once you realise that your body is worthy, just the way it is, you'll feel a lot better about putting on any kind of swimsuit. Promise.