Bathing suits for body types: How to find the most flattering one piece for your shape
Our guide to the best bathing suits for body types is essential, confidence-boosting reading this summer.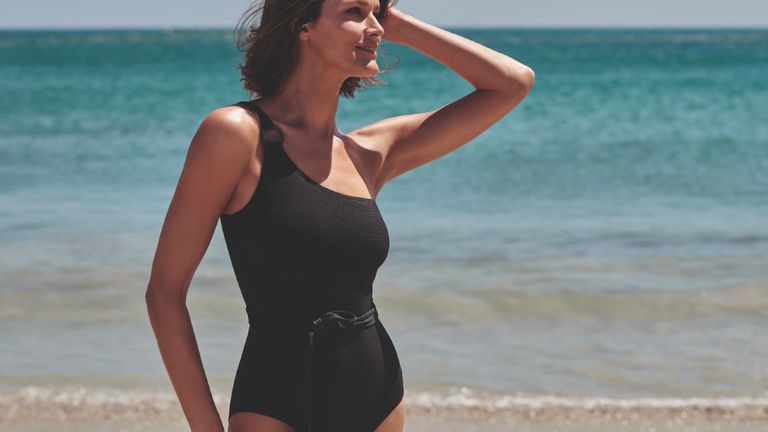 (Image credit: F&F)
Planning a seaside trip or turning your garden into a sunbathing oasis this summer? Then our guide to the best bathing suits for body types is essential reading. We don't believe that there's a woman out there who doesn't have something to show off, but if you're lacking in confidence, nothing will give you a boost like some well-cut swimwear. 
We all have bits we don't like – a troublesome tummy we want to smooth, a bust we want lifting, and curves we want flattering. And the key to finding well-fitting swimwear is to shop according to your body shape so that the end result is as flattering as the best shapewear, as supportive as your best bra, and as comfortable as your best leggings. 
When it comes to sizing, remember that bathing suits will expand in the water. So you might want to pick one that's a little tighter than you'd normally go for if you're planning to get wet. However, that advice only goes so far. If the straps are cutting into your shoulders, the underwiring digging in, or elastic pinching at your skin, you need to size up. Comfort is key to confidence, so it always comes first. 
Here at w&h, we want to make shopping for a bathing suit an all-around enjoyable experience, which is why we've answered a few of our most commonly-asked swimwear questions below. Plus, we've rounded up an edit of bathing suits to suit every body type to save you precious time shopping and scrolling. Now go enjoy that sunshine! 
How do I choose the right bathing suit for my body type?
Every body is different, and although we tend to categorize body types into shapes and fruits such as apple, pear, and hourglass, these shorthands are not the only way to find out which bathing suit style will suit you. The three key questions to ask yourself before investing are:  
Does the bathing suit accentuate the features you love?
Does the bathing suit disguise the areas you're not so keen on?
Do you feel comfortable and secure when wearing it? 
So, if you're proud of your legs, try a suit with slightly higher cut thighs. If you love your arms or collarbones, draw attention to your top half with details such as color, pattern, or ruffles. 
Cleverly placed prints and paneling are a failsafe way to trick the eye, putting the focus on the bits you love and distracting from the bits you don't. For example, a bathing suit with a darker bottom half and printed top will always draw the eye to the pattern - stealing focus from your hips and middle in the process. 
If you've been blessed with a bigger bust, always head to a store or website which offers different cup sizes. If you're unsure of what size you need, learning how to measure bra size will help. Just bear in mind that just as weight fluctuates, bra sizing can change depending on where you are in your cycle, so your bathing suit may feel smaller or bigger at different times of the month. 
What is the best bathing suit to hide a tummy?
Good news – bathing suits for body types with a larger tummy are easy to find, as the majority of one-pieces boast built-in control and sculpting technology. They work by using double-layered fabric to hold and hone your shape, creating a smoother silhouette. Expect the fit to be firmer than your average swimsuit but not quite as restrictive as shapewear. 
The design of your bathing suit has a big part to play too. Clever paneling and prints will create a contouring effect, giving the illusion of a narrower middle. Ruching also works wonders, ensuring the fabric always looks draped, instead of stretched, over the area. 
If you're distinctly different sizes on the top and bottom half, then a tankini could be a good alternative to an all-in-one. Those with blouson or empire-line style tops will skim over your middle instead of clinging to it. 
What color bathing suit is most slimming?
We've said it before, and we'll say it again. Fashion should be fun. And for that reason, color shouldn't come into shopping for bathing suits for body types. Let yourself be drawn to shades, patterns, and prints that you love, instead of being led by what you think will make your shape look smaller. 
Yes, it is true that black does give the appearance of a slimmer figure by making shadows less visible, but it can also drain your complexion - especially when worn close to the face. If you're still keen on the idea of a darker color, navy is more forgiving, while a print will feel more summery.
If you want to know what colors suit you, think about the pieces of clothing you normally receive the most compliments when wearing. It might be green that brings out your eyes, blue that contrasts beautifully with your hair, or hot pink that pops against your skin tone. 
Focusing on what you need to improve about your body before you allow yourself to feel confident is a losing game. Once you realize that your body is perfect, just the way it is, you'll feel a lot better about putting on any kind of bathing suit. Promise. 
Bathing suits for body types: Our fashion expert approved guide 
Here's the very best bathing suits for body types. So, set aside an evening to go on a swimwear cyber search and be excited – you'll feel positively fabulous once you've found the right one piece for you. Even better, all of these styles can be tried on in the comfort of your home.
Victoria's Secret Dominical Strappy One-Piece
Best plus-size bathing suit
Specifications
RRP: $69.50/£61.81
Size range: XS-XL
Translating everything they know about great-fitting underwear into swimwear, Victoria's Secret is our go-to for bathing suits for body types of all shapes and sizes. The cut-out side sections add interest, with no risk of a wardrobe malfunction.
Pour Moi Capri Stripe Frill Hidden Underwired Swimsuit
Best bathing suit for pear body type
Specifications
RRP: $78/£42
Size range: 32C-38G
This bathing suit combines the look of a two-piece with all the comfort and security of an all-in-one. The block-color section will make your bottom half look slimmer. 
Boden Talamanca Swimsuit
Best bathing suit for strawberry body type
Specifications
RRP: $98/£65
Size range: US 2-18/UK 2-22
We love a bold and bright swimsuit, and this one is ticking all our color-craving boxes. The plunging neck will help elongate a broader top half, while the cleverly cut legs makes your bottom look perkier. 
Mango Gathered Print Swimsuit
Best bathing suit for athletic body type
Specifications
RRP: $79.99/£49.99
Size range: S-L
When it comes to bathing suits for body types, athletic frames have the most choice. Have fun with prints and patterns, as well as extra details like gathering and cut-outs. 
Miraclesuit Tramonto Belle Temptation Swimsuit
Best bathing suit for hourglass body type
Specifications
RRP: $184/£170
Sizes: US: 4-12/UK: 8-16
If you're lucky enough to have an hourglass frame, choose a swimsuit with detailing around the sides to really draw attention to your tiny waist. Miraclesuit also promises you'll look 10 pounds lighter in 10 seconds when wearing one of their swimsuits - no gym time required! 
Next Shape and Sculpt Pintuck Plunge Swimsuit
Best bathing suit for apple body type
Specifications
RRP: $44/£32
Size range : US: 2-16/UK: 6-20
Built-in, comfortable mesh across the inner lining of this bathing suit works wonders to tone and sculpt your stomach. This emerald green shade looks especially gorgeous on darker skin tones. 
Curvy Kate Maya Swimsuit
Best bathing suit for bigger busts
Specifications
RRP: $87/£57
Sizes: 30E-40J
Shop by bra size to guarantee a great fit on your top half. Wiring and padding will provide extra support and lift, so you don't have to compromise on comfort. 
Next Ruffle Shape Enhancing Bandeau Swimsuit
Best bathing suit for smaller busts
Specifications
RRP: $49/£36
Size range : US: 2-16/UK: 6-20
Conscious about your smaller bust? Frills and ruffles will make your frame look fuller. The shading on this bathing suit will create curves on straight-up-and-down frames too. 
Boden Corsica Swimsuit
Best bathing suit for taller frames
Specifications
RRP: $98/£70
Size range: US 2-22/UK 6-22
Being tall gives you plenty of license to play around with different shapes and patterns when shopping for swimwear. Don't shy away from vibrant, look-at-me colors. 
H&M High Leg Shaping Swimsuit
Best bathing suit for petites
Specifications
RRP: $34.99/£24.99
Size range: XXS-XL
Specially made bathing suits for body types on the petite side will ensure the fabric doesn't swamp your frame. If you want to shop in the main range, high leg cuts will make your legs look longer.