Amal Clooney's Style: How She Dresses To Impress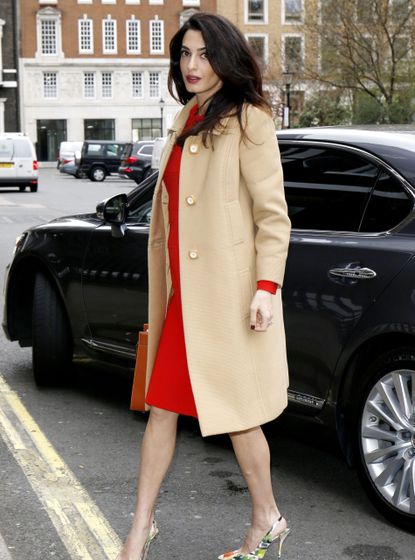 (Image credit: Rex Features (Shutterstock))
Whether it's an awards ceremony, an address at the United Nations, or simply a stroll through town: Amal Clooney always looks polished and sophisticated whenever/wherever she's papped.
With her sleek and tailored suits, bright block colours and elegant red carpet dresses; Amal's modern look provides inspiration for every professional woman in search of new ideas to shake up their working wardrobe. The key to Amal Alamuddin Clooney style file? Confidence - and plenty of it.
A Lebanese-British lawyer and activist, Amal has worked on many human rights cases and has sought to gain rights for women all over the world. She's a signatory of UNICEF UK, and has sat on the Public International Law Panel of Counsel.
Since Amal was thrust into the limelight after she began dating George Clooney in September 2013, the international human rights lawyer has yet to put a fashion foot wrong. In fact, she continues to wow us with a range of gorgeous outfits when stepping out for public appearances both with and without George.
Whether it's in the courtroom, on the red carpet or out-and-about in New York - we've rounded up some of Amal's key looks to give you ideas for your next shopping spree...(although, probably not in Gucci, sorry about that.)
Out in London - 30 March 2017
Amal looked stunning and sophisticated in a simple red dress and a trusty camel coat whilst in London recently. The lawyer was on her way to deliver a speech on war crimes in Syria and Iraq, and wore a gorgeous Dior dress, Balmain coat, and a pair of floral Oscar de la Renta pumps to finish off the look. We love Amal's layering here for the colder English weather.
Out and about in New York - 09 March 2017
Before we get started, we don't want to detract away from Amal Clooney's impassioned speech in defence of Iraq's Yazidi people. We just want to celebrate this lovely photo of Amal - in a bright yellow dress and matching coat from Bottega Veneta - as she arrived at the United Nations to give it. And we're not going to talk about Amal "showing off her bump" to the UN either (as some news outlets reported). She was there to do a job - it just so happens we think she wore a memorable outfit in order to do it.
Out and about in Paris - 24 February 2017
When in Rome...(*/Paris) it's important to up your fashion game and Amal did just that earlier this year in a chic William Vintage cape dress whilst she was out and about with husband, George. We love the sixties swinging feel to a classic Chanel-inspired monochrome palette.
On the red carpet in Paris - 24 February 2017
Red carpet might not be Amal's preferred habitat, but she can certainly dress to wow the paparazzi regardless. The 42nd Annual Cesar Film Awards this year was no exception. George's date looked like a classic Hollywood starlet in Atelier Versace - and we're loving those Veronica Lake femme fatale waves.
At work in Texas - November 2016
Amal spoke at the Texas Federation for Women in Austin, Texas and kept it smart. Mrs Clooney delivered a powerful speech on the power of women supporting each other, and spoke about how her mother was her role model, managing to maintain both a family and a career as she grew up. For the event, Amal rocked a pin-striped Giorgio Armani dress and a pair of her favourite Paul Andrews pumps, this time in snake-skin.
Out and about in New York - 22 September 2016
It's really hard to get bow-detailing right, without looking like you've been gift wrapped - which is why we were particularly impressed with this red Proenza Schouler dress. As this outfit goes to show, Amal isn't afraid of power dressing - not with dramatic lines or cuts, but colour - and it really works a treat.
Out and about in New York - 21 September 2016
Taking a walk in the NYC sunshine, Amal looked ever the professional in a sailor-inspired knee-length Gucci dress adorned with a draping red bow. She paired the dress with some Giambattista Valli mirrored pumps.
At work at the United Nations - 16 September 2016
We're feeling the subtle sailor vibes yet again with this classic Gucci wool dress. When this snap was taken, Amal was delivering a powerful UN speech about human trafficking on behalf of Nadia Murad - one of 5,000 Yazidi women taken captive when Isis swept through northern Iraq.
On the red carpet in Cannes - 12 May 2016
What a way to make your debut red carpet appearance, eh? Bravo! Amal showed the world just how breathtaking her fashion choices could be when she stepped out in Cannes wearing this fairytale chiffon Atelier Versace gown. Yellow is a particularly tricky to pull of, but if Amal has shown us anything, it's that she isn't afraid to experiment with colour.
On the red carpet in Berlin - 11 February 2016
Amal stole the spotlight from hubby George yet again - this time at the Berlin premiere for Hail, Caesar! The semi-sheer sequin gown stepped away from Amal's usual romantic style and embraced Morticia Addams inspired va va voom. Now that's how you make a statement: vintage Yves Saint Laurent.
On the red carpet in Los Angeles - 1 February 2016
Custom designed by Giambattista Valli, we love the playfulness of this modern red carpet look. Short, sleeveless satin with scatterings of bright red embellished flowers? It's cute, it's bold - and it's one of our favourite of Amal's evening looks.
Out and about in London - 25 January 2016
Dressed for a press conference with a client, Amal left the Doughty Street Chambers in a red double-breasted Dolce & Gabbanasuit and stiletto heels.
Out and about in London - 3 December 2015
As we've seen previously, Amal isn't shy of taking a chance on a one-off vintage outfit. This metallic Lanvin culotte-and-cropped top number dates back to the swinging '60s and brought out the lawyer's playful side at Charlotte Tilbury's store launch. We love it.
Off to work in London - 5 October 2015
If only we could all commute into work wearing Dolce & Gabbana like a pro. In 2015, Amal reminded us all why pinstripe suits are such a working wardrobe staple. Sexy, stylish and professional - this suit has it all...
Off to work in London - 24 June 2015
Hmm, what do you pick out to wear when you're off to Westminster for Prime Minister's Questions at Parliament? This smart white skirt-suit ought to do it.
At work in Athens - 14 October 2014
In 2014, Amal met Culture Minister Kvnstantinos Tasoulas in Athens to advise the Greek government on how to repatriate the ancient Elgin Marbles statues from Britain. And she did it in style - wearing a smart white-and-green Camillo Bona dress.
Wedding style in Venice - 29 September 2014
What did she wear? What didn't she wear, more's the question. Hands down, our favourite of Amal's wedding bonanza weekend wardrobe picks is this effortlessly stylish Stella McCartney cream and navy jumpsuit - and matching wide-brimmed hat. Reminds us, just a little, of Bianca Jagger's '70s YSL wedding suit. An unconventional bridal choice, but a spectacular one.
Wedding style in Venice - 28 September 2014
We're still gushing over this utterly enchanting Giambattista Valli dress with its scattered flower embroidery. We love the modernity of the cut and the romanticism of the floral design, kicked off splendidly by those metallic/hologram heels.
Wedding style in Venice - 26 September 2014
Three words: Dolce & Gabbana. It's the only way to arrive in Venice.