The £5.95 Dry Skin Saviour That Victoria Beckham Loves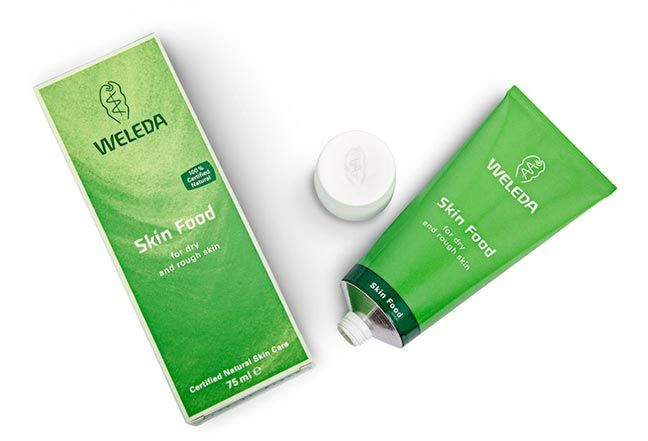 Dry skin can be a pain, and summer can make caring for it even more tricky. While we love soaking up some vitamin D, the heat and humidity that comes hand in hand with it, can lead to a whole host of skin-related ailments, from a dull and sore complexion, to congestion and excess shine.
The key to this problem? A product that will nourish without blocking pores and combate the dryness without clogging. But finding such a clever beauty buy can take some research.
Cue one of our skincare saviours, Victoria Beckham, and her personal recommendation for a miracle cream that will load your skin with all the good stuff. The aptly named 'Skin Food' contains a powerful trio of pansy extract, sunflower seed oil, and rosemary leaf oil. The salicylic acid found in the pansy extract soothes any inflammation (for those caught outdoors minus their trusty factor 50), while dry skin will drink in the moisturing vitamin E found in sunflowers.
But don't just take our word for it. Victoria told Hello! about why she loves this bargain product saying, "It's really, really thick and I just slather it on."
And the best news is that while we're used to Victoria having a taste for the finer (and designer) things in life, Weleda's Skin Food will set you back just £5.95.
Victoria isn't the only celebrity to cotton on to this bargain beauty buy. Famous makeup artist Romy Soleimani, who has worked with Liv Tyler and Kate Hudson, is also a big fan. She said, "I use this cream everywhere - face, cuticles, elbows, feet. It leaves skin with a nice sheen, and no greasy residue."
It's also Adele's secret skincare saviour when she's on the road. "Because I wear a lot of makeup when I'm working, I like to use Skin Food by Weleda because it makes my skin feel really replenished," she explained.
While Julia Roberts, told Instyle how she loves the all-natural product. "I put it on my hands after I wash dishes, and wind up putting it on my elbows and feet," she said. "Before you know it, I've squeezed this poor little green tube into a twist.
Founded in 1921, Weleda is now a world-leading manufacturer of holistic natural cosmetics, known for its natural ingredients.
The changing weather and hotter temperaturesthis season mean it's important to update your skincare routine with hydrating products that will keep your skin healthy and balanced. Well, if it's good enough for the A-listers...