The best tan accelerators for gorgeous, glowing skin
Ensure you look tanned the safe way with these clever beauty buys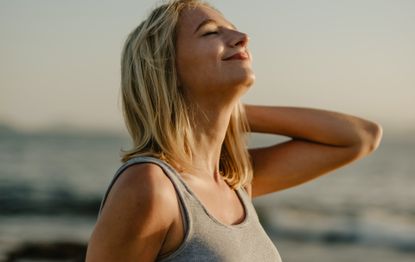 (Image credit: Esther Driehaus/unsplash)
From tanning tablets, to tingling lotions, to drops and silky serums – there are plenty of options to boost and prolong your tan
Even if you're someone who tans well naturally it's a struggle to maintain your golden glow. Fortunately, there are an array of tan accelerators to keep us looking sun-kissed for longer.
We asked celebrity makeup artist & tanner Olivia Todd (opens in new tab) about the best tan accelerators around, and why they are a safe and healthy alternative to the sun's rays and sunbeds.
What are the benefits oftan accelerators?
"I think tanning acceleratorsare a great way to build up a beautiful natural looking glow over time," says Olivia. "If you're not quite brave enough to opt for a spray tan or tan in a bottle (opens in new tab) they're your day-to-day answer to a sun-kissed glow."
What's more, those days of icky sticky tan accelerators are over. "Now, we have plenty of options. New tanning formulas are nothing like their sticky, strong-smelling, orangey-looking predecessors," adds Olivia. "I prefer lotions and potions partly due to the fact that the kind of tan acceleratorsyou apply are often in the form of a super luxurious moisturiser or serum. These make you feel like you're doing something good and achieving something. Pills work, but from experiencethey're easier to forget and you don't get that same pampering feeling."
"When you apply tan accelerators it's very easy to achieve a streak-free natural looking tan as they don't contain DHA or pigment," she says. "They're also packed with moisture-loving and melanin-boosting ingredients (melanin is pigment in your skin responsible for tanning), which help to hydrate the skin and prevent flaking, peeling and dehydration. Some of the beneficial oils include almond, jojoba, coconut, cocoa butter, which are all great for nourishing the skin."
Are tan accelerators safe?
"Tanning in the sun (opens in new tab) or on a sunbed takes its toll on your skin, often drying it out and fast-forwarding the ageing process," she says. "Not to mention the added risks that come with subjecting yourself to harmfulUV rays."
"What I love about tan accelerators is that they help to kick-start the tanning process without the need to bake in the sun all day. It's important to note, however, that they don't act as a barrier. This is a common misconception. SPF (opens in new tab) must always be applied first to protect your skin. Even those that are a 2-in-1 product must be applied in addition to your normal sun protection."
Why do you think we love a tan?
"It's no secret that a tan makes you look healthier. I think it's the main reason women loveto sport one," says Olivia. "It's the ultimate skin booster that covers up uneven skin tone, cellulite, veins and makes you look slimmer. This is why a tan is, for many of us, an essential part of looking and feeling your best. I like to think of it as a way to illuminate your natural beauty, the instant fix that makes you look as though you've slept for a week or been on a retreat."
So, if you want to keep that life-affirming look for a little longer, keep reading for our recommended tan accelerator beauty buys, including Olivia's top choices.
Tan Luxe Super Glow Body, £35
Gone are the sticky formulas of old, this gorgeous serum contains hyaluronic acids & superfoods for glowing, hydrated skin, and caffeine to boost collagen production. Part of the bestselling Super Glow range, this provides a gradual sun-kissed glow. Olivia loves it, and the chances are you will too.
Ultrasun Body Tan Activator SPF 30, £28
Totally de-bunking the myth that you need to bake in the sun in order to get a tan, this innovative lotion from a W&H favourite has a robust SPF30 protection but also contains a special ingredient that stimulates melanin production for up to 40% deeper tan in 10 days. This means you can spend less time in the sun, still get a nice glow on, and avoid damaging your skin in the process.
Imedeen Tan Optimizer, £40
One of the original and best-loved tan-boosting supplements, Imedeen Tan Optimize has an excellent rep with good reason. Take a tablet every day (ideally for a month) to prep your skin by loading it up with antioxidants vitamins C and E, which help ward of burning and other damage, plus carotenoids to boost a bronze glow. As always this is no substitute for SPF, so you'll need that too. Combine with Ultrasun for super brownie points!
Institut Esthederm Bronz Impulse, £43
Institut Esthederm makes beautiful suncare, which, yes, is reflected in the price but is well worth splashing out on because the results are so impressive. This Bronz Impulse Face And Body is a pre-holiday prep product, which works to strengthen your skin's natural sun protection, and revs up your pigments for tanning. Skin is left soft, scented, protected and with a distinct glow. Use alongside Olivia's recommendation – Institut Esthederm's Tan Prolonging Body Lotion – which cools the skin after a day in the sun.
Gatineau Tan Accelerating Lotion, £49
Also recommended by Olivia (and a host of five star reviews), this new and improved lotion prepares, boosts and prolong a tan, whilst promoting the skin's self-protection thanks to the addition of melanin production activators. It sounds a little pricey, but at 400ml it's a bumper-sized bottle.
Balance Me Gradual Tanning Drops, £30
Just add a couple of drops to your favourite face or body cream and blend, then apply for a natural, streak-free glow. The odourless drops contain DHA, which reacts with amino acids in our skin's keratin to stimulate that sun-kissed look. If you're hankering after a subtle glow use two drops; for a deeper tan add three – the colour you'll achieve depends on the composition of your skin.
The 'Green Monster' Smoothie
Health instructor Kathyrn Lurosso swears by her 'Green Monster' smoothie for a natural glow. She claims that after a week of drinking one smoothie a day, you'll see a noticeable difference in your skin. You'll probably be full of energy as well. Fancy it? Simply blend the following ingredients: 1 cup unsweetened vanilla almond milk 1 frozen banana 5-6 chunks of frozen peach I scoop of vegan protein powder 1 tbsp of organic coconut oil 3 pitted Medjool dates 4 cups or more of chopped kale, chard or spinach