New Boots No7 serum proven to knock five years off sells one every two seconds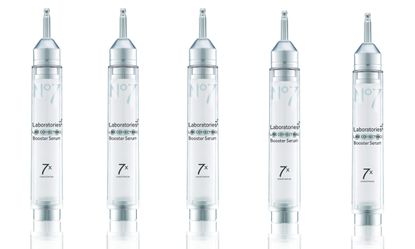 When a new Boots No7 serum launches, the beauty world pays attention.
Boots No7 serum has enjoyed a fairly unbroken run of skincare hits (opens in new tab) since the sell-out frenzy of the original No7 Protect & Perfect after a certain documentary way back in '07.
Why? Proven skincare benefits thanks to the brand's prized Matrixyl 3000 complex (opens in new tab), keen pricing and a clever focus on the consumers who matter. We're looking at you, ladies.
So when word arrived that a collection of super-concentrated skincare was in the works - including a powerful line-filling serum to combat wrinkles (opens in new tab) - I got that baby into my beauty cupboard faster than you can say "crow's feet (opens in new tab)".
Typically for a blockbuster skincare launch, No7 swore pre-launch testers to secrecy on the details of this shiny new product so I've been keeping quiet... until now.
Allow me to introduce No7 Laboratories Line Correcting Booster Serum (opens in new tab)...
The much-anticipated serum launched on 11th April, selling an incredible one every two seconds on its day of launch after racking up a 16,000-strong waiting list.
So what's all the fuss about?
No7 Laboratories Line Correcting Booster Serum: what you need to know
As of August 2020, itcosts £19 (opens in new tab)
The serum was launched in 2019
It's the first product to launch from No7 Laboratories, a new skincare line focusing on highly targeted skincare solutions
This serum is applied directly to lines, rather than all over the face
In clinical trials it was shown to reduce the appearance of wrinkles by up to five years. After trialling it on women who were considering injectable treatments, 77% said it gave them better results than they thought were possible with skincare alone and 73% said they were less likely to consider Botulinum Toxin (aka Botox)
Is Boots' No7 serum any good?
I love the syringe-like packaging, both for practical benefits (it really helps get the product right where it needs to be - in my case, around my eyes and forehead creases) and the psychological; this looks serious, so just feels like it works.
But make sure you don't get too trigger happy when dispensing; my first 'dose' ended up flying out at such speed it hit the other side of my face. The formula is lovely as you'd expect from No7, it's light and swiftly absorbed without any obtrusive fragrance. There's no stickiness, either; it plays nicely with all the other skincare I use and sits well under makeup, so no worries about pilling.
Here's what vlogger Tiff Benson says about the product...
https://www.youtube.com/watch?v=xzy8495Zoko
...and Instagrammer @beaubombshell_pin_up_uk (opens in new tab)
And what about the No7 serum results, you say?
Well, full disclosure, I've only been testing the serum for a week, so full transformation is pending. However, I have absolutely noticed a nice instant plumping effect, and the more pronounced expression lines in my forehead seem smoothed out when I raise my eyebrows.
I'll keep going with it, which, trust me, is not the case for the majority of product trials. This is a clever buy backed up by science, at a price point that rarely offers this sort of targeted product. Looks like No7 has done it again.
Other Boots No7 Booster serums we love
Boots have recently launched two new booster serums into the range.
No7 Laboratories Dark Spot Correcting Booster Serum, Boots, now £19 (opens in new tab)
This nifty concealer tackles dark spots, promising a diminished appearance in just two weeks. Trails claim that those using the product will see dark patches "visibly reduced" after four weeks.
No7 Laboratories Firming Booster Serum, Boots, now £19 (opens in new tab)
This nifty serum promises that skin will look "visibly lifted" after two weeks of use. Try applying this booster serum morning and night after cleansing, and before your usual moisturiser (just as you would the No7Laboratories Dark Spot Correcting Serum).
Beauty Editor, womanandhome.com
As woman&home's Beauty Channel Editor, Fiona Mckim has tried more products than she's had hot dinners and nothing makes her happier than raving about brilliant finds on womanandhome.com or her instagram grid (@fionamckim if you like hair experiments and cute shih-tzus). Fiona joined woman&home as Assistant Beauty Editor in 2013 under industry legend Jo GB, who taught her everything she needed to know (learn about ingredients and employ extreme cynicism). She has since covered every corner of the industry, from interviewing dermatologists and celebrities to reporting backstage at Fashion Week and judging the w&h Beauty Awards.