Meghan Markle's fave eyelash-enhancing serum has a massive discount
Make use of Prime Day to get your hands on one of Meghan Markle's favorite beauty products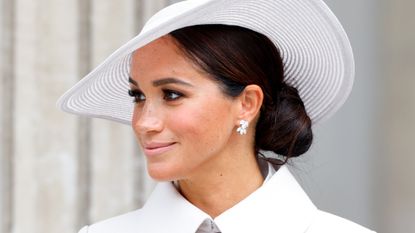 (Image credit: Getty Images)
Happy Prime Day! If you're looking for the best deals out there, you're in luck: today, Meghan Markle's favorite eyelash-enhancing serum has a massive 30% off.
Meghan Markle's skincare secrets are the stuff of legend, so whenever one of the Duchess' favorite beauty products is on sale, fans obviously go crazy over it… especially if it happens to be one of the best vitamin C serums out there.
This particular pick by RevitaLash cosmetics works incredibly well on eyelashes, enhancing them through the use of physician developed and cruelty-free ingredients.
Originally priced at $98, the eyelash conditioner will cost you a relatively cheap $68.60 right now, but you've got until the end of Prime Day to make use of the deal.
---
To make the best use of the product, apply a thin line of it directly to your eyelashes, above the lash line, once a day.
Users will notice a difference in their eyelash area immediately after use. Developed with the goal of addressing the visible signs of eyelash aging due to chemical and environmental stressors, the product does not contain parabens, phthalates or gluten and it is fragrance-free.
A mere scroll through the comment section on Amazon will make one thing clear: Meghan is not the only fan of the RevitaLash eyelash conditioner.
"This is favorite beauty product EVER!," one commenter wrote. "It really does work. My lashes are amazing because of this. I have people ask me daily if I am wearing fake lashes or if I have eyelash extensions. I have been using this product for about a year and my lashes are still great."
"Bought Revitalash and started using it religiously in June," yet another customer noted. "I was skeptical and since I have very VERY sensitive eyes, I didn't think this would work for me. Sooo many eye/face products just end up making my eyes swell. Not this. I'm amazed."
And if you need Meghan herself to properly endorse the product to convince you of its efficacy, you should know that, back in 2014, the Duchess told Allure (opens in new tab), "I use RevitaLash on my eyelashes and I swear they are as long as they could ever be."
We're sold!
Anna Rahmanan is a New York-based writer and editor who covers culture, entertainment, food, fashion and travel news. Anna's words have appeared on Time Out New York, the Huffington Post, Fortune, Forbes, Us Weekly, Bon Appetit and Brooklyn Magazine, among other outlets.