Meghan Markle's skincare secrets—the Duchess' favorite beauty products revealed
Meghan Markle's skincare routine is a blend of high end and drug store products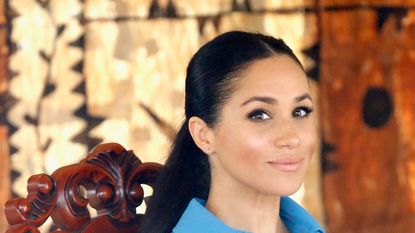 (Image credit: Getty)
If you've ever wondered how Meghan Markle achieves her flawless skin, this one's for you.
The Duchess of Sussex shared several of her go-to beauty products before she became a member of the royal family.
Some of her favorite brands included Kate Somerville, Fresh, and Caudalie.
---
The Duchess of Sussex has never been shy about sharing her skincare routine, dropping tips and recommendations on numerous occasions throughout her pre-royal career in Hollywood.
Meghan Markle's Suits role, in particular, was a fundamental lesson in her cosmetics education, introducing her to many of the tricks and tools she still uses to this day. The 40-year-old is even rumored to be working on her own beauty line, which, if it goes ahead, could easily be her most successful business venture yet.
In the meantime, we thought we'd peek inside Meghan's makeup bag for a little royal skin-spiration. From her go-to face serums to her must-have moisturizers, here's everything you'll need to look just like the American Duchess.
What skincare does Meghan Markle use?
Moisturize, moisturize, moisturize...
A solid moisturizer is the cornerstone of Meghan's regime. She has waxed lyrical about her love for Kate Somerville Quench Hydrating Face Serum. When she was interviewed by BeautyBanter, she said, "I've been going to Kate's clinic in LA for facials for years...and use the products to maintain that glow that her facials give."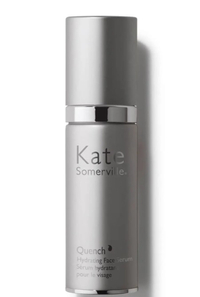 (opens in new tab)
Kate Somerville Quench Hydrating Face Serum $86.00 (opens in new tab)
A moisturizing serum with a powerful combination of age-defense ingredients formulated to create a gorgeous, dewy complexion that's silky soft, and satiny smooth, this Quench Hydrating Face Serum is about to become a firm favorite!
---
---
The Duchess of Sussex also praised a multi-purpose facial oil from one of her favorite brands, Caudalie. In an interview with the blog Citiphile, Meghan's skincare routine came up and she raved about the brand's Premier Cru Elixir, now known as Precious Oil.
"I adore the Caudalie boutique," she told the lifestyle blog. "Their anti-aging Premier Cru Elixir is a dream."
Regular exfoliation is key to softer skin
The Duchess also knows that you cannot have polished skin unless you exfoliate. "I really love the Tatcha Rice Enzyme Powder. It just sort of foams on your face and gives you a really subtle exfoliation," Meghan told Allure in 2014.
Chapped lips are a big turn-off, too, and she has also expressed her love for the ultra-nourishing Fresh Sugar Advanced Therapy Lip Treatment with sea fennel and orange extract—like, A LOT. "I have searched high and low and tried every kind of lip balm, but this is the very best," she said about this soothing formula in an interview with The Lady Loves Couture. "Soft, kissable, buttery lips. I swear by it."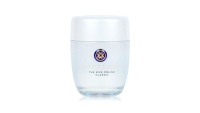 (opens in new tab)
Tatcha The Rice Polish Foaming Enzyme Powder, $65 | Sephora (opens in new tab)
Using rice enzymes, the powder helps provide skin a natural exfoliant to get your skin's natural glow back.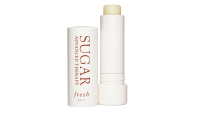 (opens in new tab)
Fresh Sugar Advanced Therapy Lip Treatment, $26 | Sephora (opens in new tab) (UK £21.50 | Cult Beauty (opens in new tab))
Hate chapped lips? Keep your lips refreshed all day with a formula made to nourish and protect lips.
Don't forget to moisturize from the neck down
And knowing that skincare doesn't stop at the jawline, she applies Nivea Skin Firming Hydration Body Lotion from the neck down. "I use this religiously; it's honestly my favorite lotion on the market," Meghan told Beauty Banter. "It's so affordable, and makes my skin look and feel amazing. I would buy a case of this at a time if I could find it."
According to the brand, this lotion is proven to tighten and firm the skin in as little as two weeks—plus, it's an absolute bargain.
Not to sound too fan-girly, but it's lovely to have a royally-approved mix of both high-end and drugstore beauty staples. Adding these to our own beauty routines, stat!
Fiona Embleton is a beauty writer who is now Acting Beauty Editor at Stylist. She is obsessed with Isabel Marant and cats.