Can you put mascara on lash extensions? The experts reveal all
We asked the experts, can you put mascara on lash extensions? Here's what they had to say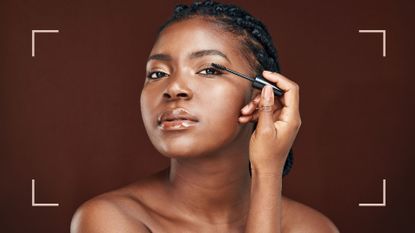 (Image credit: Future/Getty)
For anyone wondering can you put mascara on lash extensions, we've got answers. While it may seem counterintuitive to apply mascara to lash extensions – especially if the reason for getting said extensions is to avoid wearing mascara – it's nice to know that the option is there to dial up the drama if desired.
Lash extensions are semi-permanent fibers that are attached to your natural lashes using glue for a fuller, longer lash look. A popular beauty treatment in-salon, lash technicians offer many different types of eyelash extensions (e.g. classic, Russian, volume, or hybrid) that deliver slightly different results. Depending on what look you're after you may find that, from time to time, you'd like to add even more drama using your best mascara.
That's why "can you put mascara on lash extensions?" is a commonly asked question in the salon. We've quizzed two beauty experts for their mascara tips to find out if it's safe to do so and whether certain formulas are more suitable for eyelash extensions than others. Here's what the lash pros had to say.
Can you put mascara on lash extensions?
"Absolutely," assures Edy Kurowska (opens in new tab), expert eyelash technician whose client roster includes Rita Ora, "especially if you'd like a fuller lash look for a special occasion." The experts do, however, advise against applying mascara to certain types of lash extensions.
You can apply mascara to classic lash extensions, however, "lashes created by clusters of fans, like Russian, hybrid or volume, can be damaged or pulled out by clumps of mascara," warns Caroline Brooks (opens in new tab), skin specialist and founder of The Glass House Salon & Spa.
What type of mascara can you put on lash extensions?
"Certain mascaras are specifically designed for lash extensions – ask your lash tech if you're unsure," says Brooks. "Otherwise, you're best to avoid mascaras containing oils and silicone and opt for a water-based, gentle, oil-free formula." Why? "Because these ingredients can weaken lash glue and shorten your lash extensions' lifespan," Brooks explains.
Kurowska seconds this, adding "any of the best oil-free mascaras will do – I usually recommend Maybelline Great Lash mascara or Clinique High Impact mascara." Brooks adds that "you should also avoid lengthening mascaras containing fibers, silks, and nylons as these can be tricky to remove from lash extensions and may pull them out by weighing them down." Noted!
Should you avoid waterproof mascara on lash extensions?
"Waterproof mascara is a huge no-no when it comes to lash extensions," says Brooks, "they often contain ingredients that are known to dissolve lash glue." On top of that, as those of us who know how to remove waterproof mascara will be aware, "you'll have to use more aggressive cleansers to remove waterproof mascara from your lashes," says Kurowska. This can result in damaged or weakened lash extensions.
How to apply mascara to lash extensions
"Sparsely – less is more," says Brooks. "Brush your chosen mascara through the lashes gently, and avoid applying too many layers or you'll risk a 'fake' look and weighed down lashes." Kurowska suggests applying mascara just on the ends. "A little bit of mascara at the very end of the lashes will allow you to achieve that fullness without harming your natural lashes."
How do you remove mascara from eyelash extensions?
"My favorite technique is to use a muslin cloth soaked with warm water and a little bit of eyelash shampoo," says Kurowska, "blink the mascara into the cloth without rubbing your eyes." The experts agree that it's best to steer clear from your best cleansing balms and oils – as we said before, they can weaken the lash glue.
"I recommend using an oil-free eye makeup remover with a lightweight texture, such as a foam or water," notes Brooks. Post-cleanse, "brush your lashes through with a clean spoolie to set them back in place and remove any clumps."
Emma Stoddart is a freelance beauty journalist and self-confessed skincare aficionado with over five years' industry experience. Emma has worked for some of the UK's top women's titles including Net-A-Porter, Stylist and Grazia. Her experience spans online and print as well as producing editorial shoots with some of the industry's biggest artists, including Val Garland. Asides from working with them behind the scenes, she's also had the chance to interview the likes of Patrick Ta, Pat McGrath, and Sam McKnight for all their insider tips and tricks.