Maybelline Great Lash Mascara review: I tested the iconic drugstore mascara and these are my thoughts
Our honest Maybelline Great Lash Mascara review – does this buy live up to its legendary status?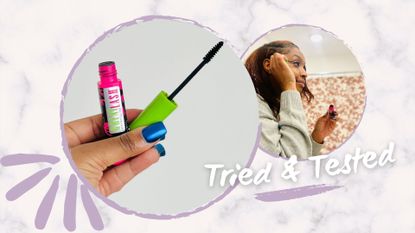 (Image credit: Future/Kenedee Fowler)
An affordable, everyday mascara that gives you fuller and bolder lashes. Its short and slim brush allows you to lift and coat every lash, giving the fuller-lash look the brand promises – but it might not be the best match if you're looking for a lengthening formula.
Reasons to buy
+

Affordable

+

Buildable

+

Volumizes eyelashes

+

Long-wearing

+

Lightweight
Reasons to avoid
-

Doesn't give extreme length

-

Some flaking
Why you can trust Woman & Home Our expert reviewers spend hours testing and comparing products and services so you can choose the best for you. Find out more about how we test.
When I found out I would be writing this Maybelline Great Lash Mascara review I was elated. This was one of the first beauty products I ever owned and I imagine this iconic mascara has probably landed in your makeup bag at one point too.
Volume, extreme length, flake-free long-wear, and a buildable formula are just a few things we all look for when it comes to finding the best mascara. Maybelline claims this mascara will give you a fuller look with its lash-doubling formula and buildable brush. So, I kept those universal mascara wants in mind while putting Great Lash, known as one of the best drugstore mascaras, to the ultimate test over the span of three days.
Formula specifications
RRP: $8.49/£6.99
Shades: Brownish Black, Very Black, Blackest Black
Key Features: Conditioning formula, lash-building brush
With new mascaras hitting the shelves weekly, have my thoughts on this mascara altered since my teen days, and is it still worth buying? Continue reading this Maybelline Great Lash Mascara review to find out.
Our shopping writer's Maybelline Great Lash Mascara review
The Packaging
I'll start my Maybelline Great Lash Mascara review with one of the factors that makes this mascara so iconic. The bold, eye-catching pink and green packaging is definitely the first thing that draws many people to this mascara. And I must say, even as an adult, I still love Great Lash's tube. But I am aware bright neon colors aren't everyone's cup of tea.
In addition to its vibrant colors, I love how compact this mascara is, making it comfortable and easy to apply while not taking up too much space in my makeup kit or a small purse.
Formula and ingredients
I'm not sure what Maybelline means by a "doubling formula", but Great Lash Mascara is more on the smooth and buttery side, which is perfect because who likes watery mascara? No one. Its thicker formula supports the brand's claim of gliding on smoothly while conditioning your lashes.
This mascara includes a few moisturizing and nourishing ingredients such as Cera Alba (beeswax) and stearic acid, both of which are also found in shea butter and other conditioning ingredients. The brand doesn't specify if this is one of the best mascaras for sensitive eyes, but after working out and building up a sweat plus a few eye rubs later, I didn't experience any discomfort or irritation.
Applying and first impressions
When I first opened the mascara wand, it was as if I had traveled back in time by 10 years. Everything was as I remembered. I've always loved how small the bristles of this mascara are, allowing me to lift and separate each lash. And after two layers of mascara, I noticed how much fuller and fluffier my lashes were, plus my lashes weren't left clumped together.
I should say that, although Maybelline Great Lash Mascara gives you the full-lash effect, it isn't the best lengthening mascara you can buy. If, like me, you have short eyelashes and love wearing the best false eyelashes, length may be one of the first things you look for in mascara so that could be offputting.
For this review, Maybelline sent me the shade Very Black, and let's just say it lived up to its name – this mascara isn't shy when it comes to pigment. So if you're a fan of bold mascara that gives your lashes a natural, full look, this could be right up your alley.
How does it wear?
I tested Maybelline Great Lash Mascara for three days during a busy weekend that left me no time for a quick makeup retouch. While wearing it at the gym one morning, followed by an afternoon filled with errands, I didn't experience any runny mascara or eye irritation, which is impressive. But, as the evening progressed, I did see some flaking.
Overall, this is a long-wearing mascara that gives your lashes a natural, full effect, which reminds me why it was so perfect for me as a teen. My makeup bag consisted of beauty items that were skin-like and natural, such as the best BB creams, lipgloss, and Maybelline Great Lash.
Maybelline Great Lash Mascara Review: W&H verdict
Maybelline Great Lash Mascara says it will give you a full-lash look, and although it doesn't give an extreme lengthening effect, it does deliver what it promises; fuller eyelashes. It won't suit everyone, but if you're someone with naturally long lashes, this is the perfect drugstore mascara.
So does this iconic Maybelline mascara deserve a spot in your makeup bag? Yes, I say it's definitely worth the buy, only costing a little over $8/£6. You'll get a natural-looking mascara that's clump-free, volumizing, lightweight, and buildable. Which, length aside, is pretty much everything we look for. Plus, who would turn down such a fun, colorful mascara tube?
Kenedee Fowler is a shopping writer based in the United States. She joined woman&home in September 2022, and ever since has been sharing her expertise with the brand to help readers source gifts for any occasion and on any budget, reviews products so you don't have to, and scout out the best deals and products to give you the best value for your money. Before joining woman&home, Kenedee was a home editorial fellow for Insider Reviews, where she wrote in-depth reviews and articles across the home vertical.

Kenedee is a recent graduate from the number one journalism school in the US, the University of Missouri - Columbia, where she gained hands-on experience as a multimedia journalist at mid-Missouri's local news station.