Lash perm vs lash lift: What's the difference? Plus, how to choose the best lash-boosting treatment for you
Wondering what the difference between a lash perm vs lash lift ? We asked the experts to explain the pros and cons of each treatment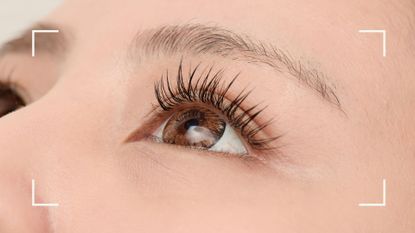 (Image credit: Getty)
woman&home newsletter
Sign up to our free daily email for the latest royal and entertainment news, interesting opinion, expert advice on styling and beauty trends, and no-nonsense guides to the health and wellness questions you want answered.
Thank you for signing up to Woman & Home. You will receive a verification email shortly.
There was a problem. Please refresh the page and try again.
Want to know the difference between a lash perm vs lash lift?
The terms can sometimes be used as if they're the same thing, but there is a difference between the two. So first off, let's break down what a lash lift is and how it's different from a lash perm. "Both a lash lift and a lash perm have two main steps," explains Debbie Law, International Trainer at Noveau Lashes. What sets them apart is the shape they form on the lashes and the sophistication of the formulas used. A lash perm is seen as an older technique compared to lash lifts – think of the lash perm as the original, and the lash lift as the upgrade. Both will enhance your natural lashes, meaning you don't just have to rely on your best eyelash growth serum or best mascara to achieve a longer, more fluttery finish.
Lash perm vs lash lift: Everything you need to know
What are lash perms and lash lifts?
Lash perms and lash lifts are very similar treatments and both change the natural shape of your lashes.
"A lash lift is designed to lift and straighten your lashes, but not curl them," says Law. "This gives the illusion of longer and often thicker lashes. It really opens the eyes up by lifting any downward pointing lashes upwards and gives a very youthful result." A lash lift is best suited to anyone who has long lashes that aren't getting the airtime they deserve due to being naturally very straight. It'll save you time grappling with your best eyelash curlers and applying your best mascara for straight lashes in the morning too.
Lash perms, on the other hand, "have been on the market for many years and were widely used until lash lifts came in," explains lash guru Daxita Vaghela. "Lash perms are not that popular anymore because they give a much more subtle and natural look with more of a "C" curl look." A lash perm would suit anyone who wants to enhance their natural eyelashes in a less obvious way.
What is the difference between a lash lift vs lash perm?
Where lash perms and lash lifts really differ is the shape they create on your lashes, as well as the speed of the treatment. Whether you choose a lash perm vs lash lift will depend on your preferences in these areas.
"A lash lift is often considered a superior form of lash perm or a service that supersedes the lash perm," explains Kintija Belska, Lash Expert at Elleebana Europe. "A lash perm is a service that curls the lashes but doesn't give the appearance of longer lashes. A lash lift, on the other hand, straightens the lashes upwards to create visually longer eyelashes."
"The processes are the same for both treatments," explains Vaghala. "Only the perm uses round sticky rods and lash lifts use silicone pads." Just as using a narrower curling iron will give you a closer curl than a larger one, a lash perm leaves lashes with a tighter curl. The lashes almost bend back on themselves, so you don't get that wide-eyed look that lash lifts bring.
"A lash perm service also takes longer to perform due to the speed of the perming and setting lotion," adds Belska. Each of these takes 30 minutes to work, which gives a total service time of about 90 minutes with a tint." In contrast, lash lift solutions take between six and ten minutes to develop, so you can be in and out of the salon in as little as 45 minutes.
What are the benefits of both?
Weighing up a lash perm vs lash lift? These are the pros of both treatments:
Benefits of a lash lift
A high-impact finish. "The lash lift glue, rods, and tools allow for a precise lash separation, ensuring lashes are evenly placed throughout the eye," says Belska. This means that your lashes will not just look longer, but they'll be beautifully spaced out too.
Widely available in a range of salons. You won't struggle to find a lash lift in at least one of your local salons. Keep in mind that there are different brands of lash lift and these may vary slightly in terms of treatment time and results.
Less risk of damage to your natural lashes. The solutions used for lash lifts are more advanced than for lash perm and have been designed to not just minimise the impact on your natural lashes but to nourish and care for them too.
Speedy service. Depending on the technician, the solution used, and how many lashes you have, a lash lift service can be completed in as little as 45 minutes.
Benefits of a lash perm
Subtle finish. As the lash perm makes the lashes more curled than lifted the overall effect is a more subtle curve.
What are the downsides of lash perm vs lash lift?
All treatments come with a slight catch, and there are some downsides to both a lash perm vs lash lift.
Downsides of a lash lift
Reactions do happen. Just as with any beauty treatment (especially one that's carried out close to the eyes), reactions can happen. Make sure you get a patch test at least 48 hours before the appointment to minimise the risk.
It doesn't always work. There is a slight chance (and this has happened to our very straight-lashed Beauty Editor before) that the lash lift will not work. Sometimes when someone has very straight lashes they rebel against the lift and it's not possible to persuade them into a more upright position. If this is the case, the treatment can be repeated after two weeks.
Downsides of a lash perm
Less visible lashes. As the curl is tighter, a lash perm won't make your lashes look as long and lifted as a lash lift will.
More damage to your natural lashes. "Due to outdated products and procedures a lash perm is more damaging than a lash lift," says Belska.
Risk of over-processing. If your technician is not experienced or makes a mistake, there is a chance that the solution can be allowed to overprocess and burn your natural lashes. If this happens, you will have to wait around eight weeks for your lash growth cycle to reset. Investing in the best false eyelashes can tide you over in the meantime.
Longer processing time. As the perm solution takes longer to work than the solutions needed for a lash lift, the treatment can take around 90 minutes from start to finish – that's around 30 minutes longer than a lash lift.
Not as widely available in salons. Although hair perms made a comeback, the lash perm treatment has been top-trumped in popularity by the lash lift. This means that more and more salons have taken it off their menus. It is now more difficult to find technicians who still do this treatment.
Lash perm vs lash lift: The woman&home verdict
Having spoken to the experts about the pros and cons of lash perm vs lash lift treatments, it's fair to say that the lash lift comes out on top. It's the more advanced of the two, meaning it's not only better for and less damaging to your lashes, but will also give you a more impactful result – which is really what we're looking for when parting with our hard-earned money. Even better, lash lifts are a considerably speedier treatment compared to lash perms, making them easier to slot into your lunch break.
FAQs
What's the difference between lash lift and lash lamination?
The beauty industry has a frustrating tendency to give things very similar names, which makes it quite tricky to spot the difference between things like a lash perm vs lash lift. Even more confusingly, some treatment names will be used interchangeably, which muddies the water even further. Case in point: deciphering the difference between a lash lift and lash lamination. Vaghela told us "they are both the same treatment given different names." But for Kintija, there is a slight difference.
"You will often find that the terms lash lift and lash lamination are used interchangeably," explains Belska. "But, knowing the origins, lash lamination followed the lash lift and can be used to describe a more gentle form of lash lift due to the products used. Lash lamination would essentially mean less chance of over-processing as nourishing products are used to create the lift. The Elleebana product range contains both lash lifts and lash lamination."
If lash lamination is the softer option, it's no wonder there's confusion. Eyebrow lamination, which is another big beauty trend, is the process of having your brows brushed upwards, slicked into position, and set in place semi-permanently. Depending on your natural brows, the finished result can be a full and impactful brow, which is the opposite of what's being achieved with lash lamination as a softer alternative to a lash lift.
Do eyelash perms damage your eyelashes?
In an ideal world, all beauty technicians would be fully qualified and trained, but unfortunately, that isn't always the case. As an eyelash perm uses a chemical solution there is always a risk that this could damage your natural lashes through over-processing and burning if the treatment isn't carried out by the (training) book. "A lash lift or perm would not damage your own lashes as long as it has been done professionally at a reputable salon," says Vaghela. Do your research, and remember that if the price seems too good to be true, then it probably is. If you're nervous about potential breakage or your lashes becoming brittle, follow Vaghela's advice. "Apply oil a few times a week and give them a break after each treatment to go back to normal before you get them permed again." There are lots of different ways you can grow your eyelashes, including with supplements and serums.
---
Overall, we're definitely team lash lift here at woman&home. The treatment is less damaging, more impactful and quicker - especially if you opt for a keratin lash lift. But if you have sensitive eyes or are still on the fence, heated eyelash curlers and one of the best volumizing mascaras offer a sure-fire way to create dramatic, lifted lashes.
Sign up to our free daily email for the latest royal and entertainment news, interesting opinion, expert advice on styling and beauty trends, and no-nonsense guides to the health and wellness questions you want answered.
Jess Beech is an experienced fashion and beauty editor, with more than eight years experience in the publishing industry. She has written for woman&home, GoodtoKnow, Now, Woman, Woman's Weekly, Woman's Own and Chat, and is a former Deputy Fashion & Beauty Editor at Future PLC. A beauty obsessive, Jess has tried everything from cryotherapy to chemical peels (minus the Samantha in Sex and The City-worthy redness) and interviewed experts including Jo Malone and Trinny Woodall.