This is how to shampoo your hair if you want glossier, thicker locks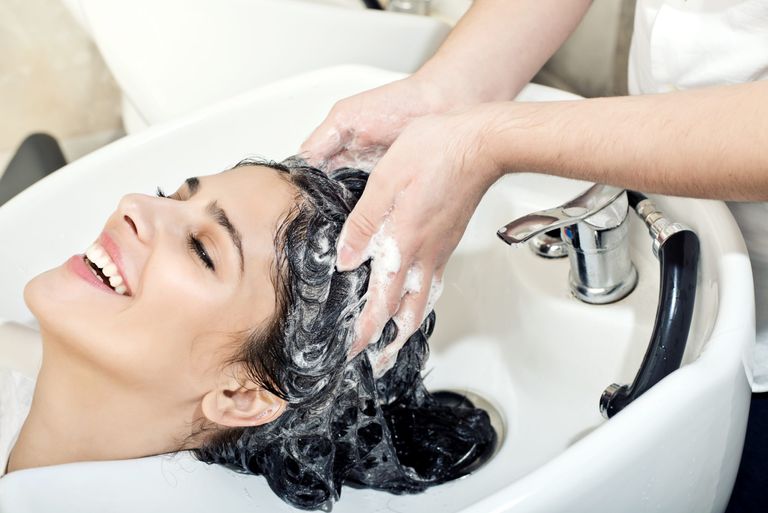 More of a necessity than a beauty treat, if shampooing is just a quick lather, rinse, repeat for you – we're not judging.
But according to London based hairdresser Michael Van Clarke, your shampoo could be to blame for a worrying range of hair concerns – from lank locks to hair loss. Thankfully he's on hand to help, revealing the 6 easy ways you can make sure you're getting the most from your wash…
1. Get to know your hair type
8 out of 10 people are not satisfied with their hair products because they don't know what type of hair they have. Analyse if your hair is coarse or fine, oily, normal, chemically treated, thick or thin. Consider also whether your hair is a different hair type at the roots and at the ends. It is generally best to select a shampoo that will benefit your scalp and root area, and select a conditioner that will work for the middle and ends of your hair.
2. Choose the right products
If you have hair that fine or soft, consider using a volumising shampoo and conditioner without silicones. This will give your hair body, without weighing it down. If you have dry or coarse hair, look for a moisturising shampoo and conditioner. This will fill your hair with moisture and elasticity, helping to protect it from any further damage. For a dry or itchy scalp, reach for an exfoliating shampoo to rinse away dead skin cells. It's a good once-a-week treat for all hair types to keep product build-up at bay and encourage hair-growth too. Finally, to prevent fading in coloured hair, opt for a shampoo and conditioner n with UV protection.
3. Avoid using 2-in-1 hair washing products
Whilst the time-saving element might be tempting, these multi-tasking products are often formulated with silicones and plasticizers which can block the hair follicles and cause hair loss. Over use of silicones in shampoos also dry the hair out (which can lead to breakage) weighing it down with product instead.
4.Check the ingredients
Your hair might feel fantastically smooth after shampooing with silicones, but whilst they will lubricate your tresses they won't nourish, rejuvenate, restore or rehydrate - which is why it is so important that you avoid them. Some shampoos are clearly labelled as 'silicone free', but others are harder to decode, using scientific names instead of simply saying silicones.
In beauty products silicone is most commonly listed as:
Dimethicone
Cyclopentasyloxane
Methicone
Amodimethicone
Phenyltrimethicone
Cyclomethicone
Divinyldimethicone
Dimethiconol
Dimethicone
Copolyol
5.Use less
As a general rule, you only need a teaspoon sized blob of both shampoo and conditioner - although longer or thicker hair might need slightly more.
6. Re-think your technique
For best results, make sure that hair is completely wet before applying your shampoo. Spread a thin layer across palms before massaging into your hair and scalp. When washing, pay particular attention to the nape and hairline which tend to be dirtier. Avoid rubbing ends together, scratching the scalp, tangling hair, or using overly circular movements. Next up, thoroughly rinse hair and when you think all the product is gone, rinse for 30 seconds more. Conditioner is meant for hair, not skin, so don't massage it into your scalp. Instead apply the conditioner all over your locks, focusing on the mid-lengths and ends. Comb through your hair to ensure that it touches every strand, and rinse.
Want to find the right shampoo for your hair type?
We've got it covered with your pick of the very best…
Best shampoo for greasy hair
Christophe Robin Purifying Shampoo, £29
Best shampoo for dandruff
Head & Shoulders Deep Hydration Shampoo, £3.50
Best shampoo for afro hair
Shea Moisture Frizz Defence Shampoo, £10.99
Best shampoo for dry hair
Smith England Moisture Remedy Shampoo, £8
Best shampoo for damaged hair
Herbal Essences Bio:Renew Argan Oil of Morocco Repair Shampoo, £5.99
Best shampoo for fine hair
John Frieda Frizz Ease Weightless Wonder Shampoo, £5.99
Best shampoo for coloured hair
Redken Nature + Science Color Extend Shampoo, £18.50
Which one will you choose?