How to protect your hair from the sun to avoid frizz and damage
Knowing how to protect your hair from the sun will come in handy to maintain your hair health and colour whilst on holiday
(Image credit: Getty)
woman&home newsletter
Sign up to our free daily email for the latest royal and entertainment news, interesting opinion, expert advice on styling and beauty trends, and no-nonsense guides to the health and wellness questions you want answered.
Thank you for signing up to Woman & Home. You will receive a verification email shortly.
There was a problem. Please refresh the page and try again.
Knowing how to protect your hair from the sun is an extremely important step in your daily routine and shouldn't just be a concern for when you're on holiday.
We talk a lot about the importance of using the best heat protection sprays when we're styling our hair with hot tools, and we also put a lot of emphasis on how crucial it is to be applying SPF to our skin every day. But what we're not very good at doing is applying this same logic to the sun's impact on our tresses and recognising the damage that UV rays can do to our hair.
"Most people are conscious of protecting their skin and scalp but the hair is forgotten. Sun exposure, combined with salt water and chlorine, can cause damage and leave hair looking dry, particularly if it has been colored," says Ben Stace, Education Lead at Aveda. So while knowing how to protect your hair from chlorine is only half the battle when on holiday, sun exposure to your hair all year round needs to be considered, too.
"There are different types of UV rays which damage both our hair and skin," continues Stace. "In our hair, UVA radiation tends to be the culprit for color shifts, for example, natural lightening in blondes. While UVB can lead to the breaking down of bonds within the keratin structure of our hair which makes it more susceptible to damage and breakage."
Here, Ben Stace and other hair experts share their top tips and advice for how to protect your hair from the sun, so you can enjoy the sunshine without worrying about what it's doing to your hair.
How to protect your hair from the sun
1. Wear a hat
Of all the options for how to protect your hair from the sun, this is the most obvious.
"Wearing a hat in the sun is ideal to protect your hair, but I know it's not always practical or the look you're going for," says Susie Hammond, Consultant Trichologist at Philip Kingsley.
Any style of hat goes, as long as it's covering your hair, so if you have longer hair you may need to go for something like a floppy straw hat with a wider brim, rather than a cap.
A hat will have the added benefit of shielding your skin from the sun too, and if you need help finding the perfect one, our Fashion Editor has a guide to stylish sun hats that will see you through summer.
2. Protect with product
In the same way that you apply sunscreen to your skin to avoid getting burnt and accelerating the signs of ageing, you also want to create a barrier on your hair to shield it from the sun too.
Using a protective product can help block out UV rays so your hair retains its pre-holiday colour and health. Most heat protection sprays designed for use with heat tools will also offer UV protection, or you can choose a dedicated product formulated just for this purpose.
When choosing an SPF product for your hair, just keep your hair type in mind. Some are heavier and greasier than others, which will suit thicker hair or anyone who likes a slicked-back style poolside, while those with fine hair may prefer a lightweight mist.
Our Beauty Editor recommends: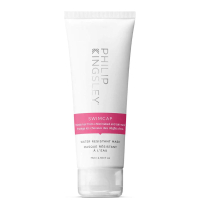 Philip Kingsley Swimcap Chlorine Hair Protection Water Resistant Mask | RRP: £20 / £25
Originally created for the US Olympic Synchronized Swimming Team, this water-resistant mask is designed to protect hair from UV rays, chlorine and salt when enjoying your holiday. Most importantly, it stops bleached blonde hair from developing a green tinge.
3. Brush it back
A neat, low ponytail with a center parting is a chic, low-maintenance summer hairstyle, but the only downside is that it leaves your parting very much exposed to burning. Although not technically part of your hair, our scalps inhabit that sort of awkward no-mans land that means they're often excluded from both facial SPF application and methods used to protect your hair from the sun (unless you're wearing a hat of course!)
"Our scalps are skin, just like everywhere else on the body, but we often forget to treat them as such," explains Hammond. "Protecting the scalp from sunburn is important."
If you can't wear a hat, then a protective hairstyle is the next best thing. "Protect your parting by opting for a style that is pulled back to avoid the parting showing," advises Stace. "If you're wearing braids and this isn't possible, use a lightweight SPF protective mist that can protect your parting without the added oil of a generic sun cream for the body."
Our Beauty Editor recommends:
4. Avoid peak times
The sun is at its strongest when it's the highest in the sky – in much the same way that we're more productive after we've had a chance to wake up and before that 4pm slump kicks in. This is the point in the day when your hair is most likely to acquire damage, so it's best to swerve direct sun exposure at this point.
"Avoid midday sun or sit in the shade when the sun is at its strongest," says Stace. Keep in mind that midday sun refers to a much longer period than the hour proceeding 12 o'clock. The experts actually say that the sun is most powerful between10am and 4pm depending on where in the world you are.
5. Cut down heat styling
Washing your hair and creating an at-home bouncy blow dry every day? Can't resist reaching for your best straighteners to keep morning frizz under control? Both will undoubtedly guarantee a good hair day, but relentlessly heat-styling your hair (without proper protection) will lead to hair problems like dryness, breakage, and split ends in the long run. If your hair is already damaged by the time summer arrives, then the side effects of sun damage can be even more noticeable.
Where possible, to help protect your hair from the side effects of the sun, limit heat styling during the summer months and on holiday. This will improve the health of your hair says Stace: "Leave your hair to air dry naturally as the more heat applied, the more added dryness you'll cause." It's a nice opportunity to give one of our heatless curl methods a go.
6. Think about your hair type
How to protect your hair from the sun will slightly depend on your natural hair texture, as you may acquire more or less damage, or find that this is more or less visible, depending on your hair type. For example, the cuticles on coily and curly hair aren't as tightly packed as they are on straight hair, which makes them more prone to dryness, and fine hair isn't as resilient as thicker hair.
"Different hair types require different levels of TLC so it's important to know and understand your hair type and texture to find the right products for you," says Stace. For all hair types, you'll need to go above and beyond your usual routine during the warmer months to keep damage to a minimum.
7. Consider the color
If you color your hair then it's extra important to know how to protect your hair from the sun. "If the hair is bleached or lightened it may be more prone to sun damage as it's already likely to be drier, more porous, and more fragile than untreated hair," explains Hammond.
Hair health aside, it can be very frustrating to go on holiday with expensive, salon-perfect hair, only to return home with hair that's lighter or brassier than you took off with. This isn't a problem that's unique to blondes either, and brunette hair can develop unwanted orange and reddish tones when exposed to the sun.
"Grey hair also tends to be naturally quite frizzy and unruly, and even more so in the sun, so consider using a treatment oil to add moisture and softness," adds Stace. "You could lightly smooth it over the roots too to help tame frizz."
Our Beauty Editor recommends...
8. Restore with a mask
Ok, we've established how to protect your hair from the sun, but what can you do when the damage is already done? "A restorative hair mask is great for treating dryness and bringing frazzled lengths back to health," explains Hammond. The best hair masks are a step up from your average conditioner with a thicker, creamier texture and are jam-packed with extra nourishing ingredients to deliver a deeper treatment. Expect to find higher concentrations of oils and butters within the formulas to really seal moisture into the hair.
Most masks are recommended to be used once a week as a little indulgence for your hair, but there's no real reason why you can't use them more often. The only exception is if your hair is very fine, in which case you may find that using too many masks weighs it down. Choose a lighter option and make sure you're only applying it to the lengths and ends to steer clear of greasy roots.
Sign up to our free daily email for the latest royal and entertainment news, interesting opinion, expert advice on styling and beauty trends, and no-nonsense guides to the health and wellness questions you want answered.
Jess Beech is an experienced fashion and beauty editor, with more than eight years experience in the publishing industry. She has written for woman&home, GoodtoKnow, Now, Woman, Woman's Weekly, Woman's Own and Chat, and is a former Deputy Fashion & Beauty Editor at Future PLC. A beauty obsessive, Jess has tried everything from cryotherapy to chemical peels (minus the Samantha in Sex and The City-worthy redness) and interviewed experts including Jo Malone and Trinny Woodall.