The ultimate shampoo for golden blonde highlights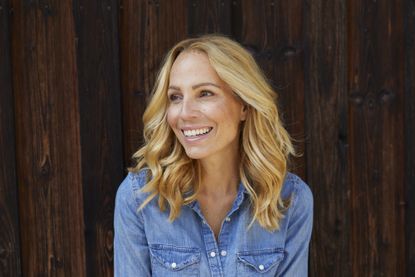 We've found the perfect haircare product to keep your hair a gorgeous, warm blonde colour.
Winter is approaching, but that doesn't mean that you have to let go of gorgeous, warm-toned hair!
If you have blonde highlights, or blonde hair, you would be forgiven for thinking that purple shampoo is the only way to keep your tresses looking perfect. But, the truth is that not all blonde hair needs purple shampoo.
Purple shampoo is great at getting rid of any brassiness - but if you overuse it, you can end up with an icy, cool tone.
Now, that might be fine. But, if you're looking for gorgeous golden blonde highlights - your hair needs a certain amount of warmth to keep those honey shades glowing.
Hollywood legend Jane Fonda is a longtime fan of these kinds of highlights.
We reckon we've located a product that is going to help you keep those gorgeous warm tones. Pro:voke have created a shampoo and conditioner combo that may be right up your street.
Introducing the Pro:voke Liquid Blonde Shampoo and Conditioner Colour Care (opens in new tab) – the new dynamic duo you need in your life.
The Pro:voke Liquid Colour Activating Treatment Shampoo (opens in new tab) aims to boost blonde hair using clever golden blonde colour pigments, making it perfect for any warm, honey or highlighted blonde hair.
It instantly enhances the warmth and depth of blonde hair colour, meaning you get visible results in just one wash.
The Gloss Intensifying Conditioner (opens in new tab) works to strengthen and repair your damaged locks by infusing extra moisture for a smooth and silky texture. Just like the shampoo, it contains light-reflecting particles and Tamanu Oil to instantly boost that shine and keep your blonde colour rich.
Better yet, you don't have to break the bank to get that gorgeous glow as they're both super affordable, at just £4.99 for a 200ml shampoo or conditioner at Superdrug. We can't argue with that!
So get ready to say goodbye to dull looking highlights and embrace your warm locks for longer.