The advanced skincare device that sells every 2 seconds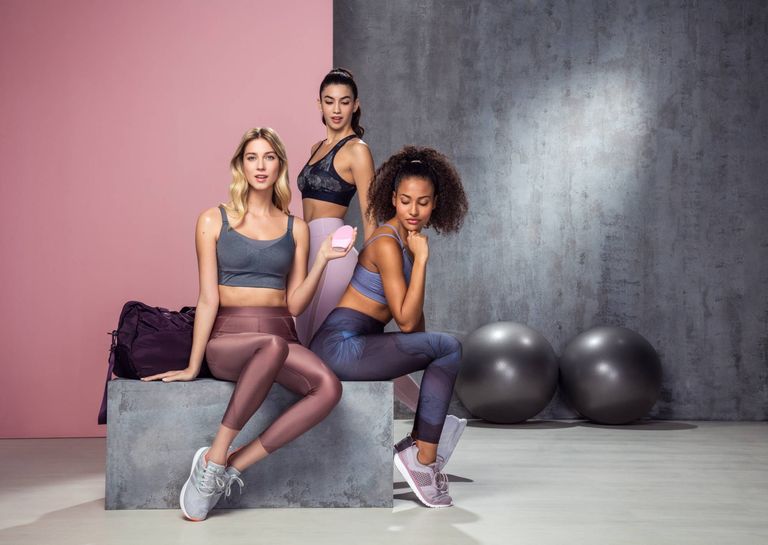 We're all looking for the secret to youthful, flawless, glowing skin. But we also don't have all day.
So that's why it's so important we make sure our skincare routine is working as hard for us as possible. Most of us can only grab a few minutes in the bathroom morning and night to dedicate to a regular routine, but that doesn't mean that we can't use those few moments to make a difference.After all, the basis for any great make-up look is a fresh, glowing complexion.
Our skin is the largest organ of the body, which needs to be taken care of both internally and externally. While the right supplements and nutrients kickstart the process internally, having a good skincare regimen plays an equally important role. Regular workout, increases the blood flow, and sweating helps in release of toxins from the skin, adding to that perfect workout glow.
Renowned dermatologist and doctor, Dr Anita Sturnham advises, "By the time that we hit our 40s we typically see up to a 50 per cent reduction in blood flow to the deeper dermal layers of our skin, which means that nutrient supply to the skin is reduced. As a result, we need to start thinking about our long-term skin health in our 20s and 30s, as we know that prevention is better than cure. Multiple studies have confirmed that regular exercise can boost new blood vessel formation in the skin, which means that we can take measures to ensure that the blood flow and nutrient delivery to our skin remains efficient, potentially delaying cellular ageing.
"This also means that antioxidants (that work by neutralising free radicals and therefore preventing cell damage) and oxygen can be delivered to the skin readily, helping to block the process of oxidation, which is the main trigger for cell damage and collagen breakdown."
Introducing the revolutionary FOREO LUNA 3, a super-smart cleansing device that will transform your daily skincare routine. The LUNA cleansing tools are coveted across the globe, with the brand selling one of the LUNA devices every two seconds around the world. And the LUNA 3 is their best version yet.
While a good diet, and regular exercise plays a vital role, a less known and ignored step is a deep cleansing post workout. Studies have shown that accumulated sweat on the skin, for long periods can lead to skin irritation, activation of blemish causing bacteria and increased susceptibility. In a nutshell, sweat, if left on your skin for too long can be detrimental to its healthy growth. Shocking, right? Introducing the revolutionary FOREO LUNA 3, a super-smart cleansing device that will transform your daily skincare routine. The LUNA cleansing tools by Swedish beauty and wellness tech brand, FOREO are coveted across the globe, with the brand selling one of the LUNA devices every two seconds around the world. And the LUNA 3 is their most advanced version yet.
For those who love to have their skin pampered, and work judiciously towards having healthy looking skin, just one minute of facial massage with this sonic facial cleansing brush will give you visibly brighter, healthy-looking skin. Our research also emphasises the fact that, your skin is most receptive to sonic cleansing post workout, gently removing sweat, and dirt and oil leaving your face feeling squeaky clean and bright
"We've recently opened a new factory to meet the demands of LUNA 3 orders for the remainder of the year, and we cannot wait to hear the feedback from our customers on the latest launch," says Dalia Fernandez, FOREO's product marketing manager.
What is the FOREO LUNA 3?
The LUNA 3 is essentially a workout for your skin. This clever skincare device has combined its famous T-Soniccleansing pulsations with a brand new new facial massage function. Specially designed ridges target acupressure points, massaging away tension and improving the skin's texture.
What makes this nifty little device all the more effective is the tailored massage routines you can access with your LUNA purchase.After cleansing, log on to the FOREO app and choose from three guided massage programmes -contour massage, eye massage and neck massage, depending on where you want to target. Once you've found your favourite facial massage, the app will save your preferences - so handy!
As well as the multiple skincare benefits listed below, the FOREO LUNA 3 provides some time out to relax and unwind, forgetting the stresses of the day. With so many of us having such busy lives and hectic schedules, a little daily-self care is very much welcome - and needed.
So what are the benefits of the FOREO LUNA 3?
A deeper, cleaner cleanse (99.5% of dirt and oil from your pores, to be precise)
Facial massage, that will stimulate collagen production for a higher cell turnover
Increased circulation, for that all-important youthful glow
Reduced congestion, as the sweeping motion across the face will increase lymphatic drainage
Toned, tighter looking skin
How a cleansing tool can work in your skincare routine
The double cleanse (ie. following your wipe of micellar water or make-up remover with a creamy or foaming formula to for a deeper cleanse) has become an integral part of our skincare routines, but using a cleansing tool like the LUNA 3 takes double cleansing one step further, giving pores a super deep clean and refining the skin's texture.
Using a facial massage tool is actually more low maintenance than you think. Just one charge will give you 650 uses. Pop on your usual cleanser and let the LUNA 3 do the hard work for you.
After a thorough deep cleanse, we recommend to pat dry your face and get onto the massage side of the device, which helps smooth fine lines, wrinkles, relaxes facial tension and enhances absorption of your creams and serums way better than you ever anticipated. We tried out the newly launched SERUM SERUM SERUM by FOREO also, and boy! It works wonders. The product named Serum thrice, basically connotes the three staple 'cleanse, tone and moisturise' steps of a skincare routine and it combines moisturising squalane with hydrating hyaluronic acid and sodium hyaluronate for bouncier skin from the get-go.
Every LUNA 3 purchase includes a travel pouch, access to the interactive FOREO For You app and of course a USB charging cable to keep your LUNA 3 energised. In short, it's the full skincare package.
If you're looking to invest in a new cleanser, too, we'd recommend using the FOREO Micro-Foam Cleanser alongside the tool (£8.90).Formulated with amino acids and vitamin E to help retain moisture, this nourishing formula will leave your skin replenished and pillowy soft.
We recommend using a cleansing tool morning and night for the best effects. You should start to notice a difference within just weeks after using the brush for just two minutes, twice a day.