Experts say these warm and timeless notes are perfect for winter perfume layering
Winter perfume layering is the easiest way to curate your own signature scent this season. We asked the experts to share their favourite notes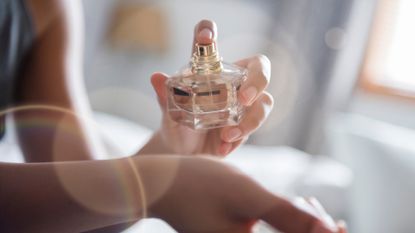 (Image credit: Getty Images/JGI/Jamie Grill)
Looking to boost your scent repertoire or reinvent the perfumes already in your possession? Well, according to the experts, there are particular warm and musky notes to marry together to create winter perfume layering perfection.
When it comes to selecting one of the best perfumes for women, often the more popular they are the higher the risk of bumping into someone wearing the same exact scent as you. It can feel like the fragrance equivalent of a fashion faux pas but it can be avoided, especially if you're keen to delve into the world of perfume layering.
Perfume layering, as the name suggests, is the pairing of two (or more – the world's your oyster) complementary scents with the aim of creating either a more long-lasting perfume or adding depth – or a floral kick, for instance – to a fragrance. The choices are endless but with it now being the season for our favourite winter perfume picks, we've quizzed the experts on the perfect cold-weather notes to wear together...
Emma South is Jo Malone's fragrance and lifestyle expert who has shared her expertise on all things winter perfume layering with Woman&Home. Jo Malone is the luxury perfumery behind scents like Lime Basil & Mandarin and Pomegranate Noir.
Holly Hutchinson is the founder of London-based perfume brand Memoize and has recently launched three new scent lines; Pictor Parfum, Adscenture and EAUMG.
Our picks of the best 6 scents for winter perfume layering
Before we delve into which note pairings create the ultimate winter scents, here's a selection of expert recommendations, plus our picks of the best versatile perfumes for winter layering...
Smoky and powdery
Diptyque Orphéon Eau de Parfum
RRP: 148 for 75ml | Key notes: Tonka bean, cedar, jasmine and juniper berries | Layer with: woods or vanilla
This scent is smoky and powdery and will pair perfectly with either a sweet perfume or another woody number.
Expert's pick
Jo Malone Pomegranate Noir Cologne
RRP: from £55 for 30ml | Key Notes: pomegranate, Casablanca lily and guaiacwood | Layer with: Vanilla
South has dubbed this warm and sensual scent the perfect base for winter layering and recommends pairing it with vanilla scents.
Smells like a cracking fire
Maison Margiela By the Fireplace Eau de Toilette
RRP: from £58 for 30ml | Key notes: Clove oil, pink pepper, Gaiic Wood and Cashmeran | Layer with: Vanilla
This scent is winter, bottled. It's warm and woody but with it being an eau de toilette, it's light enough to be layered with another scent – we'd suggest jasmine or vanilla perfumes.
Creamy & musky
Floral Street Arizona Bloom Eau de Parfum
RRP: £68 for 50ml | Key notes: Coconut, jasmine, cashmere woods, oakmoss and musk | Layer with: Florals or woods
This Floral Street scent offers a creamy and musky base. It's warm and spicy and can be developed with fresh florals or deeper, more intense woody notes.
Spicy & intense
Tom Ford Santal Blush Eau de Parfum
RRP: from £220 for 50ml | Key notes: ylang-ylang, cinnamon and woods | Layer with: Florals, woods and festive fruits
This luxe scent is described as a 'second skin' and will offer a warm and long-lasting base to any of your go-to fragrances.
Skin-like scent
Glossier You Eau de Parfum
RRP: £57 for 50 ml | Key notes: Pink Pepper, iris, ambrette seeds and ambrox | Layer with: floral, vanilla or woody notes
Glossier You is described as a sheer, skin-like scent that smells a little different on everything. Thus it's a perfect buildable scent. Diptyque's Fleur De Peau is touted as a more mature/intense alternative to Glossier You, so it's also a good layering pick!
The best note pairings for winter
Whether you're a lover of perfumes with jasmine or sweeter more gourmand aromas, wintertime calls for us to add a little warmth and musk into our everyday scents. Perfume layering is the perfect way to incorporate a slight wintery edge to your favourite, existing scents or build your very own, unique alchemic fragrance. But where do we start?
Emma South, Jo Malone's Fragrance and Lifestyle expert, recommends vanilla as a good starting note, "There is something softly sensual and eternally versatile about Vanilla. Its creamy sense of comfort is illuminated by citrus, it reveals oak and tobacco qualities when paired with similar tones and creates irresistible confections of peach and cherry."
For the perfect signature winter scent, South says Pomegranate Noir, which is a hero Jo Malone perfume, "layers majestically with Myrrh & Tonka, enveloping the jewel red fruits of Pomegranate Noir with vanilla and the almond notes of tonka."
Holly Hutchinson, founder of perfume brand Memoize, echoes South's suggestion, adding, "vanilla is a warm and sweet note that adds a cosy and comforting element to your fragrance. It has a soothing and gourmand quality that's perfect for wintertime."
Hutchinson then recommends pairing vanilla with spices, like that of cinnamon or clove to add depth and warmth, as they can "provide a festive and invigorating dimension."
The following combinations are the perfect pairings for simple yet effective scent layering:
Vanilla and citrus: South makes a case for this pairing, noting that the creaminess of vanilla, "is illuminated by citrus, it reveals oak and tobacco qualities when paired with similar tones and creates irresistible confections of peach and cherry."
Oud and Patchouli: "Evoking hints of leather and a sweet earthiness," South says that this blend of notes, "create a hypnotic and alluring trail in the cold air."
Vanilla and spices: Hutchinson suggests that "layering these two elements creates a harmonious blend that is both inviting and festive. The vanilla softens the spices and adds a creamy richness, while the spices lend an extra layer of depth and complexity to the vanilla."
Jasmine and woods: This is a truly classic combination and can be found amongst the notes of a few of the most iconic scents, including Diptyque's Orphéon and Le Labo's Santal 33. We adore the later, as there's something about the blend of aromatic jasmine and warm sandalwood that is just so comforting and chic – especially for this time of year.
FAQ
How should you layer floral perfumes for winter?
If you can't do without your floral fragrances, even during the winter period, South suggests pairing your soft flowery scents with warm and earthy aromas, citing Jo Malone's Scarlet Poppy and Peony & Blush Suede as a dreamy pairing.
"For floral fans Scarlet Poppy brings the crimson drama of oversized petals underscored with tonka and the rounded, cereal warmth of barley. It is a great go-to winter floral by itself and loans gravitas to those carefree florals of summertime such as Peony & Blush Suede," South says.
Should you layer Eau de Parfums or Eau de Toilettes?
If you're looking to create a rich scent with boosted longevity, Hutchinson recommends an Eau de Parfum. She says they're, "ideal for layering when you want a more intense, sophisticated and long-lasting scent, particularly for special occasions or evening wear."
Eau de Toilettes, however, are easier to experiment with as they're lighter and slightly more forgiving than a parfum. As Hutchinson explains, "An eau de toilette is often the easiest type of perfume to layer with other scents, especially when you want to combine them with floral or vanilla notes," though she reminds us that scent layering is a creative process, "specific combinations can vary depending on your preferences. Experiment with different scents and concentrations to find the perfect blend that suits your style and the occasion."
South, however, advises perfumes with a minimalistic blend, "irrespective of fragrance oil concentration we have found that an elegant, short formula is key for scent layering. Jo Malone London fragrances have a simple transparency allowing them to be paired without risk of overcomplication." A good example is Jo Malone's Lime Basil and Mandarin, which features three key notes of mandarin, basil and sandalwood – allowing you scope to spritz it with another scent, without it becoming confused and overpowering.
To sum up, this is your cheat sheet:
Use an Eau de Parfum: If you want a more intensive and long-lasting aroma, as they are more potent.
Use an Eau De Toilette: If you're keen to blend. They're easy to layer, especially when it comes to floral and vanilla scents, meaning they offer more versatility with the rest of your perfume collection.
Sign up to our free daily email for the latest royal and entertainment news, interesting opinion, expert advice on styling and beauty trends, and no-nonsense guides to the health and wellness questions you want answered.