All your SPF questions answered - including the best products to use
Don't know your UVA from your UVB? Don't worry. Read on for your no-nonsense guide to sun cream to help you stay safe in the sun...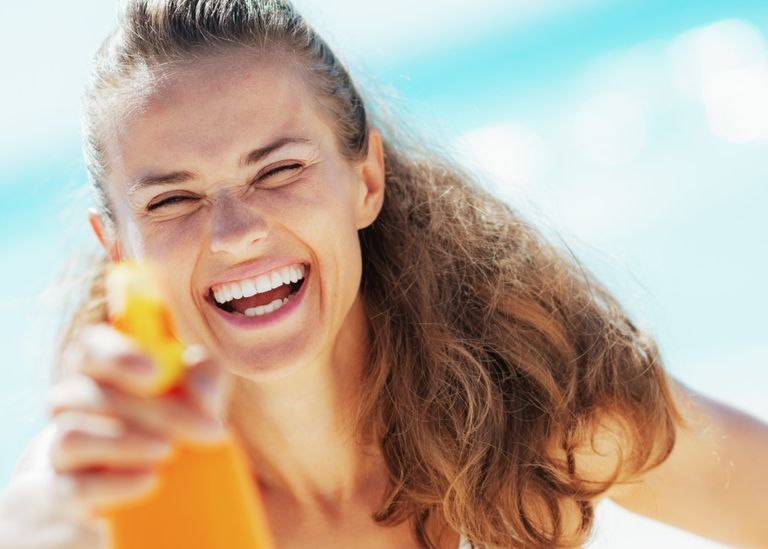 Now that the sun has finally started to make an appearance again, we're all back to reaching for our sunscreen.
Of course, once we realised why it was important to continue wearing SPF during lockdown, we made sure to put on a layer or two everyday.
But now that the sunny weather seems like it's here to say, it's more important than ever to make sure that our skin is protected.
And with so many SPF products now on the market and so many different terms always being thrown at us, sometimes it can be difficult to figure out what we really need for our skin.
So we've broken down what all the different sunscreen terms mean and have even picked out some of our favourite products for you to try out during the coming sunny weeks.
Everything you need to know about SPF products
What does SPF stand for?
SPF: Stands for Sun Protection Factor. The number signals how often you need to reapply to avoid burning from UVB rays.
UVA: Think A for ageing, these pesky rays are present all year round, travelling through cloud and glass to penetrate deep into skin.
UVB: Think B for burning, UVB rays vary in intensity depending on the weather. You're most at risk in the UK during spring and summer, when the sun is highest in the sky.
Broad spectrum: Refers to sun lotions that shield skin from both UVA and UVB rays.
Your SPF questions answered
1. You still need SPF in the UK
'While we may be more likely to get sunburnt in hotter climates, the risks from UVA damage in the UK is present all year round,' explains skin health specialist Dr Anita Sturnham.
If you hate the stickiness of sun lotion, you'll love the next generation of barely-there formulas.
2. Sun cream has a sell-by date
The average shelf life of sun cream is 6 to twelve months after opening.
Leave your bottles in direct sunlight or high temperatures and their potency dissolves even faster.
3. SPF make-up isn't enough
Your foundation might promise an SPF, 'however, by the very nature of their intended use, they're applied a in far smaller quantities, and therefore are often not providing the same level of protection as 'pure' sunscreens,' explains skincare expert and Ultrasun UK MD, Abi Cleeve.
4. SPF application is important
Heading out in the sunshine? Apply your sun cream ahead of time to avoid burning.
'Do it first thing, do it indoors and apply plenty,' says Abi Cleeve. 'Any application in direct sunlight increases evaporation and up to 60% of protection can be lost.'
5. SPF is essential with strong skincare ingredients
Ingredients that chemically exfoliate, like AHAs and BHAs, or speed up cell turnover, like retinol, can make skin more sensitive to sun damage.
Apply SPF every day and limit these punchier ingredients to nighttime use.
6. Wearing SPF won't stop your body absorbing vitamin D
According to a 2019 study by the British Journal of Dermatology, 'using daily broad‐spectrum sunscreens with high UVA protection will not compromise vitamin D status in healthy people.'
The dangers of sun exposure far outweigh its benefits, so slather on that sunscreen.
7. What's the difference between chemical and mineral SPF?
As the name suggests, chemical sunscreens use chemicals to absorb UV rays.
Mineral, or physical, lotions sit on top of skin, reflecting away the suns rays. If your skin is sensitive, physical SPF is the best option.
8. Sun exposure can lead to pigmentation
As we hit the menopause, our melanin cells can produce pigmentation too quickly, leading to a rise in so-called 'age' or 'sun' spots.
Vitamin C will help fade existing marks, while strong daily SPFs will stop new ones from forming.
9. Why after sun is necessary too
'The biggest benefit from aftersun is its high water content which cools and hydrates,' says Candice Gardner, Education Manager at Dermalogica.
10. A sunburn won't lead to a tan
Trauma tanners, listen up! 'A tan from inadequate protection that occurs too fast only causes the skin to burn and shed, leaving you tanless in days,' advises Abi Cleeve.
To deepen those tan lines safely, try a formula that speeds up the process.
Best SPF sunscreen products
Decleor Sun Gel Cream SPF50+
£27.20, Look Fantastic If you hate the stickiness of sun lotion, you'll love this barely-there gel-like formula.
Ultrasun Family High Protection SPF 30
£25.00, M&S This clever product will last for two years without going off.
Medik8 Advanced Day Total Protect
£55, Look Fantastic This not only boasts SPF30 and 5* UVA protection, but sits nicely under make-up with a soft, powdery finish.
Garnier Ambre Solaire UV Water Refreshing Protecting Mist SPF30
£12, Boots This will reach tricky areas like your back and shoulders, with its spray nozzle.
Clarins Invisible Sun Care Stick SPF50
£19, Feel Unique Don't forget often-missed spots such as the back of your neck, ears, temples and hands with this pocket-sized product for touch ups on the go.
Oskia SPF 30 Vitamin Face Cream
£58.00, Cult Beauty An all-in-one morning solution, teaming hardworking skincare with broad-spectrum protection.
Dermalogica Invisible Physical Defence SPF30
£49, John Lewis & Partners This lovely and lightweight mineral option is good for sensitive skin types and blends seamlessly into all skin tones.
Bioderma Pigmentbio Daily Care SPF50+
£13.85, Feel Unique A strong daily SPF option to help fade dark spots and work towards preventing new ones.
Nuxe Sun Light Fluid, SPF50
£8.48, Look Fantastic Another brill daily option to work towards clearer skin.
Caudalie Tan Prolonging After-Sun Lotion
from £7.50, Space NK Formulated with grape water and aloe vera, this will reduce redness and soothe sun-sore skin while prolonging your tan.
Green People Edelweiss Tan Accelerator Sun Cream SPF15
£13.54, Amazon Deepen tan lines safely with this clever formula that speeds up the process. It works by stimulating the production of melanin, the pigment that gives skin it's colour. Rewarding you with a deeper tan, and limited damage.
Dr Russo Once A Day Sun Protection Invisible Face Gel SPF50
£26.95, Harvey Nichols One of the key elements of a great SPF is finding a formula you love to apply. Thanks to the paint-style brush, this is a treat to use. The formula itself is lightweight with no white cast.
Incognito Mineral Suncream Insect Repellent SPF 30
New and improved, Incognito's mineral SPF has been reformulated to improve the rub-in ability for a seamless sun cream experience. Great for travel, it repels insects too, so you can enjoy the sunshine nibble-free.