Dermatologists and skin experts settle the sunscreen lotion vs spray debate once and for all by revealing which is better
Most of our experts were in agreement that if choosing between sunscreen lotion vs spray, one is definitely better than the other...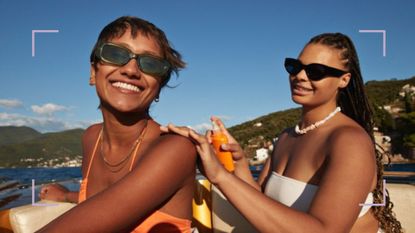 (Image credit: Getty)
Before we settle the debate of which is better between sunscreen lotion vs spray, let's start by saying that SPF is an everyday essential. Whatever the weather, whatever the season (know that sun damage can still occur on cloudy days) – a generous layer of sunscreen will shield skin from harmful UV rays.
The best facial sunscreens and SPF products come in a wide array of formulas. From sprays and lotions to creams and gels, there are countless SPF products to choose from - and they should all have the same thing in common. "Sunscreen lotions and sprays will both contain UV absorbing (or reflecting) filters that will help prevent UV damage to skin cells," explains Dr Beibei Du-Harpur, dermatologist and skin expert.
But is one better than the other? And how can you find out which is the right sunscreen for your skin type? Below, the experts break down everything you need to know about sunscreen lotion vs spray and how they compare.
What are sunscreen lotions and sunscreen sprays?
"Sunscreen lotions and sunscreen sprays are topical treatments that protect the skin from harmful UVA and UVB rays as well as visible light," explains Dr Emma Craythorne, consultant dermatologist and founder of KLIRA.
Like the best body moisturizers, topical sunscreens come in various formulations. "Lotions are typically thinner than creams, and sprays are usually thinner again," adds Craythorne. Both will contain either chemical filters that absorb UV rays or mineral blockers that reflect UV light.
What are the key differences between sunscreen lotion and spray?
According to the dermatologists and skin experts we consulted, there are two key differences that separate sunscreen lotions from sprays. These key differences are as follows:
Consistency: "Sprays are lighter while lotions can be slightly creamier or heavier," says Mariam Abbas, advanced facialist.
Application: "One is applied from a spray pump, while the other is usually applied with fingertips," notes Craythorne.
Application and consistency aside, each formulation will be different depending on the sun protection factor, the type of UV filters used and additional ingredients. Many contain antioxidants like vitamin E along with hydrating properties.
Do you still have to rub in spray sunscreen?
"Yes, you do have to rub in spray sunscreen as this will enable it to form an even film on the skin," says Du-Harpur. Because of this, sprays can actually take longer to apply than lotions.
"It needs to be sprayed on liberally, sometimes more than once on the same area, before being rubbed in," adds Abbas.
Does spray or lotion sunscreen last longer?
As Du-Harper points out, "this would depend entirely on the formulation and if any specific technologies were included to make it longer lasting." Craythorne seconds this and agrees that it's more to do with the formula and photo filters as opposed to whether it's a spray or lotion. Most formulas, including the best sunscreens for sensitive skin, "wash off in water and lose efficacy because of sweating – so re-application is a must for both," says Abbas.
So what do the experts think is better, sunscreen lotion or spray?
Most of our experts were in agreement that sunscreen lotion is probably better than spray overall, just because you are more likely to apply the right amount of sunscreen needed to protect your skin if you are applying a lotion.
Du-Harper explains, "it's more tempting to under apply sprays. The sun protection factor (SPF) is calculated based on a specific weight relative to surface area. Therefore, to obtain the SPF on the packaging it's important to apply adequate quantities." Du-Harper feels this is easier with a lotion.
While Craythorne agrees that sunscreen lotion is generally better than spray, they also note that personal preference is still a factor. "Usually, the thicker the cream the better, as you can get a more reliable coverage, but in truth, the one you like to apply and feel comfortable wearing is usually the best one as then you will apply it more often."
Abbas adds that above the decision of sunscreen lotion vs spray, the three most important factors to consider when choosing any sun protection are:
The Sun Protection Factor and how effectively it protects the skin from the sun
If it's a broad-spectrum SPF that shields skin from both UVA and UBA rays
The quality of the formulation - what ingredients, UV filters, preservatives and emulsifiers does the product contain?
So whether you choose a sunscreen lotion or end up opting for a spray, make sure that the product you pick has all of those factors before you purchase.
When should you use sunscreen lotion or spray?
We should all be using SPF every day to protect our skin - even in the winter months. If you own both sunscreen lotion and sunscreen spray already, the experts recommend applying both over the course of the day.
"Use a lotion first thing in the morning and then a spray to top up over the course of the day," suggests Craythorne. On days when it's particularly hot or you're spending more time outdoors, Du-Harper recommends reaching for a lotion.
Sign up to our free daily email for the latest royal and entertainment news, interesting opinion, expert advice on styling and beauty trends, and no-nonsense guides to the health and wellness questions you want answered.
Emma Stoddart is a freelance beauty journalist and self-confessed skincare aficionado with over five years' industry experience. Emma has worked for some of the UK's top women's titles including Net-A-Porter, Stylist and Grazia. Her experience spans online and print as well as producing editorial shoots with some of the industry's biggest artists, including Val Garland. Asides from working with them behind the scenes, she's also had the chance to interview the likes of Patrick Ta, Pat McGrath, and Sam McKnight for all their insider tips and tricks.