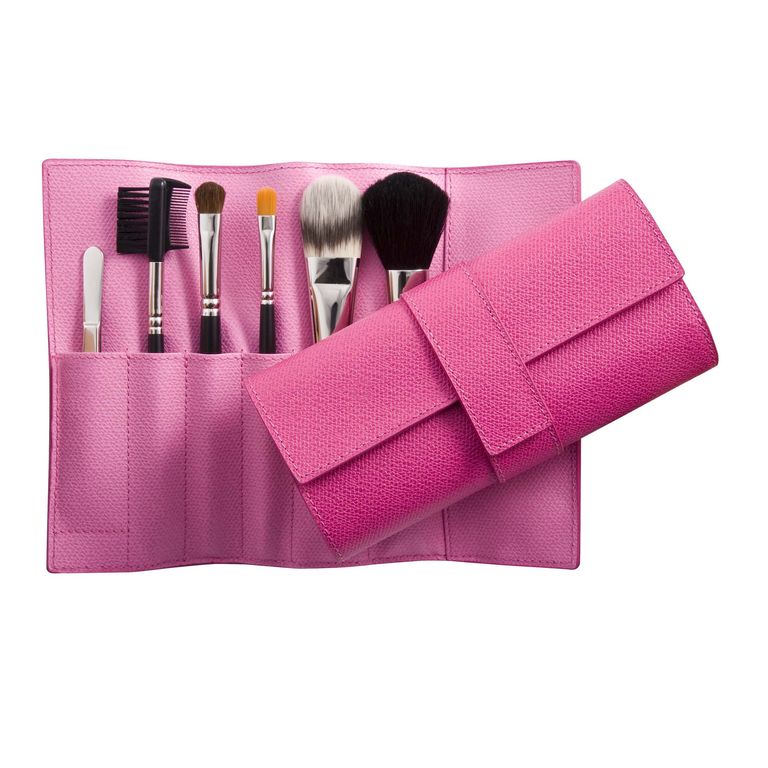 Brush up on your make-up skills and invest in these essential tools
Just like a tradesman, a make-up artist wouldn't go to work without their tools. An integral part of every cosmetologist's kit, make-up brushes are the key to flawless, long-lasting make-up.
Most of us,are guilty of inheriting our make-up brushes from long used-up compacts and department store samples. But beauty addicts and professional make-up artists will spend a lot of time and energy finding exactly the right ones to get the most out their make-up.
Because of their longevity, most make-up brushes aren't cheap, so to the most out of your money it's important to care for them. A quick monthly swish in a sink filled with lukewarm water and liquid hand soap or baby shampoo (avoid hot water it can cause bristles to fall out) will do the trick. Rinse well, squeeze out the excess water, and reshape before placing them on some paper towels to dry.
An additional spritz of brush cleaner once a week will keep them in tip top condition between washes - just remember to dry them with a tissue before use.
To ensure you get the most our of your make-up we've scoured the beauty counters to bring you the best make-up brushes out there and tips on how best to use them. From the eyelash curlers which have been expertly engineered to apply precise pressure for optimum curl in minimum time, to the foundation buffer built with a innovative fluid reservoir, which prevents spillages from bottle to brush, we reveal the tools of the trade. Which one is your cosmetics case crying out for?
Beautiful brushes need to be housed in a beautiful case. Top of our wish list? This luxe leather Smythson Make-Up Brush Roll, from £130.
Make-up brushes: Best for a defined pout
Bobbi Brown Lip Brush, £21 'The small, firm bristles of this tapered brush make it easier to apply darker lip colours with precision. After lining lips, use it to soften and blend lip-pencil lines. Using a brush allows for richer, more accurate application of colour,' says make-up guru Bobbi Brown.
Make-up brushes: Best for a youthful flush
Max Factor Blusher Brush, £12.90 'Be in control of your brush. Pinch the base to tighten the hairs so you get a smaller, more natural hint of colour on the apples of cheeks,' says Caroline Barnes.
Make-up brushes: Best for an all-over glow
Nars Kabuki brush, £43 'Look for a full brush head with soft bristles, and buff in circular motions. This helps to diffuse and blend bronzer across the skin, making you look naturally sun-kissed without being patchy,' explains international make-up artist Jane Richardson.
Make-up brushes: Keep your brushes clean
Keeping your brushes clean is essential to avoid clogging up your skin. Invest in Beauty So Clean Conditioning Cleanser, £11, to keep your brushes in tip-top condition. Simply spritz on and wipe off.
Make-up brushes: Best for subtle shadowing
Clinique Eye Contour Brush, £14 'A shadow brush with a small head picks up just the right amount of shadow to sweep across the lid, and the slant is ideal for contouring darker shades across the brow bone,' says Tom Pecheux.
Make-up brushes: Best for looking more energised
Bare Minerals Maximum Coverage Concealer Brush, £14 'A must for lightening under eyes and around nose and lips,' says A-list make-up artist Gucci Westman. 'I dab concealer on to the back of my hand to warm it up, which stops me using too much.'
Make-up brushes: Best for airbrushed skin
The Body Shop Foundation Brush, £12 'A flat, tapered brush gives a more natural-looking, even finish,' says Lancôme's Aaron de May. Apply your moisturiser with the brush, then use the same brush to apply foundation. Leftover moisturiser on the brush will dilute the foundation, so it's much more sheer.
Make-up brushes: Best for playing up your features
MAC 208 Angled Brow Brush, £16.50 'This brush is your saviour for a partial or patchy brow. Apply a cool, neutral shadow in strokes that mimic the length and direction of the natural hair to fill in gaps,' explains Debbie Finnegan, MAC senior artist. 'Lightly dampen and dip into shadow to create a more defined line for the 'tail' end of the brow.'