Julianne Moore reveals how she 'destroyed' her eyebrows - and the $25 brow product she now swears by
Julianne Moore shares her beauty secrets in a new video, including how she brings her formerly damaged eyebrows back to life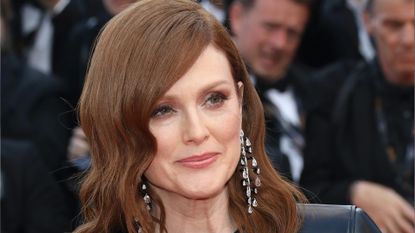 (Image credit: Toni Anne Barson /Getty Images)
woman&home newsletter
Sign up to our free daily email for the latest royal and entertainment news, interesting opinion, expert advice on styling and beauty trends, and no-nonsense guides to the health and wellness questions you want answered.
Thank you for signing up to . You will receive a verification email shortly.
There was a problem. Please refresh the page and try again.
Julianne Moore has revealed her most cherished beauty products, and tells a relatable story about how she once "destroyed" her eyebrows when she was younger.
Julianne Moore has been known for her grace and kind spirit for years. In a brand new video, these qualities shine through as she reveals her beauty and makeup routines. She gives advice about not covering freckles when applying foundation, and talks about why you should wear sunscreen in winter as well as summer, among other beauty hacks and secrets she swears by. Julianne Moore's skincare routine also reveals her favorite skincare products and we're already excited about giving them a whirl.
But in one segment of the interview with Vogue (opens in new tab), Julianne admits a funny and super relatable story about something many of us probably did in our youths - over-plucking her eyebrows.
"I pretty much destroyed my eyebrows when I was a teenager," she says in the video, "and then I let them grow in, and then I destroyed them again and now they won't grow back." Not to worry Julianne, you're not alone - that's an all-too-real tale for many women.
In the past, Julianne's makeup artist revealed how she gets her brows and skin to look so perfect - but not all of us have makeup artists at our beck and call (unfortunately). So, like most of us, Julianne has to take extra care of her eyebrows, paying careful detail to what products she uses to fill them in every day. "Drawing in my eyebrows is a major, major feat for me," she says.
She states that she uses the cult-favorite Anastasia Brow Whiz pencil - a product that many swear by, judging by the 10k+ five-star reviews of it on Sephora's site.
---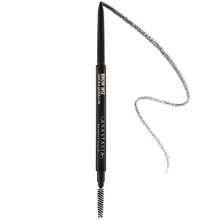 (opens in new tab)
Anastasia Brow Whiz Mechanical Pencil, $25 |Sephora (opens in new tab)
Master all eyebrow shapes with Brow Wiz's ultra-fine, retractable tip is perfect for spot-filling in areas where brow hair is sparse by mimicking fine, hair-like strokes.
Julianne also gives a great tip for people with red hair who want to find the perfect product to fill their brows in — try using shades for blondes instead of a red shade. "Believe it or not, the shade that I use is blonde. A lot of people think that redheads have red eyebrows, but they very rarely do," she advises.
She also gives a pretty in-depth look into how she applies Brow Whiz to fill in her brows so that they still look natural and not too overdrawn. "I take the pencil and I start right in the middle of underneath my brow, and I fill it in so that it looks straighter," she says.
To give her hand a steady balance when applying the product, she makes sure to put her pinky finger in the middle of the nose for leverage, which honestly is simply adorable. And, not to mention helpful, because getting ready in a pinch and still making sure everything is to your liking can be quite difficult, as Julianne jokes in the video.
Commenting on how to fix uneven eyebrows she jokes, "sometimes it takes forever. And if you have to go somewhere, or if your husband is yelling at you 'we have to go!' it can be really frustrating."
In another helpful tip, she recommends putting a small dab of foundation on the top of your brows if you feel as though they look to "archy," as Julianne puts it. Who knew someone so talented and perfect could also be a beacon of beauty advice? (Honestly, we did.)
Madeline Merinuk is woman&home's US lifestyle news writer. She covers celebrity, entertainment, fashion, and beauty news but is also obsessed with internet trends - you can find her reciting trending TikTok sounds out loud at any given time.
After winning multiple student journalism awards for her investigative work, she graduated from Hofstra University in 2021 with a B.A. in Journalism. After graduating, she worked at today.com, the digital site for the Today Show, where she wrote pop culture news and interviewed big-name personalities like Emily Ratajkowski, Haley Lu Richardson, Emma Corrin, and more.
Her personal interests, in no particular order, are: cheese, Joni Mitchell, reading, hot yoga, traveling, having multiple chapsticks in every handbag at all times, and dancing to ABBA songs as if she were in the Mamma Mia movies.