Christina Aguilera makes a case for vulva nails, yes really!
The newest nail trend for summer?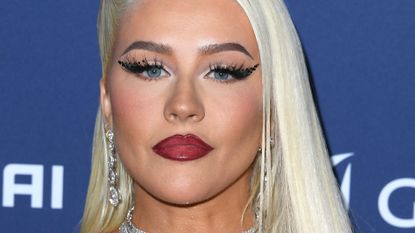 (Image credit: Getty Images)
Christina Aguilera recently debuted a manicure that seriously made us do a double take.
Spring nail trends for 2023 are in full swing so as the weather gets warmer, you might want to opt for something like JLo's floral spring nails, chic milk nails or finding your perfect red like Kate Middleton - there are so many fun manicure options to choose from.
Or you could take a note from Christina Aguilera who recently debuted vulva nails! In collaboration with sex-positive brand Playground, Christina recently sat down to talk about her visions for the brand as she debuted quite the manicure. Yes, folks, Christina Aguilera sported 3D vulvas on her nails.
If you look closely at the above photo and you'll see Christina's nails, which are long and pink, featuring a 3D mold of vulvas - and y'all, they look pretty realistic.
"Did anyone see Christina's nails?" someone commented on the post.
Christina first debuted these nails when she sat down to discuss Playground on podcast Call Her Daddy, hosted by Alex Cooper.
"Is that a vagina?" Alex asks during the video recording of the episode, looking at Christina's nails.
She responded smugly in true Christina Aguilera fashion. "It's open to interpretation," the Grammy winner replied. "It could be a vagina, it could be lips, but two in the same, both pleasure points, you know."
Alex found this hilarious. "This couldn't be more appropriate for a Call Her Daddy episode," she said to Christina, laughing. "Casual Christina Aguilera is like 'It could be lips, it could be my p-ssy lips, god bless you all, up for interpretation'."
Although Christina has developed a sexy persona as part of brand as an artist, she revealed on the podcast that she was a bit of a late bloomer, despite her very forward stances on sex and sexuality in her career. "It's so funny that I have this persona because I probably was the last person to lose my virginity," she told Alex.
"It was later than you would think, given the girl that was doing 'Dirrty' and all this stuff. It's more of a funny thing looking back," she continued.
She said that, in her early career, she felt as though there was a lot of negative stigma behind women being openly sexual in their music. "I felt like there was a lot of shame and fear around the subject," she said, adding, "as a woman we're raised with a lot of stigma."
Playground, Christina's sexual health brand, sells the best water-based lubes featuring scent-enhancing ingredients and aesthetically pleasing, pastel-pink packaging. Ultimately, Playground is important to Christina so that the stigma behind women's sexual health being taboo can be lifted one day (hopefully).
"There's no shame in the game," she said. Pointing to her vagina, she added, "We need to be nurturing and taking care of and celebrating this very important part."
Madeline Merinuk is woman&home's US lifestyle news writer. She covers celebrity, entertainment, fashion, and beauty news but is also obsessed with internet trends - you can find her reciting trending TikTok sounds out loud at any given time.
After winning multiple student journalism awards for her investigative work, she graduated from Hofstra University in 2021 with a B.A. in Journalism. After graduating, she worked at today.com, the digital site for the Today Show, where she wrote pop culture news and interviewed big-name personalities like Emily Ratajkowski, Haley Lu Richardson, Emma Corrin, and more.
Her personal interests, in no particular order, are: cheese, Joni Mitchell, reading, hot yoga, traveling, having multiple chapsticks in every handbag at all times, and dancing to ABBA songs as if she were in the Mamma Mia movies.