Anne Hathaway makes a strong case for slicked back hair in Venice
Fans are freaking out about Anne Hathaway's latest look - "I wanna age like her"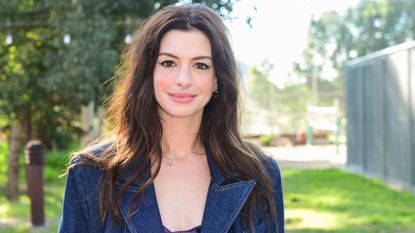 (Image credit: Getty)
At the 2023 Bvlgari Mediterranea High Jewelry event in Venice, Anne Hathaway rocked a slicked-back hairdo and chic Versace dress - and the internet is freaking out over her look.
Let's just cut to the chase - Anne Hathaway always (and we do mean always) looks stunning. From her 2023 Met Gala look to her '90s red carpet look, and everything in between, the A-list actress is definitely having somewhat of a renaissance in 2023 - although, really, she was never unpopular to begin with.
Last night, she attended the Bvlgari Mediterranea High Jewelry event in Venice at the Palazzo Ducale, and her Versace look from the evening is sending the internet into a tizzy.
Excuse us, we're just taking a moment to revere in the goddess energy Anne is exuding in the above photo.
Her hooded silver and gold gown comes from Versace - in fact, this design was specifically crafted by Donatella Versace herself. For jewelry, Anne is sporting a Bvlgari necklace with pink stones, as well as two shimmering Bvlgari bracelets and some rings on both hands.
When the hood of her dress was down, Anne revealed a "wet" hairstyle, with the front pieces of her hair all slicked back, and the rest of her long, black hair cascading down her neck in the back - which is quite the departure from her most recent waterfall bangs hairstyle.
Although bangs hairstyles and bob haircuts are undeniably some of the biggest summer hairstyles 2023, there is no greater feeling than just slicking all of your hair back and getting it out of your face - and Anne Hathaway is definitely not the first celeb to give this hair trend a spin in 2023. So far, we've seen Sarah Jessica Parker on the set of And Just Like That... wearing "wet" hair, just like Anne's, giving that slicked-back look without bordering on looking greasy.
To get this "slicked back" look, all you need is a good hair gel that will lightly keep your hair in place - but be careful to not apply too much product so that your hair doesn't end up looking like a helmet.
---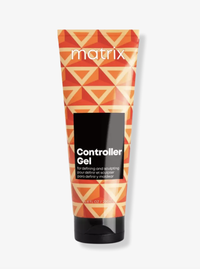 Matrix Controller Gel, $22 (£18) | Ulta
Matrix Controller Gel is a strong hold gel that controls hair without stiffness or crunch, perfect for achieving your next slicked-back hair moment.
We're not the only ones obsessed with Anne's hair - in fact, the internet is pretty much freaking out over her look.
"Anne Hathaway always serving looks," one person tweeted.
"ATE AND LEFT NOT A CRUMB!" another said.
Madeline Merinuk is woman&home's US lifestyle news writer. She covers celebrity, entertainment, fashion, and beauty news but is also obsessed with internet trends - you can find her reciting trending TikTok sounds out loud at any given time.
After winning multiple student journalism awards for her investigative work, she graduated from Hofstra University in 2021 with a B.A. in Journalism. After graduating, she worked at today.com, the digital site for the Today Show, where she wrote pop culture news and interviewed big-name personalities like Emily Ratajkowski, Haley Lu Richardson, Emma Corrin, and more.
Her personal interests, in no particular order, are: cheese, Joni Mitchell, reading, hot yoga, traveling, having multiple chapsticks in every handbag at all times, and dancing to ABBA songs as if she were in the Mamma Mia movies.