Everything we know about Frogmore Cottage in Windsor, including details on its stylish interiors and who lives there now
Plenty has changed since the day Prince Harry and Meghan Markle got engaged...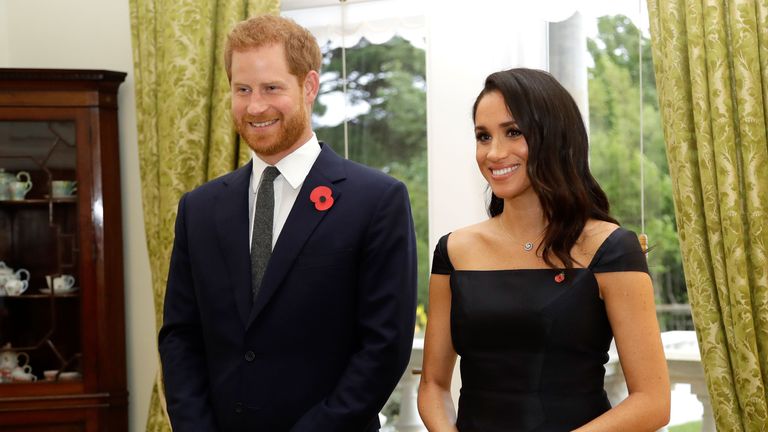 (Image credit: Getty Images)
Prince Harry and Meghan Markle now live across the pond in the US, but their first family home with their baby son Archie was Frogmore Cottage, in the grounds of the Queen's Windsor Estate in England.
---
Shortly before their son arrived in May 2019, the Duke and Duchess of Sussex moved from their two-bed city pad, Nottingham Cottage, in Kensington Palace to the more family-friendly home on the Windsor Estate.
According to reports, the royal couple moved into their new home in April 2019, just a few weeks before their son Archie was born. It came after a lengthy delay to the move, which was pushed back due to the extensive renovation the pair ordered on the building.
Who lives at Frogmore Cottage now?
When Prince Harry and the Duchess of Sussex stepped back from royal duties, they decided to relocate to Los Angeles in California, where Meghan grew up, and where her mother Doria Ragland still lives.
It was first thought that the Sussex family would use Frogmore Cottage as their UK base whenever they were back in the country visiting family and friends, or for work purposes. However, reports recently stated that Harry and Meghan had given his cousin, Princess Eugenie, and her husband Jack Brooksbank Frogmore Cottage, to use as their home ahead of the arrival of their first baby next year.
At the time, an insider told The Sun, 'Frogmore Cottage continues to be [The Sussexes'] residence in the UK and they are delighted to be able to open up their home to Princess Eugenie and Jack as they start their own family.'
But, there is undoubtedly confusion in royal circles about the home - as it appears that Jack and Eugenie have already moved out of Frogmore Cottage after just six weeks there. They are reportedly back at their London home of Ivy Cottage, at Kensington Palace. So it's currently unclear who lives - or will live - at Frogmore Cottage in the future.
It's thought that Prince Harry is quarantining at Frogmore Cottage during his visit to the UK, and rumor has it that he's already met Princess Eugenie's two-month-old baby, August Philip Hawke Brooksbank.
A brief history of Frogmore Cottage
The cottage was originally known as the Double Garden Cottage and is located within the Frogmore Estate, as part of Home Park in Windsor. It initially belonged to Queen Charlotte, back in 1801, having been built for just £450! Later, Queen Victoria's personal assistant Abdul Karim lived there, in 1897.
Later, it was occupied by Russian royal the Grand Duchess Xenia Alexandrovna, during the 1920s. It's said that Queen Victoria once had breakfast at the home, and actually noticed an 'immense number of little frogs', which she described as 'quite disgusting' - hence the name Frogmore!
The home has been a Grade II listed property since 1975. Most recently, the cottage had been used as five separate housing units for people working on the Windsor estate, but it underwent an extensive renovation before the Duke and Duchess of Sussex moved in.
What is it like inside Frogmore Cottage?
So what exactly is the royal residence like? The home, situated just in front of Frogmore House, and the stunning lake ahead of it, is a Grade-II listed building. And while it has a rich royal history, it wasn't actually that grand a building before Prince Harry and Meghan moved in.
But the ramshackle home underwent intensive restoration, overseen by the Duchess of Sussex, in order to prepare it for her and Harry. It's reported that the home has five bedrooms, as well as a cozy kitchen and nursery.
And the Queen is said to have gifted the pair a series of paintings from her own personal collection for the Windsor home. "Meghan and Harry [were] told they can choose some artwork for Frogmore Cottage," a Palace insider told Vanity Fair.
It's reported that Prince Harry and Meghan drafted in the interior designer of the trendy Soho House, Vicky Charles, to decorate the home. Vicky Charles designed many of the private member's clubs around the world, and it's probably no surprise that the pair want her to kit out their new home, as they enjoyed many dates at the London and Toronto venues at the beginning of their relationship. Could Frogmore Cottage nod towards Soho House's country idyll, Soho Farmhouse?
If the Soho House clubs interior is anything to go by, the home might include plenty of plush, luxury furnishings. It also looks as though the home may be full of colour and antique items as well - like many of the rooms in the Soho House venues.
However, designer Vicky has said that designing private homes is very different to the public venues she dresses. Speaking to the Soho Home website, she admitted, "Private homes are incredibly different. The clients come to us because they want the Soho House aesthetic but you have to make it right for that family or whoever lives there in their space, so it's not a cookie-cutter thing you can just drop in."
Why did Harry and Meghan choose to live in Windsor initially?
The Duke and Duchess of Sussex might live in LA now, but the Windsor estate is a special place for Meghan and Prince Harry. It is the place where they had their wedding - and of course, holds within it Frogmore House, where they took their official engagement pictures and had their wedding reception.
In the official announcement a few years ago, Kensington Palace stated, 'Windsor is a very special place for their royal highnesses and they are grateful that their official residence will be on the estate'.
Frogmore Cottage also offered the royal couple the kind of privacy and seclusion they likely wouldn't be able to have in London, where they used to live.
What are the Frogmore Cottage gardens like?
The royal Windsor home backs on to the enormous Home Park, which is 655 acres of stunning gardens. The estate is only open to the public for just six a year, and even then, access to most parts of the royal grounds is restricted.
The grounds are full of enormous trees, lakes, and lush flowers, right in the middle of Berkshire town.
It sits separate from Windsor Great Park - the grounds belonging to Windsor Castle. However, the Castle - where the Queen and Prince Philip live - is just a short walk from Frogmore Cottage.
Who owns Frogmore Cottage?
The royal residence belongs to the Crown Estate, which means that ownership is passed from monarch to monarch, and doesn't lie with just one person.
Prince Harry and Duchess Meghan faced criticism for spending £2.4 million worth of taxpayer money on renovating their property, but since then have defended the spend, explaining on their website that the cottage was due to be renovated anyway, as part of essential upkeep on royal properties.
Their website reads, "Her Majesty The Queen offered The Duke and Duchess the use of Frogmore Cottage, which was already undergoing mandated renovations, and would be available to move in before the birth of their son."
The couple have now also paid back the taxpayer money spent on renovating their UK home, following their decision to leave the royal family.
Is Frogmore Cottage open to the public?
No - because the cottage is a private residence, the public cannot visit it, or any of the grounds surrounding it. However, the royal building opposite, Frogmore House, is open to the public, but only for a couple of days a year. In 2019, individuals could visit between 28th - 30th May, but the grounds stayed closed in 2020 due to the coronavirus pandemic.
However, it will likely reopen later in 2021 - if you want to find out more information, visit the website here.
Amy Hunt is an experienced digital journalist specialising in homes, interiors and hobbies. She began her career working as the features assistant at woman&home magazine, before moving over to the digital side of the brand where she eventually became the Lifestyle Editor up until January 2022. Amy won the Digital Journalist of the Year award at the AOP Awards in 2019 for her work on womanandhome.com.