Le Creuset Cyber Monday deals: the best Le Creuset sale offers to snap up - including a massive £200 saving!
The Le Creuset sale deals this Cyber Monday have landed! Here's what we're buying.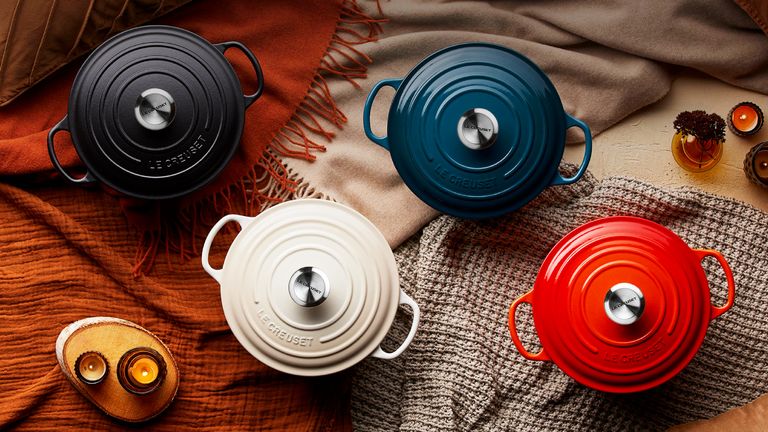 (Image credit: Le Creuset)
These fantastic Le Creuset Cyber Monday deals mean that you can pick up the iconic French brand for far less.
The cyber shopping weekend is in full force and the Le Creuset sale is (just as we expected) packed full of brilliant discounts on our favourite French cookware brand.
So if you've not had a chance to pick up some of their items in the sale yet - never fear, as there is plenty of lovely stuff still discounted!
This year, Le Creuset is back with more of the best Cyber Monday deals for 2020 on their quintessential cast iron classics and modern kitchen essentials. You'll have the chance to shop everything from cooking and dining sets to the best induction pans, utensils and great Christmas gifts for up to 50 per cent off on their website!
Is Le Creuset worth it?
In short - yes! Investing in high quality cookwear doesn't just look nice, it also will endure for years to come. It may be more expensive initially, but a sturdy dish or pot like the ones offered from Le Creuset will last for years to come, without breaking or chipping. Worthwhile if you enjoy cooking and often use an oven.
Plus, as an added bonus, Le Creuset pots and dishes can often become collector's items, especially if they are particularly hard to find. So your item could actually increase in value.
Le Creuset sale deals for Cyber Monday - quick links:
Best Le Creuset sale deals 2020:
Best Amazon Le Creuset sale deals
If you're in the market for new Le Creuset cookware this year, Amazon could well be the place to find the best bargain.
Here are the offers available over the Black Friday shopping weekend and for Cyber Monday...
Best John Lewis Le Creuset sale deals
There are plenty of Le Creuset savings to be had at John Lewis, including 40% off the Toughened Non-Stick Cookware 4-piece Set, exclusive to the department store and now at £300.
Plus, John Lewis offer free delivery on orders over £50, so you'll save a bit of extra cash on getting your bargain buys home, too.
Best Selfridges Le Creuset sale deals
Does Le Creuset do Cyber Monday?
The Le Creuset sale has already started and will continue over Cyber Monday, until the 1st December.
There are some brilliant offers in this year's sale – whether you're after one of the brand's iconic casserole dishes, or a smaller gift for a loved one. The Le Creuset deals never fail to be popular – so we'd advise getting in early to bag the best bargains.
Why is Le Creuset normally so expensive and how long do their products last?
Le Creuset cookware is enduringly popular, but it is undeniably pricey. That is why when you can snap up Le Creuset products for half price in the Black Friday and Cyber Monday sales it's such a good bargain.
However, as a premium cookware brand, Le Creuset charge premium prices for the products – and for good reason. They are truly built to last, meaning you get what you pay for.
Most of the brand's cast iron, 3-ply stainless steel, toughened nonstick and bakeware products come with Le Creuset'slifetime policy. So if they ever break or you discover a fault, the brand will repair or replace your item.
In the case of Le Creuset stoneware products, the brand offers a 10-year guarantee.
'We believe in giving you uncompromising quality' Le Creuset state of their world-class cookware – and they really do.