A step-by-step guide to cleaning a kitchen quickly and easily for a sparkling finish
Cleaning a kitchen might not be exciting, but with these kitchen cleaning tips and a solid routine, you can get on top of it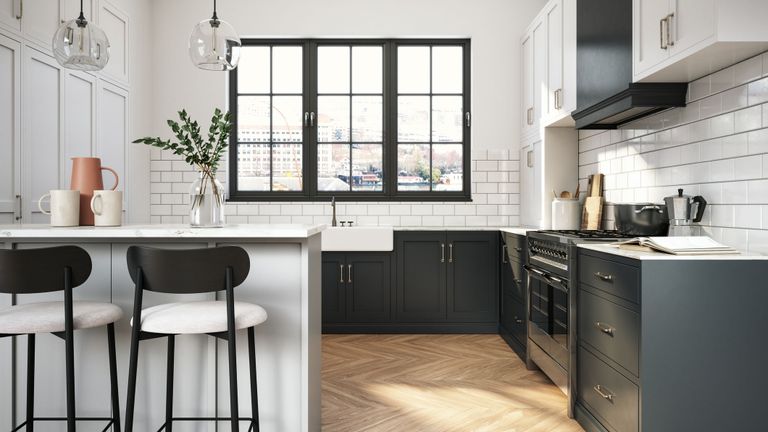 (Image credit: Getty Images)
Cleaning a kitchen can be a tiresome task, but when done right, and in the proper order, it can be fast and simple—and oh so satisfying when it's finished. A good kitchen cleaning routine will leave your space looking better than ever. ready for another day of food prep and cooking.
Lynsey Crombie, cleaning expert, TV star, and 'Queen of Clean', explained to w&h, "The kitchen is normally the hub of the family home and gets more traffic than other rooms. But this means clutter zones often build up in the kitchen too—particularly if you have a kitchen island." As such, our kitchens are prone to messy build-ups of food on the counters, plates, and pans in the sink (see our guide to the best induction pans if you need new ones), and junk like letters and food containers on our surfaces.
So to help you combat this, we've shared a simple step-by-step routine for cleaning a kitchen, to ensure an efficient routine that will leave you with a neat and hygienic space. Many of the steps below are common sense—but if you follow this easy guide to the letter, you'll be able to create a cleaning plan that you don't even have to think about, and can get finished off in just half an hour...
Preparing for your kitchen cleaning routine
When you're faced with a messy, overflowing kitchen, just the idea of starting to clean can be overwhelming. So before you begin, it can be useful to bear a few things in mind to help you face the task:
Work from top to bottom—Lynsey recommends, "Always start at the highest point when cleaning as dust and dirt falls—so, if you have chosen to clean your kitchen cupboard tops then start with these, before moving on to your floors and worktops." As a guide, start with kitchen cabinets, hob extractor fans and the tops of fridges, —before moving on to kitchen counters, sinks, appliances, and finally, the floor.
Make sure you have all the right products to hand—you don't want to get to cleaning and realize you don't have of the right cleaning products left. Make sure that you've got all the essential tools ready to go—think cloths for wiping, sprays and disinfectants for cleaning, kitchen towels for any larger bits of debris, and any other essentials for you.
Ensure that no one else will need to use the kitchen just before or after your routine—check that everyone who lives in your home has eaten/prepared meals for the next day before you begin cleaning. There's nothing worse than someone having to expectedly cook dinner right as you've finished washing up all of the saucepans. For this reason, an extensive kitchen cleaning routine is best done later in the evening.
Cleaning a kitchen—a step-by-step guide
Below we've detailed our guide to the best way to complete a thorough, deep-clean of your kitchen. By following all the steps, no task will be missed, and you'll be rewarded with a sparkling clean space at the end of it.
1. Throw all food scraps away and clutter
Before you get started with your deep-clean, you'll want to get rid of any and all food debris that you can—scrape any plates, bowls and pans off into the trash and get rid of any raw ingredients from preparing your meal, such as onion skins or empty cans. Now is the time to empty out all of the leftover food from anything you used to prepare your meals. Even the best food processors and best blenders can be responsible for creating a big mess in your kitchen!
Then, make sure to get rid of any unnecessary items that might be lingering in your kitchen—think documents, technology or empty plastic bags. Decluttering your home, even in a small way, is an important part of cleaning a kitchen.
Once all of that is dealt with, you are free to clean without any obstacles.
2. Fill the dishwasher
Now you should only have dirty pots and pans (and mugs, and plates, and crocker...) remaining for you to deal with. This is the time to put anything and everything you possibly can into the dishwasher—a super time-efficient way to clean your dishes whilst also getting rid of the clutter.
If you aren't lucky enough to have a dishwasher though, pile your plates and cutlery next to the side of the sink (or in the sink, depending on your preference), so they're right where they need to be when it comes to the next step...
3. Wash up dishes or items that can't go in the dishwasher
The next step—and perhaps everyone's least favorite—is of course, washing all of your dishes if you do not have a dishwasher. Or, if you do, now is also the time to handwash anything that can't go through it. All you need to handy is a warm, clean cloth (or sponge), and some hot soapy water.
Some items (yes, including even your best cookware) may have lots of oil sitting in them which makes it harder to wash. These will need soaking in warm soapy water for a little while before you can clean them properly. But most of your other items can be washed and placed on the side to dry immediately.
Washing up all of your dirty cooking items leaves the space free for you to actually clean your kitchen surfaces and appliances, which, after preparing a meal, are often the messiest they will be all day.
4. Clean your small appliances
Jennifer Sharpe, founder of cleaning product company Fabulosa, explains that the next step is to "Clean small appliances. Shine and clear debris from your microwave, coffee maker, toaster and any other appliances on your countertops."
This shouldn't and doesn't need to take too long, but will ensure that your kitchen space looks sparkling and extra clean at the end of the day. Plus, it's a good way to stay on top of them to ensure they never get too dirty for use. She says, "Wipe down the exterior of each small appliance by using a microfiber cloth dampened with a disinfectant spray."
And if that too is getting a bit whiffy, now is also the time to learn how to clean a dishwasher...
5. Wipe down surfaces
Cleaning expert Lynsey Crombie* advises, "In general, with your daily clean, always start with your surfaces—and finish with the floor."
Use a hot cloth and a disinfectant to wipe down your surfaces, sweeping smaller pieces of food into the cloth and rinsing the cloth in the sink. With bigger pieces of debris, it might be more helpful to collect it in your hands, to throw in the nearby bin.
Jennifer also suggests you "wipe down the exterior of your stove and oven."
"A deep clean of your oven/cooker might be best for another time, but cleaning the exterior regularly goes a long way in obtaining a tidy kitchen," she explains.
6. Disinfect your sink
It might be your last thought after spending ages scrubbing dirty dishes in it, but even your sink needs a clean of its own—and more often than you might think. Jennifer Sharpe, co-founder of Fabulosa, said, "Deep cleaning your sink is easier than it might sound. Sinks can get really dirty through the day so it's really important to disinfect the sink daily."
She advises, "Fill your sink with warm water and add diluted disinfectant (we love Fabulosa, with one cap for every 400ml of water). Using a cloth, wipe down the entire area, including the taps." It's also worth doing the area around the sink too, as this tends to get populated with bits of food and water, too.
If you have a stainless steel sink, you may want to read our guide to how to clean a stainless steel sink specifically—as they can be fragile and easily damaged.
7. Put away your clean and dried items
By now, your cleaned items should be dry or finished in the dishwasher. If so, now is the time to put them all away back on shelves or in cupboards. This will ensure that you don't leave them lying on your drainer or in your dishwasher overnight, and will make mornings much easier, knowing where everything is. Put everything back in its place for a super organized kitchen.
And, if have a lot of pans lying around or have run out of places to put them, try using some of our clever pan storage ideas.
8. Clean your floors
The counters, sink, appliances and dishes are done—the next job is to sweep, vacuum, and mop the floor, which may have collected some rubbish during your kitchen cleaning routine so far.
Jennifer advises, "First, sweep with a broom to pick up all the larger crumbs and debris that end up on the kitchen floor. After sweeping, use a vacuum to get the fine dust and dirt. Follow it up with a thorough mopping to get rid of dirt and grime."
If you've got a smaller kitchen, you might actually get a more thorough clean by getting on your hands and knees with a disinfectant wipe, rather than a mop. A wipe will allow you to really get into the nooks and crannies of your dirty floor. However, this isn't advised for a larger kitchen!
You should also remember to clean your floors according to their material. For example, if you have a tiled floor, see our guide to the best steam cleaners for gentle and thorough cleaning. And, when working out how to clean laminate floors, you should take into account that you shouldn't use abrasive, scratchy cloths, or it could damage the surface.
9. Clean your windows, doors and handles
After this, now is time to address the often-forgotten areas of your space when it comes to cleaning a kitchen, such as your windows and door handles. Completing these tasks (no matter how tiresome they may sound), will give your kitchen that extra sparkle and will mean that every inch of your space is as hygienic as possible.
Knowing how to clean windows, as well as how to clean doors and their handles, isn't difficult. All you really need is a clean sponge, warm soapy water (or a homemade vinegar solution which is great for cleaning) and a microfiber cloth for drying. Spritz on the cleaning liquid, give each area a gentle scrub, and dry it with the cloth—it's as simple as that. You could also finish off with a disinfectant wipe if cleaning often-touched areas like window and door handles.
9. Disinfect your sponges and cloths
Our kitchen cloths and sponges have worked hard for us during our time cleaning a kitchen, so it's important we don't forget to clean these too. As of course, they'll be filled with plenty of mucky dirt and grime from your scrubbing.
Jennifer's advice is to fill your sink with water and add a capful of straight disinfectant for every 400ml of water. "You can leave these cloths to soak overnight and by morning your kitchen will smell absolutely beautiful and your cloths will have been well and truly disinfected," she said.
10. Take out the trash
Of course, the final step in any step-by-step guide to cleaning a kitchen is to take out the trash. Your trash bags should now be full of any leftover food scraps, empty bottles or packages, and any other rubbish that you've thrown away over the process of cleaning your kitchen.
To finish up the process of cleaning your kitchen, take the trash bags outside to your bins, and give your kitchen garbage can a quick clean over with some disinfectant, wiping out any bits of food that may have fallen in. Then, replace the bag, and you're good to go.
How often should we clean our kitchen?
When it comes to how often we should be cleaning a kitchen, the answer varies somewhat. For most people, the kitchen should have a daily top-up clean. So often should we be cleaning everything in our kitchen?
Surfaces—according to Lynsey, "Kitchen surfaces, hobs and sinks should be cleaned daily using a disinfectant type product. Kitchen floors need a daily vacuum paying particular attention to around tables and bar stools." So in your kitchen cleaning routine, make sure to prioritize this task.
Trash cans—some tasks don't need to be done every day. Instead, you can do them every few days—for example, taking out the trash, thoroughly cleaning the hob, and wiping down your hob splash back.
Floors, kitchen cupboards—a clean "where floors are either mopped or steamed, the kitchen cupboard doors are wiped down, and the where kitchen bin needs a good disinfect" should happen once a week ideally.
Dishwasher and fridge—"dishwashers, fridges, tops of cupboards and ovens should be added to your family cleaning schedule as a monthly task, but if never hurts to quickly wipe over your oven after every use just using a cloth and warm soapy water."
So that's for the everyday cleans—so how often should we be doing a big, deep clean of our kitchen? Big cleans should happen weekly, Lynsey suggests, to keep on top of dirt and grime. "A deeper kitchen clean is needed once a week", she said.
Research from homeware company Thomas Sanderson suggests we don't actually always complete our kitchen cleaning routines or clean our kitchen appliances as often as we perhaps should. According to their study, our hobs often go five days between cleans, while the microwave usually goes 60 days before a clean, and the fridge, a whole 365 days! That's one clean of the fridge a year for most people—which unfortunately, isn't anywhere near as often as we should clean it. It's enough to have you reaching for the soap and water...
What are the dirtiest spots in our kitchen?
While a proper kitchen cleaning process is an important part of the maintenance of any home, there are spots that we might often miss or forget about as we go. And it might surprise you, but there are a couple of spots in our kitchen that harbour more germs than anywhere else.
High touch points—Lynsey explains, "High touch points are going to be the dirty hot spots in your kitchen; for example, when you open your kitchen cupboards looking for ingredients in the middle of cooking, the handles are going to get sticky and start to harbor germs. The same goes for the knobs and buttons on your oven."
Light switches—and surprisingly, she also confessed, "Electrical and light switches are another germ hotspot." So be sure to give these a once over with the disinfectant as you're cleaning a kitchen too!
Appliances—these might not seem dirty, but we often use our kitchen appliances—such as the best mini food processors or our best hand blenders—when we're right in the middle of cooking or chopping, so they're highly likely to get food left on them which could harbor bacteria.
Kitchen sink—but most terrifyingly is our kitchen sink. "Your kitchen sink, if not cleaned daily, can actually be dirtier than your toilet seat. So make sure it does get a daily disinfect," Lynsey says. *Gulp...*
And, take a look at our guide to how to clean a bathroom too, where we also detail the dirtiest spots in your bathroom that you might be missing when you clean.
Tips for making kitchen cleaning easier and more fun
Cleaning a kitchen can be tough and labor-intensive, so how can we make the whole process smoother and maybe even a little bit more fun?
Turn cleaning into an exercise session—"a good cleaning session can get your heart rate going, especially if you're doing some of the more labor-intensive tasks, like mopping the floors, "Jennifer says, "One way to make these jobs fun is to track how many steps you take or monitor your heart rate whilst cleaning the sink. We guarantee that you won't mind doing these jobs with the right frame of mind."
Set a goal to clean every day for just five minutes—Jennifer explains, "You can do anything for 5 minutes, so make a goal to clean every day for just that amount of time. If you go on for longer, great—but don't feel compelled to, or guilty about stopping. Sometimes the best way to make something tolerable is just to not do it for long. Jennifer suggests starting with the kitchen and attempting to clean the sink, taps and worktops. She says, "Even a job as small as this will make you feel a sense of accomplishment, and you might even enjoy it!"
Make it fun with an audiobook or great playlist—let's face it—kitchen cleaning is not one of life's most pleasurable chores, so why not make the whole thing a bit more enjoyable by whacking on your latest audiobook, or a fun, up-tempo music playlist and get dancing? The whole thing will be done before you know it!
* 'The 15-Minute Clean: The Quickest Way to a Sparkling Home' by 'Queen of Clean' Lynsey Crombie is published by Welbeck. Available to order now.
With thanks to Lynsey Crombie and Jennifer Sharpe, founder of cleaning product company Fabulosa for their time and expertise for this piece.
Amy Hunt is an experienced digital journalist, currently working as Life Channel Editor at womanandhome.com. She began as the magazine's features assistant before moving over to digital as a News and Features Writer, before becoming Senior Writer, and now a Channel Editor. She has worked on other women's lifestyle websites previously too—including Woman's Weekly, Goodto.com, Woman, and Woman's Own. In 2019, Amy won the Digital Journalist of the Year award at the AOP Awards, for her work on womanandhome.com.
She is obsessive about everything homes and interiors—whether she's sniffing out the very best deal on a KitchenAid stand mixer or keeping up the latest Dyson release. And when she isn't editing or writing articles on interior trends or the latest home gadgets, she's passionate about books—you'll usually find her with her nose in a gripping thriller at the end of the working day.