Keep spotting upside down Christmas trees everywhere? This is the meaning behind the alternative festive trend
If you're considering upside down Christmas trees, here's everything you need to know about the topsy-turvy trend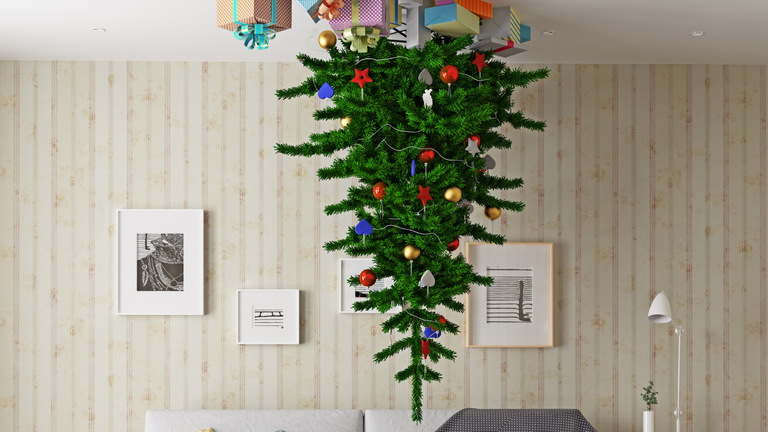 (Image credit: vicnt/Getty Images)
By Emma Kershaw
With a global pandemic, and everything else in between, there's no denying that the last couple of years have been a little upside down, so why not follow suit and deck the halls with a difference by trying an upside down Christmas tree this year? Whether you're planning to have a real Christmas tree or artificial Christmas tree this year, an inverted tree is a unique and effective way to showcase your best Christmas decorations.
Christmas tree decorating ideas don't come much more original than this (plus it's a great option for anyone looking for a cat-proof Christmas tree!) If you're looking for an alternative Christmas tree this festive season, consider the weird and wonderful world of upside down Christmas trees. Yes, it sounds like you're in an episode of Stranger Things, but if you spot a topsy-turvy tree, don't panic—you've not entered The Upside Down. This Christmas tree theme is much-loved by designers and celebrities, but, where did it all begin and how can you recreate the look at home?
When did upside down Christmas trees originate?
Upside down Christmas trees have been around for centuries as a popular Christmas decoring idea. They may have been a staple in homes over the holiday season from as early as the 7th Century. Folklore from the Middle Ages credits a Benedictine monk named Saint Boniface who, according to legends, saw a group of pagans worshipping an oak tree.
This prompted Boniface to cut down the tree, replacing it with a fir tree, before cutting up the fir tree and hanging it upside down as a way of explaining the Holy Trinity to the pagans.
What is the meaning behind an upside down Christmas tree?
While the shape of the upside down Christmas tree is said to represent Jesus' crucifix in religious terms, many people opted for an inverted Christmas tree throughout history for space and financial purposes—holding the same special meaning of an upright Christmas tree, bringing families and friends together during the festive period.
According to The Spruce, it was the 12th Century when the upside down trend really took off, with a tradition called podłazniczek. Polish people used "fruit, nuts, sweets wrapped in shiny paper, straw, ribbons, gold-painted pine cones" to decorate a spruce hanging upside down from the ceiling in the center of the room.
Fast forward to the 19th Century, and it was not uncommon for some to hang upside-down Christmas trees from the rafters of home, particularly for poorer families. "In the small common rooms of the lower classes," Bernd Brunner explains in his book, Inventing Christmas, "there was simply no space."
What country hangs Christmas trees upside down?
While hanging upside down Christmas trees from the ceiling has been popular historically in Eastern European countries, the unique trend is popular today across the globe.
In Galeries Lafayette in Paris, there's a magnificent upside down Christmas tree hanging from the ceiling, adorned with purple-hued crystals and jewels that make for the ultimate festive showstopper.
Singer Ariana Grande stirred up excitement on Instagram in 2018 when she shared a photo of an upside down Christmas tree in her Los Angeles home. "You've got many talents," one person wrote, while another commented, "I need my house [to] look like this."
How to have an upside down Christmas tree in your own home
If you're a fan of the look and would like to incorporate it into your own festive décor this year, London-based interior designer, Rudolph Diesel, shared his top tips on how you can make the most of this trend.
"The trend is fun, a little 'out there' visually, and a suitable way to change things up a little. What better way to take an old tradition and make it your own. There is no right or wrong, no rules… so just go for it," he tells woman&home. "I would start by making it the feature and move anything out of the way that might distract the eye. Christmas trees are usually a feature in a room but the mistake people make is surrounding them with furniture and other accessories. In this case, you want the tree to truly take center stage—a truly bold, eye-catching statement."
Rudolph says that when creating such a statement piece, you need to also consider your theme as it will make or break the 'wow' factor.
"An upside down Christmas tree requires commitment. You need to pull out all the stops and adorn the tree with sensational ornaments. Forget the tinsel this year which can sometimes look cheap—think bigger, bolder, and more glamorous."
Rudolph also notes that he has often received requests from clients for an inverted tree, but no one has actually had the courage to fully commit to this "out there" trend.
"We have always ended up reverting back to the traditional approach. A traditional tree is gorgeous in its own right and might suit more classic-style interiors better," he says. "Upside down trees suit medium to large spaces best. Think lobbies, entrance foyers, living rooms, formal reception rooms, and open-plan spaces."
If you want any more inspiration on Christmas decorating ideas, take a look at our guides on Christmas centerpiece ideas and how to decorate for Christmas according to interior designers.
After watching 13 Going on 30 one too many times, Emma decided that she wanted to be a journalist and studied Multimedia Journalism at the University of Salford. She started her career as a fashion copywriter before delving into the world of digital journalism and her published work can be found in the likes of woman&home, Cosmopolitan, Metro, i-D and Apartment Therapy. Emma writes about interior design, travel, film and television, celebrities, and internet culture.
When she's not writing or editing, Emma can be found doing yoga (badly), reading the latest TikTok trending novel, or listening to the ten-minute version of Taylor Swift's "All Too Well" on repeat.