Le Creuset Cyber Monday deals 2021—huge 40% savings still to be made on their iconic kitchen products
The Le Creuset Cyber Monday deals are still going on—but you'll need to hurry to get half price off bestselling products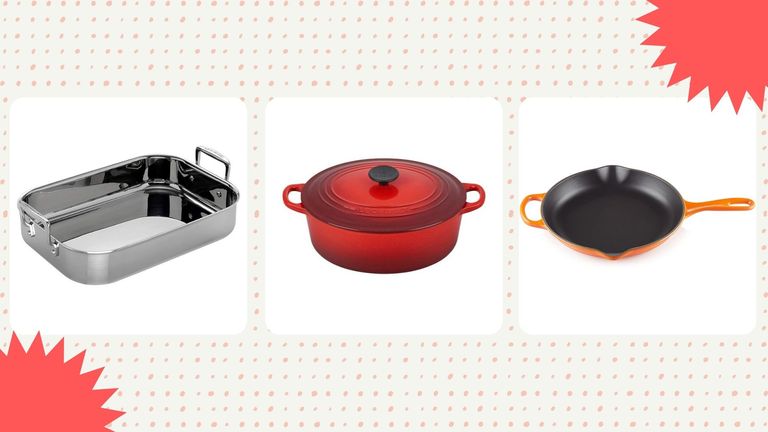 (Image credit: Future/Le Creuset)
By Rachael Martin , Amy Hunt
The Le Creuset Cyber Monday sale sales have arrived. The Black Friday deals have been going on all weekend, but as we approach the end of the week, we're entering the last chance to pick up amazing savings on many of their signature items, including casserole dishes, mugs, bakeware and so much more.
On the official Le Creuset website, prices on many popular pieces are still slashed by up to 40% from now until the day after Cyber Monday (November 30) for their 'Colorful Black Friday' sale. You can still find up to 40% discounts across product ranges, including the brand's bestselling stainless steel pans, kettles, and chic cafetières.
Retailers that stock the much-loved French cookware brand are still stocking Le Creuset discounts too, with Amazon leading the way with over 40% off until midnight on Monday. In the UK, John Lewis is also continuing to offer great savings at 20% off—and there are still a swathe of great deals at retailers including Wayfair, Selfridges, Bed Bath and Beyond, and La Redoute.
But if you're keen to snap up a bargain, we'd advise shopping ASAP, because there are really only two days left (and counting!) to shop these Le Creuset Cyber Monday deals, while stocks last. Plus, the brand doesn't tend to run many sales throughout the year, so the current discounts really are a rare chance to get their items for a discount.
Where to shop the best Le Creuset Cyber Monday deals in the UK
The best Le Creuset Cyber Monday deals in the UK
Where to shop the best Le Creuset Cyber Monday deals in the US
The best Le Creuset Cyber Monday deals in the US
Where is the best place to get a Le Creuset casserole dish for cheap?
The Le Creuset casserole dish is a cookware icon thanks to its long-wearing, keep-forever cast iron construction, and choice of vibrant colors. Suitable for stews, roasts, soups, casseroles and baking, this one-stop cooking wonder retains heat for even cooking and browning, and keeps meals warmer at the table for longer.
The only downside to Le Creuset's casserole dishes is their price – with the smallest size currently retailing for £170, and the largest £405. Which is why the Black Friday sales are the perfect time to invest.
The least expensive Le Creuset casserole dishes to buy are actually on the Le Creuset website itself – with the brand currently offering an incredible 40% off.
If you're in the US, check out this incredible deal on the Signature Curved Casserole, which is a huge $100 off this weekend only.
If you're a UK shopper, you won't want to miss this £91 discount on a classic Le Creuset casserole dish, either.
Other retailers you can rely on to deliver great Le Creuset deals throughout the year include La Redoute and Amazon, both of which currently have some seriously good Black Friday and Cyber Monday discounts worth adding to your watch list.
Where to get Le Creuset salt and pepper mills on offer during Cyber Weekend
Le Creuset salt and pepper mills would make the cutest addition to any kitchen table, and lucky for us, there are some incredible discounts to be found this Cyber Weekend.
My currently have our heart set on this Marseille yellow pair, which are now over £12 off on Amazon while stocks last. Chip-resistant and anti-corrosion, they're definitely a Black Friday purchase that'll go the distance.
Other places offering great deals on Le Creuset salt and pepper mills this weekend are John Lewis, who currently have 20% off all Le Creuset, and Le Creuset themselves, who are offering a chic set for just £27.50/$65 this weekend only.
When do the Le Creuset Cyber Monday deals end?
The Le Creuset Black Friday deals kicked off earlier this week, with discounts across their product range on everything from saucepans to kettles.
The sale will likely continue over the weekend for shoppers looking to bag some brilliant deals over Saturday and Sunday, and we imagine the deals will also go into Cyber Monday, which is 29th November. However, it's likely that the Le Creuset Black Friday deals will end on the Monday, as that is the official end of the 'Cyber Weekend'.
So, if you want snap up some of the best discounts, we'd advise shopping ASAP to make sure you don't miss out, before prices return to their normal RRP.
Why is Le Creuset usually so expensive?
Le Creuset cookware is enduringly popular, but it is undeniably pricey. That is why when you can get their products for close to half price during Le Creuset sales during Black Friday or Cyber Monday, it's a bargain you'll want to snap up quickly.
However, as a premium cookware brand, Le Creuset charge premium prices for the products—and for good reason. They are truly built to last, meaning you get what you pay for. Most of the brand's cast iron, 3-ply stainless steel, toughened nonstick and bakeware products come with Le Creuset's lifetime policy. So if they ever break or you discover a fault, the brand will repair or replace your item–no matter how long you've owned it. In the case of Le Creuset stoneware products, the brand also offers a 10-year guarantee.
Is Le Creuset worth it?
In short—yes! Investing in high quality cookware means it will endure for years to come. It may be more expensive initially, but a sturdy stoneware dish or pot like the ones offered from Le Creuset should last for years (if not decades), without breaking or chipping. Plus, there's no denying they look chic and are utterly timeless products.
There's no denying that Le Creuset makes for great Christmas gifts for mom or Christmas gifts for your mother-in-law but it's also worthwhile considering investing in one for yourself too—especially if you enjoy cooking and often work between the stovetop and the oven (most of Le Creuset's cookware can transfer between both)
Plus, as an added bonus, Le Creuset pots and dishes can often become collector's items, especially if they are particularly hard to find. So your item could actually increase in value...