The best eReaders to buy—from Kindles to Kobo devices
With our expert guide to the best eReaders, we uncover the right eReader for every book fan and budget
Included in this guide:
1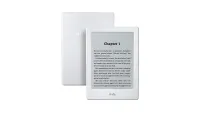 Amazon
Kindle
2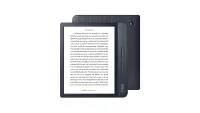 Kobo
Libra H2O
3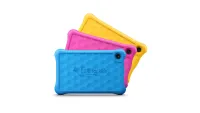 Amazon
Fire 8 Kids Edition Tablet
4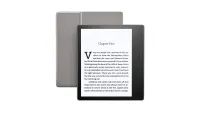 Amazon
Kindle Oasis
5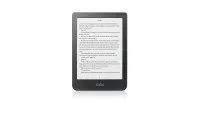 Kobo
Clara HD
6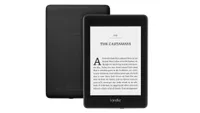 Amazon
Kindle Paperwhite
7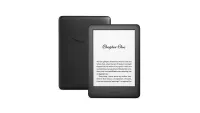 Amazon
Kindle 2020
8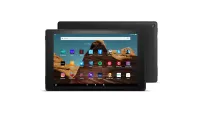 Amazon
Fire 10 (2021)
9
eReaders
10
Tablets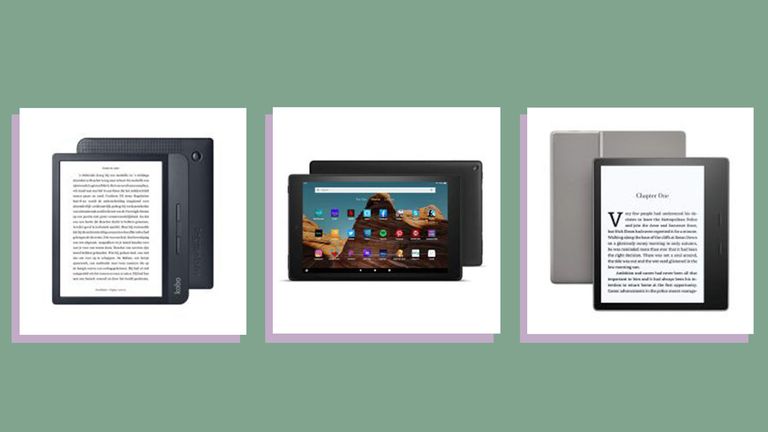 (Image credit: Future)
Our guide to the best eReaders includes expert reviews of the top products, from Kindles to Kobos, to ensure you choose the right device for your literary wants and desires.
While there's still a place for the humble paperback or hardback in our collections—we'll admit to having been swayed by the convenience, ease, and accessibility that the best eReaders offer. You can download your favorite book at the touch of a button, and have it ready to peruse in mere seconds.
eReaders, including the best Kindles on the market, have been designed specifically for the practice of reading, which means no sleep-disrupting blue-light screens, and seriously impressive battery power that won't run out on you midway through your best eBook. Plus, they're lightweight, easy to use, and the text size is adjustable, ideal for back-to-school reading. Some models are now waterproof, too, making them perfect for those of you who like to read whilst lounging in the tub.
In order to bring you the definitive list of the best eReaders on the market, including the much-loved Amazon Kindle Paperwhite and the popular Kobo Clara HD, we tested the eReaders focusing specifically on usability, connectivity, and overall value for money. We have even given a nod to the best tablet (as opposed to specifically an eReader) for reading on, too—as well as which eReader is robust enough to give to the little people in your life.
Key features to consider when choosing the best eReader for you
If you're wondering how to choose a good eReader, it will depend on a variety of factors, including personal preferences, price, screen quality, and how you plan to use your eReader. For an optimal reading experience, it's important to consider the following:
Size: Consider how big you want your eReader, and how heavy or light you need it to be. eReader weights and screen sizes vary, so be sure to check these specs before buying. Portability and comfort while holding are of paramount importance—because the best eReaders should be easy to transport and not too heavy to hold.
Screen quality: One of the most important aspects of a brilliant eReader is the screen being clear and high-quality enough for you to read every last word on there, from Bridgerton books to the best self-help books. While your personal preference dictates what kind of style (e.g color) eReader you choose, deciding on one that has a clear, easily readable screen is non-negotiable. We've evaluated the below in our reviews for you.
Battery life: You need to be able to read yours whilst out and about—and away from a charging point—so a long-lasting battery is seriously vital (especially if you're deep in one of the best fantasy books). We've detailed the eReaders with the best battery life below, but generally, most eReader batteries should last for a minimum of two weeks on a single charge with regular usage.
Backlight: Most eReaders now, but not all, have an adjustable backlight, which helps to ensure that you can use any of the best eReaders wherever you are—whether there's glaring sunlight, or you're in a dimly lit room. Consider whether you want/need this backlight feature. We've noted which products have it in our reviews below.
Connectivity: Do you want/need your eReader to work away from Wi-Fi? The best eReaders have cellular connectivity (e.g 3G) so that you can download and read new material from anywhere even if you're not connected to Wi-Fi. Not all eReaders have this, so it's worth checking if you feel this is a feature you really want.
Storage: The best eReaders should have expansive storage space for your reading material and audio content. Some, like the Amazon Fire, for example, have up to 32GB. If you anticipate needing a lot of storage, make sure your chosen eReader has enough for you. However, most will be absolutely fine with four or eight gigabytes of internal storage; these options can still hold thousands of publications.
Price: The best eReaders on the market vary hugely in price, so you want to be sure that you're not pushing your budget and are buying the best one you can afford. We've evaluated value-for-money with the below eReaders, and whether or not spending more really gets you a better device.
The best eReaders to buy as chosen by our experts
1. Amazon Kindle
Best budget eReader
Specifications
Storage size: 4GB
Dimensions (H x W x D): 160 x 115 x 9.1 mm
Backlight: No
Warranty: 1 year limited
Reasons to buy
+Affordable price+Straightforward and easy to use+Great battery life
Reasons to avoid
-Screen quality could be improved
If you're looking for all the benefits of the best eReaders, and aren't too fussed about snazzy extras, then this basic-yet-brilliant original-style Kindle could be the one for you—especially if you're keen on keeping costs down. With an RRP of $59.99/£59.99, the Amazon Kindle 8th Generation is often available for under $50/£50—so it's definitely worth hunting around for offers. Once connected to WiFi, it takes less than a minute to download a new title, and you can store over 1,000 at a time. In other words, you can hoard your favorite best fiction books without thinking twice.
It has a touchscreen, which makes navigating all the features far easier than it was with the buttons of old, and once fully charged, the battery will last you for weeks. Bookworms appreciate its straightforward usability—you can have it out of the box and be reading or listening (via wireless Bluetooth headphones) within minutes. You can even highlight passages and translate words without leaving the page for a seamless, more convenient reading experience. The additional VoiceView capability allows you to adjust the font size, screen color and brightness, line spacing, and margins, which is great if you're beginning to find standard books a struggle. And the cherry on top? It has a long battery life (we're talking weeks of strong charge).
Some shoppers point out that letter and picture quality could be improved, especially compared to more expensive options. Regardless, it's an excellent alternative for a beginner's foray into eReaders, one that will ease you into the digital reading world. Just don't forget to invest in one of the best Kindle covers for durable protection.
2. Kobo Libra H2O
Best waterproof eReader
Specifications
Storage size: 8GB
Dimensions (H x W x D): 144 x 159 x 5.0 - 7.8mm
Backlight: Yes
Warranty: 1 year limited
Reasons to buy
+Can withstand up to 60 minutes in two meters of water+Brilliant battery life+A built-in bedtime setting
Reasons to avoid
-Glitchy when hotspotting
Bath time reading fans rejoice! The Kobo Libra H2O can withstand up to 60 minutes in two meters of water, so even if you fall asleep reading in the tub and drop this little fella, it will survive. Another standout feature on the Kobo Libra H2O is its ComfortLight—a front light that cleverly adjusts depending on where you are, be it out in your sunny back garden or snuggled up in the dark under a duvet, thus giving you one less thing to think about and ruling out any disruptions to your reading.
The built-in bedtime setting is a thoughtful addition, especially for readers who revel in exploring their literary worlds at sundown—whether you prefer the best romance books or the best historical fiction books. While it is bigger and slightly heavier than the equivalent Kindle models, this Kobo will tell you with a simple tap how many minutes it will take you to reach the end of your current chapter, allow you to place bookmarks, sync with your other devices, and has a dictionary function to look up bizarre words. An added perk: you'll enjoy long-lasting battery life, 8 GB of onboard memory for carrying up to 3,000 eBooks, plus Instant access to Kobo's eBookstore through WiFi.
When using this agile device, be sure to have a stable WiFi connection as some shoppers say it's glitchy in hotspots.
3. Amazon Fire 8 Kids Edition Tablet
Best eReader for kids
Specifications
Storage size: 32GB
Dimensions (H x W x D): 220 x 161 x 26 mm
Backlight: Yes
Warranty: 2 years limited
Reasons to buy
+Robust and can withstand any damage from little hands+You can block certain sites if you want
Reasons to avoid
-Battery life isn't the best
There is very little that we don't love about this robust and reliable tablet—it's a real all-around winner with heaps of features that have been designed with children in mind. The Amazon Fire Kids Edition Tablet comes housed in a rubber "kid-proof" surround, which bounced merrily when we lobbed it onto the floor and is very easy for small hands to grip.
The two-year no-fuss warranty also provides additional peace of mind. Aimed at children from the age of three right through to 12, this tablet comes with a free one-year subscription to Amazon Fire For Kids Unlimited ($2 per month usually), offering access to thousands of books, but also to TV shows, films, teaching apps and games (hello, quiet time for mum, dad and grandparents).
There's no need to worry about the kids straying across any unsavory content online, however, because you can fully customize this tablet to block certain sites, as well as setting bedtime curfews and timeouts. You can choose a blue, pink, or yellow design, and while all are sturdy, they sadly won't survive immersion in water. Since it's a tablet rather than a straightforward eReader, the battery time is significantly less at only 8 hours, so if you take it away for the weekend, don't forget to pack the charger. It's a great option for younger children eager to channel their inner Sherlock Holmes with the best mystery books. However, it might be a bit too basic for the tech-savvy teens in your life.
Best luxury eReader with all the bells and whistles
Specifications
Storage size: 8/32GB
Dimensions (H x W x D): 159 x 141 x 3.4-8.3mm
Backlight: Yes
Warranty: 1 year limited
Reasons to buy
+Great quality screen+Very comfortable to hold+It looks stylish
Reasons to avoid
-More expensive than other models
The Kindle Oasis may be the priciest on our list, but it does have a lot on offer to warrant a splurge, especially for those with astigmatism, cataracts, or weak eyesight, given the brilliant screen quality. To start, it's by far the most aesthetically pleasing. The slick graphite aluminum casing feels high-end next to its plastic companions, and the new champagne gold shade helps it to become a genuine thing of beauty.
The Kindle Oasis has a high-resolution touchscreen larger than any other eReader on the market, while its unique wedged back makes it comfortable to hold—especially when you're curled up in bed reading one of the best autobiographies. Add to this a smart light sensor (a night-reading essential), 3G connectivity (for a slightly higher price), and the fact that the Kindle Oasis is waterproof, and you've got a failsafe option that really is as good as it looks. It may seem like a lot to shell out when the Kindle Paperwhite is less than half the price, but if you're an ebook fanatic who prefers their gadgets to offer more than the average, then you'll be extremely satisfied with this one. We didn't want to part with it.
See our full Amazon Kindle Oasis review
Best eReader for great battery life
Specifications
Storage size: 8GB
Dimensions (H x W x D): 159.6 x 110 x 8.35 mm
Backlight: Yes
Warranty: 1 year limited
Reasons to buy
+Great for use on-the-go+Very good battery life
Reasons to avoid
-Some say the screen is too small-No 3G
There is no doubt that the Kobo Clara HD has been designed for those of us with busy lives and cluttered handbags, and by focusing more on the simple musts rather than the slick extras, Kobo has created an eReader that may admittedly be low-frills but is also no-fuss. Clara's slim, textured body fits easily into one hand, making it the perfect companion for a cramped commute or a quick on-the-go gander. She is also very light—coming in at 39g less than Kindle's equivalent, the Paperwhite, and we barely remembered she was there once we'd slipped her into the inside pocket of our denim jacket.
There's a nifty feature that allows you to select passages of text and share them on Facebook, but only if you're connected to WiFi because 3G connectivity is not yet a feature of this model. As with the Kobo Aura H2O, the Kobo Clara HD has ComfortLight Pro, as well as a night mode that can be set to switch on automatically once the sun goes down. The battery will last up to four weeks of standard use, and the huge 8GB of storage means you can really fill up on the bestselling books and best audiobooks.
Some caveats to consider: its interface is a bit non-intuitive, and some shoppers say the 6-inch screen is too small. So, if you're a bespectacled reader with poor eyesight, you may want to invest in an option with a larger monitor.
See our full Kobo Clara HD review
Best eReader for holidays
Specifications
Storage size: 8/32GB
Dimensions (H x W x D): 167 x 116 x 8.18mm
Backlight: Yes
Warranty: 1 year limited
Reasons to buy
+Very easy to use+Lightweight and comfortable to hold+Battery lasts a long time
Reasons to avoid
-Might not be enough storage for some
Now we come to the market leader, the eReader most consistently voted into the top slot and the one all our friends have urged us to buy when our ancient model finally gives up. The Kindle Paperwhite is incredibly easy to use—you touch the right of the screen to turn a page, the left to turn back, and the top to access the menu and features. This innate usability makes it the perfect choice for a sun-lounging holiday, as does the paper-alike non-glare screen, extended battery life (up to six weeks from a full charge), and the fact that it's now waterproof to boot. Shoppers also love its lightweight, thin design that lends for convenience and easy carrying.
The built-in storage is a substantial 8GB, but you can extend this easily with the addition of a memory card. For an extra $100/£100, the Paperwhite will also connect through 3G as well as the standard WiFi option, meaning you can update your library more or less instantly while you're out and about, and it is also set up for both Amazon Kindle Unlimited and Audible. You can choose from 16 adjustable font sizes to your liking, plus 16 levels of grayscale to enhance your text detail. Simply put, the Kindle Paperwhite is a book lover's dream come true in digital form, and one of the best eReaders on our list.
See our full Kindle Paperwhite review
7. Amazon Kindle 2020
Best 'real-book' eReader
Specifications
Storage size: 8GB
Dimensions (H x W x D): 160 x 113 x 8.7mm
Backlight: No, but front light allows reading in the dark
Warranty: 1 year limited
Reasons to buy
+Very lightweight+Feels much more 'book-like' than other options
Reasons to avoid
-Screen isn't as high quality as others
If you are reading this article with a mild sense of trepidation about the whole concept of an eReader, then let the Amazon Kindle 2020 reassure you. Far from being a top-of-the-range mini-computer with enough functions, settings and extras to turn your brain into mashed potato, this user-friendly gem is the most like the real thing that you will find on the market. We promise that after you've read a few pages, you will forget that you're not holding an actual paperback in your hands—in fact, you'll probably hold it longer than you would a standard novel, because it weighs so much less.
And while the touchscreen may be lower resolution than the swankier Paperwhite and Oasis, all this really does is make it seem more book-like, not less. Plus, just like them, this Kindle has Bluetooth and is set up for Kindle Unlimited, all without the eyeball-enlarging price hike. It is the best basic model on the market by a mile, and an ideal choice for those taking their first tentative steps into the world of eReading.
8. Amazon Fire 10 (2021)
Best tablet eReader
Specifications
Storage size: 32GB
Dimensions (H x W x D): 192 x 115 x 9.6 mm
Backlight: Yes
Warranty: 90-day limited limited
Reasons to buy
+This does lots more than a standard eReader+Colour screen, which some may prefer
Reasons to avoid
-Shorter battery life
There are a wealth of tablets out there that you can use for reading, but none have been so well reviewed or are as well designed for the purpose as the Amazon Fire HD 10 tablet. Of course, the great thing about using a tablet as an eReader is the fact that they do so much more, so as well as covering your reading and listening bases, you can also get online, use all your favorite apps and update your social media accounts. As an Amazon tablet, it comes with Kindle store connectivity, enabling you to search for and then download as many reads as you want, like the best self-help books.
However, unlike standard eReaders, the Amazon Fire HD 10 does have a much shorter battery life, and a full charge will give you around 12 hours of reading time, as opposed to the multiple weeks offered by other eReaders. That said, reading on this tablet is preferable to squinting over a smartphone screen, and it's nice to have the option of switching from book to video or music without having to swap devices. If you're someone who enjoys having everything you need in one attractive black, blue, red or yellow package, then the Amazon Fire HD 10 could be the box-ticking choice for you.
Should I choose an eReader or a tablet?
To help guide you on your shopping journey, we've evaluated the differences between the best eReaders and tablets. We've assessed the pros and cons, and include other considerations, below.
eReaders
Pros and cons
Reasons to buy
+Strong battery life+Light and small in design, comfortable for holding (and sometimes one-handed use)+Simple-to-use software to enhance reader experience (i.e. highlighting functionality)+Easy display+Non-glare screen for outdoor reading+Portable for on-the-go travel+Waterproof options are available
Reasons to avoid
-Limited function (to just digital reading)-Smaller screens-Limited color-scale
Tablets
Pros and cons
Reasons to buy
+Robust hardware+You can do more (like explore multiple apps and play games)+Bright, full-color screens+Added features+Streamlines features of multiple devices+Extensive software that supports camera use, etc.+Larger screen
Reasons to avoid
-Generally have a shorter battery life-Bulkier in size, not meant for one-handed use-Expensive-Many are not waterproof
It's important to note that one isn't technically better than the other, and your purchasing decision generally hinges on your personal preferences.
How do I get started with an eReader?
First, make sure your nifty gadget is fully charged. Then, you'll want to sign into your WiFi network, which will allow you to complete the registration and setup process.
Once complete, you'll have access to a huge selection of reads—including free eBooks—to download and/or purchase at your convenience.
With most eReaders, readers can select, download, and purchase books everyone should read—such as some of the most popular book club books, or the best books of 2021—through a store(s) offered directly through your device, right at their fingertips. When you find a title you want, you'll be able to check its price and other relevant information.
You'll want to swipe the left or right edges of your screen to turn the page. Or, tap the left or right edges of your screen. Note: you can only turn one page at a time.
It's interesting to note that in the ongoing print books vs eReaders debate, the eReader has greater capacity for a curated, customizable reading experience—an obvious limitation for print, where text and flow are fixed on-page. With eReader tech, you can change fonts and font sizes, even line-spacing and margins depending on your device.
Do I need Wi-Fi on my eReader?
The short answer is yes—in fact, all eReaders allow users to connect to Wi-Fi networks in order to download and consume digital content from places like the Kindle store or Amazon.
But while the best eReaders offer wireless connection, 3G data tends to be reserved for more expensive models. 3G means that you can download eBooks from anywhere on the move—e.g, you don't need to be connected to a wireless network connection you know in order to do so. It works similarly to the 3G or 4G on our phones, that allow us to access the internet away from home.
Without wireless connection or good 3G, you might have to use your phones hotspot if you really need to browse for new reading material on the go—which, depending on your location—may lag, freeze, and hinder your overall experience.
In any case, we always recommend downloading content before embarking on a big trip, drive, and/or excursion. It's worth noting that most eReaders have plenty of storage for you to stock up on books or magazines in advance.
Isabelle Broom is the author of eight escapist fiction novels. She won the Romantic Novelist's Association Best Contemporary Romance Novel award in 2019 and The Great British Write Off short story competition in 2015, with her winning entry, The Wedding Speech, later being adapted into a short film.
Following a degree in Media Arts from the University of West London, she spent an eventful summer working in a bar on a Greek island, became an avid traveller, and vowed to one day write stories set in all her favourite locations around the world. Before this dream became a reality, Isabelle spent a gloriously fun 11 years working at heat magazine,
As well as heading off on adventures abroad—a pastime she now gets to call 'research'—Isabelle is lucky enough to write book reviews and travel features on a freelance basis. To find out more about her novels—and her mildly chaotic Suffolk-based life—you can visit isabellebroom.com, follow her on Twitter and Instagram (@isabelle_broom) or search for Isabelle Broom Author on Facebook.