11 ways to boost workout motivation and enjoy exercise
We asked the experts to share their top tips for workout motivation, whatever the weather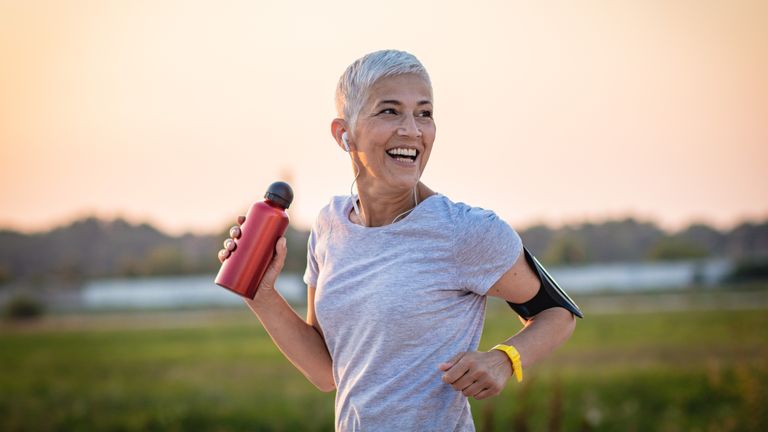 (Image credit: Getty Images)
Sometimes, workout motivation can be hard to come by. We've all had days when hitting the gym or going for a run is the last thing we want to do. But, with the right activity and some motivational tips from the experts, staying fit can become so much more enjoyable than you might think...
Prioritizing your health and fitness is so important. Not only will staying active help you to maintain a healthy weight and feel good, providing you with those mood-boosting endorphins, but it's also an essential way to protect your body as you age.
Research shows that as we get older, our muscle mass naturally decreases and women are at a higher risk of bone loss. However, staying active and working out can help to counteract this.
Fitness motivation ebbs and flows, and we've all had times when lacing up our running shoes isn't our idea of a fun evening. To help you get moving and boost your workout motivation on the days when you just don't feel like it, we asked the experts their top workout tips. Get ready to up your fitness game!
How to boost workout motivation in 11 easy steps
1. Track your progress
Keeping a workout journal allows you to see progression each week and provides you with instant workout motivation. If your progress feels too slow and you're tempted to quit, read back through your journal.
"Whether it be your step count, number of runs or the length of your yoga class, writing it down makes it all the more real and allows you to see how far you've come," says woman&home's fitness guru Annie Deadman.
You can also keep track of your workouts using one of the best workout apps that can be linked up to your fitness tracker. You can then easily look through the app to reflect on your progress week by week.
Having said this, don't worry if you aren't always improving. We're not machines and everyone will have some weeks that are quieter than others.
Motivation will have its peaks and troughs and it's important to also be kind to yourself. Realizing this will help motivation in the long term.
2. Working out with friends is better—even virtually
Start a WhatsApp group with friends to keep each other accountable. They are the people you can call on at the start of every week for Monday workout motivation or a little boost on the days you don't feel like working out.
"Add friends and family members who are also on a mission to keep fit, and tell each other what you plan to do, or what you've done," says Annie.
"If your friend says she's off for a 5km walk in the morning, you might be more inclined to ensure you do the same. Equally, if you tell the group that you plan on lifting some weights this evening, you'll be disappointing more than just yourself if you don't do it."
Research suggests that we are influenced by the exercise behaviors of those around us. And a 2016 study found that overweight people lose more weight if they spend time with their fitter friends. So it makes sense to call up your pals and get fit together!
3. Switch up your songs
Music can help distract you while getting your sweat on but, for an even bigger boost, choose songs which have 125-140 beats per minute (bpm).
"Scientists have discovered that the addition of a strong, rhythmic beat, such as a fast-paced musical track, could inspire people to pick up the pace," says relationship and mind coach Ansar Ali.
You'll also start associating the songs with good memories next time you exercise. "They'll trigger happy memories associated with feeling calm, good and focused," says Ansar. There are plenty of free online tools to help you make a playlist of same-tempo songs.
4. Boost your workout motivation with new sportswear
It's time to treat yourself to a new item of fitness clothing. There's nothing quite like nice sportswear to keep your exercise motivation up.
"When opting for new kit, make sure it's comfortable and fits well. If it doesn't quite fit right, you'll be less motivated to work out in it," says Annie. "The worst thing you can do is head out on a walk or a run with leggings that slip down. Equally, it's incredibly infuriating wearing a sports bra that doesn't hold your breasts in place."
Wearing the right footwear is also key. "Nobody wants to head off on a walk or run in uncomfortable shoes," says Annie. "You're destined to suffer from blisters and cuts, which will only delay your progress. Plus, it will give you an excuse to ditch the workout."
Good-quality kit will last you many workouts to come so is worth investing in if you can. Or you could bag yourself a pair of a more premium style in a running shoes sale.
Run Breathe Tank Top Ladies: £13.99 | Nike
Sponsored
This sleeveless tank top will go with your favorite pair of workout leggings to make a gym outfit that will keep your motivated for all of your fitness routines. The lightweight fit will keep you cool throughout your workout while the DriFit technology works to keep you sweat-free and along with the flat lock seams works to prevent chafing. It also comes in a clean white color if that suits your workout wardrobe better.
Goodmove Go Move Printed Cropped Gym Leggings: £19.50 | Marks & Spencer
Sponsored
Complete your outfit with these fun but comfortable leggings. With a high-waisted fit these will keep you secure while you exercise, while the blackout fabric will save you from any see-through faux pas at the gym. The cropped cut is also a great option for when you're working out in the summer months as it helps keep your legs and ankles cooler. Two sneaky pockets also mean that you'll have plenty of space to keep your essential belongings while you work out.
5. Always warm up
If you're already signed up to do a punishing HIIT treadmill workout then it may sound like extra exercise, but warming up and cooling down properly means you're less likely to get injured or ache afterward. This, in turn, will mean you'll feel more positive about working out again the next time.
It's especially important when it's cold. This is because "your muscles will contract and be less elastic, which can increase the risk of injury when you exercise," says personal trainer Chris Ward.
Stretching for runners is particularly important. Always incorporate a few stretches into your routine for at least five minutes before and after your workout.
6. Get workout motivation from the best fitness channels on YouTube
If you're bored of walking for weight loss or lacking in gym motivation, then it's time to turn to YouTube and find fitness inspiration for a new workout routine online that you can complete from the comfort of your own home.
"If you're working out at home, go on YouTube and find nine workouts which interest you," says Annie. "Then email the links to yourself. If you do three of these a week, that's three weeks' worth of workouts. Then do them again (only better) in the following three weeks."
Not sure where to start? Head to YouTube and simply search for the type of workout you want and the length. For example, "20-minute beginner dumbbell workout".
You could even head to Annie's follow-along workouts on the woman&home Facebook page.
7. Book a fitness challenge
Book an event or a challenge and work towards it. "Knowing you have a goal—and an end in sight—is often enough motivation to get people moving," says Annie. "Doing this with a friend is also a good idea, as you can spur each other on."
Not feeling confident enough to sign up now? Then you could always plan your own. How about setting a date in a few months' time where you'll all agree to complete a challenge. This could be a 10km run (or further!), a 12-hour overnight walk to raise money for charity or a cold dip in the ocean.
If you have the right equipment, an at-home workout, such as a virtual bike ride in your front room could also be your next challenge.
8. Reconsider the destination of your run or cycle
Some of the best workouts are the ones where you'll end up somewhere fun. In fact, planning a destination where you can treat yourself can really be a gamechanger when it comes to boosting levels of workout motivation.
"A bike ride to your favorite bakery or coffee shop is a classic for a reason," says Hilary Rowland, co-founder of Boom Cycle. "It can become a tradition and then the exercise is just a part of your enjoyment of the process." Just don't derail the diet completely when you're there!
9. Think about booking a smarter break
Vacations are notorious for derailing all good intentions when it comes to exercise and weight loss, so why not book an active break instead, such as skiing.
Not only will you be breathing in tons of fresh air, six hours of skiing a day will mean you're burning 3,000 calories. You'll also tone up all over (and strengthen your core), boost your immunity and lose around 5lb in a week.
Hiking holidays, cycling tours and water sports activity breaks are all good options, too.
10. Reduce morning decisions
Want to exercise first thing in the morning? Then get your workout clothes ready the night before. By making fewer decisions throughout the day, you'll be able to keep your willpower high in the moments where you need it the most—such as getting out of a warm bed for a morning walk.
Yoga for beginners or Pilates are good picks first thing as they also help with your energy levels.
11. Keep your options open
Having options for if it's too hot or wet to exercise outside is a simple way to boost your exercise motivation.
Keep two sports in mind to choose from—which have similar workout benefits—and just swap them as and when you need. Try:
Tennis or badminton
You'll gain improved coordination and agility in both these racket sports.
Swimming or indoor rowing
Diving into a pool can sometimes seem less enticing, especially if you're worrying about drying your hair in time to get back to work. An indoor rowing machine will give a great workout, combining strength and cardiovascular fitness, similar to swimming.
Walking or yoga
There's nothing like a stroll when it's dry. If it's pouring, try a yoga class instead. The meditative benefits are similar to that of a relaxing walk and your posture, flexibility and breathing all stand to improve.
Give it a try!
Faye M Smith is an award-winning journalist with over 15 years experience in the magazine industry. Her continued work in the area of natural health won her the coveted title of theHealth Food Manufacturers' Association (HFMA) Journalist of the Year Award 2021.
Currently Acting Health Editor across several brands including woman&home, Woman and Woman's Own, Faye specialises in writing about mental health, the menopause, and sex and relationships. In fact, having previously been the go-to sex columnist for Now magazine, there isn't much she won't discuss when it comes to women's health. This makes her the best person to review must-buy sex toys, describe how to have a mind-blowing orgasm or explain how to navigate sex in the shower without it ending in a medical emergency.
While not anti-gym, Faye's fitness routine is more focussed on finding inner balance rather than burning excess calories. An advocate of mindfulness, she loves power breathing, yoga and plenty of walking in nearby woodlands rather than a sweaty HIIT class. Follow her @fayetuned